In surely one of the great ironies in music,

a reserved, openly gay Jewish leftist from Brooklyn produced the sound we all instantly identify with the conservative values, vast landscapes and bold pioneer spirit of the rugged American settlers.
How did Aaron Copland do this? Technical explanations abound, citing such hallmarks as pentatonic melodic figurations,

austere harmony based upon dissonances between major and minor diatonic triads, progressive development of motivic fragments, etc. Yet, even to those for whom such terms are meaningless jargon, we hear Copland and we know that his music stands for America.
In a 1952 Harvard lecture (published as Music and Imagination [Harvard University Press, 1952]), Copland himself had a more compelling human explanation. Born in 1900 to Russian immigrant parents (who had anglicized their name from Kaplan), Copland discovered music largely on his own and had little training until he forwent college to study piano and theory. Drawn to modernism, he went to Paris where he became the favorite pupil of Nadia Boulanger, the most influential teacher of her time, who imbued him with her enthusiasm for a vast array of music. He regarded serious music as a foreign art, familiar to Europeans who grew up immersed in their culture, but largely irrelevant to the American environment.
He dismissed his predecessors as hopelessly mired in European culture, superficially grafting Indian tunes or spirituals into genteel Old World structures, and revered only Charles Ives for whole-heartedly embracing the spirit and feel of America, including its vernacular mode of musical expression.
Copland identified one further phenomenon to stir his work – the mass media, which, he felt, enabled composers for the first time to transcend the limits of the concert-hall and contact popular audiences with serious "art" music. Copland was concerned that serious artists were retreating into a cultural vacuum that ignored public taste and took on a challenge to simplify his music to effectively communicate with mass audiences without compromising its quality. Biographer Howard Pollock credits his allusions to folk music, irregular jazzy meters, quirky, playful rhythms (with odd beats tossed into the scores – the first six measures of Appalachian Spring are 4/4, 3/2, 3/4 and 5/4), accents related to inflections of American speech, vigorous angular motifs, sudden harmonic shifts, themes that grow and develop in real time, lean textures, bold brassy percussion orchestrations and closely knit sonorities within widely-spaced vertical chords.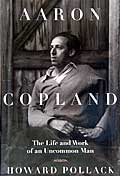 Indeed, just reading this catalog of method suggests immediate parallels with American history and society; thus, the notion of closely knit triads within widely-spaced textures invokes our Westward expansion, in which pioneer families huddled amid the vast stretching plains, as well as our social fabric, in which people of vastly different backgrounds overcome dissonance to adhere for a common national purpose.
Copland began to compose in a jazzy mode (the 1925 Music for the Theatre, the 1926 Piano Concerto) and then turned abstract and obtuse (the 1930 Piano Variations, the 1932 Short Symphony). Although instantly popular, much of the work in his new, accessible style – a children's opera The Second Hurricane (1936), the brilliantly catchy Latin-flavored fantasy El salón México (1936), the ballets Billy the Kid (1938) and Rodeo (1942), movie scores for Of Mice and Men (1939) and Our Town (1940), the startling emblematic Fanfare for the Common Man (1943), and the declamatory Lincoln Portrait (1944) – relied too heavily on actual folk music quotations and explicit narrative to attract critical esteem. His reputation was clinched by his masterpiece, Appalachian Spring.
The original title to the score is "Ballet for Martha." Named one of Time's 100 People of the Century, Martha Graham revolutionized ballet.
Her intense interest in the human body was fueled by her physician/psychologist father and led her to develop a system of movement in which the tension of contracted muscles is released with a flow through the body. Seen today, her sharp, angular gestures and sudden torso movements evoke break-dancing far more than the graceful twirls and leaps of traditional ballet. Copland saw something essentially American in her choreography and personality – restrained, strong and simple, yet proud and very much herself.
In 1943, prominent arts patron Elizabeth Sprague Coolidge commissioned a half-hour ballet from Copland for a dozen musicians. His fee – a paltry $500. The script originated as a symbolic gender conflict between man's work and woman's emotion but developed into "The House of Victory," featuring a pioneer mother and daughter interacting with figurative characters of an Indian Girl, a Fugitive and a Citizen. Although Copland followed the scenario in preparing his score, Graham thoroughly revised and streamlined it as she crafted the choreography. As described in the preface to the Boosey & Hawkes score, it emerged as:
a pioneer celebration in spring around a newly-build farmhouse in the Pennsylvania hills in the early part of the last century. The bride-to-be and the young farmer-husband enact the emotions, joyful and apprehensive, their new domestic partnership invites. An older neighbor suggests now and then the rocky confidence of experience. A revivalist and his followers remind the new householders of the strange and terrible aspects of human fate. At the end the couple are left quiet and strong in their new house.
Despite the ostensible realism, Pollack sees the ballet as a psychological monodrama, in which all the other characters appear as the bride's visions, archetypes and alter egos, in a metaphor of the anxiety of war and aspirations for peace (especially fitting at the height of World War II).
Indeed, Graham herself described her work as having to do with expressing people's roots without telling an actual story. In any event, it's profoundly elemental, as if to say that we're all pioneers, constantly poised to set off on whatever challenges and adventures life holds for us.
Graham chose the title shortly before the premiere from a phrase that struck her in a poem by Hart Crane. Copland was amused that people often complimented his music as brilliantly evoking the Spring season and depicting the Appalachian mountains, even though the poem refers to a mountain stream, had no connection with the ballet and arose only well after the score was finished.
The original ballet is preserved on film, strikingly shot by Peter Glushanok and produced by Nathan Kroll in 1958 for public television. Graham herself (at age 62) dances the bride with riveting charisma.
A minimalist open set by Isamu Noguchi efficiently evokes open Western spaces while merely suggesting a prairie home with a few uprights, two steps, two pieces of wall and flooring, a bench, a stylized chair and a fence railing. The choreography complements rather than illustrates the music. Movement is spare, with most of the characters posed in attitudes rather than making narrative gestures. It has been suggested that the principals' subdued passion resonates from Graham's burgeoning love for Erick Hawkins, the first man to join her previously all-female ballet company and who created the role of the husband. (The preacher was danced by Merce Cunningham, who would soon found his own avant-garde troupe in an influential alliance with John Cage.)
While Billy the Kid and Rodeo made explicit reference to American myth and incorporated actual folk songs, Copland's musical treatment in Appalachian Spring was far more subtle, as he evokes his sources by distilling their essence into original materials.
The sole exception (which, ironically, has emerged as the most popular excerpt) was a section of variations on an obscure but catchy Shaker dance tune, whose humble text not only encapsulates that sect's philosophy but provides an ideal description of Copland's outlook and method:
'Tis a gift to be simple, 'tis a gift to be free,
'Tis a gift to come down where we ought to be,
And when we find ourselves in the place just right,
'Twill be in the valley of love and delight.
When true simplicity is gain'd,
To bow and to bend we shan't be asham'd,
To turn, turn will be our delight
'Till by turning, turning we come round right.
Following its premiere at the Library of Congress on October 30, 1944 (the night of Coolidge's 80th birthday), Graham's company toured Appalachian Spring to great critical and popular acclaim. After it won the Pulitzer Prize in May 1945, Copland orchestrated the chamber score, omitting about eight minutes that he felt were primarily of choreographic interest. Yet, the excised segment begins with an ominous plunge into a minor episode, without which the remainder seems more idyllic than the original's balance of moods.
The suite was introduced at a New York Philharmonic concert conducted by Artur Rodzinski on October 7, 1945 that was broadcast to a national audience and recorded.
Perhaps out of deference to the newness of the work and the composer's professed desire for objectivity, it's a gentle, fleet, rich-textured reading, seeped in nostalgia but with a fine, natural flow.
The first studio recording followed a mere three weeks later by the Boston Symphony under Serge Koussevitzky, another ardent champion of modern American music. Despite a one-minute cut, it's two minutes slower, yet plunges ahead with post-war optimism, bold accents and overt emotion that lend a humanizing aura to Copland's conception.
For a work so consistently and widely admired among both professionals and the public, Appalachian Spring has received surprisingly few recordings. Of those, the most significant are Copland's own, both of the orchestrated suite (1959 with the Boston Symphony, RCA, and 19xx with the London Symphony, Sony) and of the full original chamber-proportioned version (1973).
In rehearsing the latter, Copland emphasized a smooth, effortless, non-committal feeling aura, cautioned the players against rushing or sentimentality, explained that a "light, bouncy, happy" sound would be "Americanish," and proclaimed the prayerful concluding organlike hymn as his favorite part, "with each entry like an Amen." Even so, while intimate, the result emerges as surprisingly vivid, even if largely due to the spare texture (although Copland "cheated" by adding two violins to the original complement of a double string quartet, bass, piano, flute, clarinet and bassoon). Yet, while effectively communicating an aura of unadorned, plaintive simplicity in its quieter sections, the orchestral version is rather bland. In interviews with numerous players, Pollack found consistent criticism of Copland as a mechanical and unexciting conductor with an unsteady beat, awkward body movements and a tendency to talk his way through a piece. Indeed, during the rehearsal segment, he spends far more time speaking of moods and feelings than attempting to assume a conductor's role of delving into the mechanics of just how a player is to derive the desired sound from his or her instrument.
It's no surprise, then, that while Copland's performances are entitled to respect as an aural image of the composer's own ideals and intentions, the finest modern recordings are by conductors who thoroughly mastered their highly specialized art that complements that of a creator.
Chief among these was Leonard Bernstein, who benefited from a unique personal and professional intimacy with the composer. As a piano prodigy at Harvard, Bernstein boasted that he could empty a room in two minutes by playing Copland's spiky Piano Variations. His boast failed, though, at a party attended by the composer, who was so astounded that he mentored the young man and launched his career. Bernstein reciprocated by becoming a committed advocate of Copland's work, documenting his enthusiasm in a fine series of recordings. His definitive 1961 New York Philharmonic Appalachian Spring (Sony) is far more vibrant and bracing than the composer's, from its haunting opening to the animated climaxes. A 1983 Los Angeles Philharmonic concert (DG) is a bit slower and mellower, but still breathes with vitality.
Only one degree further removed from the composer is Michael Tilson-Thomas,
a protégé of Bernstein, who recorded an orchestration of the complete ballet with the San Francisco Symphony (RCA, 1999) that follows in his mentor's footsteps with extreme sensitivity to color, deep empathy and lovingly shaped phrasing. The restored episode, while more diffuse and repetitive than the rest, projects a darker, more modern atmospheric sound that casts the familiar portions into a somewhat different and fascinating light.
Of other recordings, Robert Irving and the Concert Arts Orchestra (super-budget Seraphim)
and Louis Lane and the Atlanta Symphony (Telarc) are both fine. Both the accounts of the fully-orchestrated suite by Erich Kunzel and the Cincinnati Pops (Telarc, 1987) and Antal Dorati and the London Symphony (Mercury, 1961) boast luminously transparent textures and sharply attentive nuances, abetted by radiant, shimmeringly detailed recordings.
As Vivian Perlis noted,
even though Appalachian Spring had no explicit patriotic content, in its time it affirmed our core values against Nazi challenge, so that audiences immediately knew what we were fighting for. Yet,
the real test of its success has been in its power to reaffirm established ideals through so many years of chaotic change and rapidly shifting mores. Even in today's turbulent, confused and unloving age, Appalachian Spring's sensitivity and integrity reach out to audiences. It has gone beyond the world of dance, where it is considered a classic, to become an American symbol.
Every performance of Appalachian Spring – indeed, of any of Copland's populist works – proclaims loud and clear: "This is America!"
---
For further reading about Copland ... The first biography by Arthur Berger (Oxford University Press, 1953) is barely 100 pages long, and of that nearly two-thirds is a detailed analysis of his musical style up to that point (he hadn't yet turned to his final 12-tone period). Copland's autobiography with Vivian Perlis is in two volumes – Copland: 1900 to 1942 and Copland Since 1943 (St. Martin's Press, 1989), providing the dual benefits of his own reminiscences at the end of his life (including lengthy interviews with associates), alternating with chapters in which Perlis fills in gaps and provides valuable perspective. Howard Pollack's Aaron Copland: The Life and Work of an Uncommon Man (Henry Holt and Company, 1999) is well-researched and copiously footnoted but has little to say about the music. Copland's own aesthetic views are given in his Harvard Norton lectures (Music and Imagination (Harvard University Press, 1952)) and his populist What to Listen For in Music (McGraw-Hill, 1957).

Copyright 2005 by Peter Gutmann