The lives of great creators always seem far too brief.

While a fortunate few endure to complete their work and secure their reputation, far too many others depart leaving their full potential unattained and their fame unsettled.
Anton Bruckner faced a far crueler fate. At the height of his power, he spent his final years in a desperate struggle to craft a final masterpiece that would both epitomize his ideals and extend his art into a new realm, but died in 1896 unable to achieve it.

The destiny of the portion that would become his Symphony # 9 fell to others. At first compromised by the misguided efforts of well-meaning friends, ultimately it would be rescued and enriched through the diverse inspirations of a later generation of interpreters.
His peasant roots, strict upbringing and teaching career led Bruckner to be highly deferential and modest, with a deep respect for authority and an equally acute dread of criticism. Yet, he craved recognition.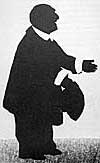 When colleagues implored him to simplify his work in the hope of getting it performed, Bruckner readily agreed, both accepting their "help" and undertaking broad revisions of his own, through cuts, rescoring and conventional harmony, so as to conform to the brighter colors and overt drama of the emerging Wagnerian style. Consequently, the little notice his symphonies garnered during his lifetime was based on bowdlerized versions. (Significantly, the 1927 printing of Grove's Dictionary of Music and Musicians dismisses Bruckner with a single paragraph (one page later devoting eight to his contemporary Alfred Bruneau), and derided his "inordinate leaning toward the manner of Wagner." The balance is redressed in the 2001 edition – Bruckner gets 28 pages to Bruneau's 2.) Later advocates debate the superiority of the composer's initial concepts versus his subsequent reflections which, after all, could represent genuine attempts at refinement and growth rather than corruption under pressure.
His extraordinary Symphony # 9 in d minor suffered a similar fate. While free from the composer's own misgivings and second thoughts, its posthumous 1903 publication was "edited" by his disciple Ferdinand Löwe, who reduced the dissonances, added transitional modulations and tempered the brittle climaxes with smooth swells of sound. Fortunately, despite a lifetime of submission to others' tastes, Bruckner bequeathed his original manuscripts to the Austrian imperial library, thus ensuring their future availability. The contrast was first unveiled in a revelatory 1932 Munich concert, when Siegmund von Hausegger conducted the Ninth twice – first the Löwe edition and then, to huge acclaim, the world premiere of the autograph. To Hausegger also fell the honor of the first recording. His 1938 set of HMV 78s with the Munich Philharmonic Orchestra (now on a Preiser CD) is thoroughly convincing, idomatic and solidly shaped. Steeped in German tradition, it projects an unmistakable image of repressed feeling seething beneath a superficially placid surface.
Since then, nearly all performances have been based on editions restored from the original materials, and Bruckner has emerged as a striking creative force with a distinctive symphonic voice. The complexity of Bruckner's vision lay deep within his personality, surely among the most intriguing of any composer.
Bruckner's lifetime fame came not as a composer but as organist and pedagogue. Both roles pervade his music. His orchestration often evokes the "king of instruments" by layering massive planes of sound.
He taught the theories of Simon Shecter that music was to be solidly founded in bass and "natural" harmonic progressions, and so his themes tend to consist of the notes of deep, elemental chords and his structures evolve steadily on a colossal scale. Bruckner was a methodical composer, always finishing one work before beginning the next. His scores are neat, his corrections precise. Ideas unfold with patience and logic. Emotions are always in check.
Bruckner took little interest in the world beyond musical theory and so his compositions are free of current trends or outside influences. A bachelor and probable virgin, his social life was largely limited to dining with students and pathetic attempts to propose marriage to teenaged girls, with whom he often became enamored. Bruckner was rigidly formal and had no tolerance for risqué humor. His music is severe, with an occasional touch of lyricism but little playfulness and never even a hint of sensuality.
Bruckner was obsessed with death. Although he rarely traveled, he sought to view the bodies of famous decedents and attended the exhumations of Beethoven and Schubert. He cherished a picture of his mother on her deathbed and planned his own funeral and burial in great detail. Such morbid thoughts must have guided him during the prolonged and draining effort over the Ninth Symphony that consumed the last decade of his life.
Bruckner was deeply religious. He kept a log of his daily devotions, prayed before each performance, and stopped lessons when church bells rang. It has been suggested that the extreme length of his symphonies was inspired by a need to elevate listeners' thoughts to a mood conducive to undistracted prayer. As his powers failed, Bruckner dedicated his final symphony to God but could not understand how God could refuse him the strength and inspiration to finish it.
The Ninth is incomplete in far more than the obvious sense of lacking a finale. The first movement is fragmentary and rough, the second acerbic and unsettled, and the third reaches toward eternity through distant harmonic spheres. Such wide-ranging and fertile material challenges interpreters to probe the vitality of Bruckner's complex inner life.
While most interpreters try to smooth the score into a cohesive whole comparable to his other work, a few seem willing to regard the Ninth not as a failed attempt at an orderly artistic statement or personal closure but rather as a perfect depiction of a tortured and turbulent mind.
Above all other conductors, Wilhelm Furtwängler best mined this image of turmoil. A man of conscience deeply conflicted within the cauldron of Nazi Germany, Furtwängler identified fully with the composer's anguish and strife. His 1943 concert Ninth with the Berlin Philharmonic (on Music & Arts) aches throughout with a tangible nervous pain, the rhythms unstable, the balances harsh and tense. He discounts transitions, boldly chopping the stormy first movement into disparate fragments and wrenching the mood from lilting grace to raw savagery, tempos from standstill to runaway and dynamics from inaudible to heavy overload. The scherzo and trio transcend the slightly menacing waltz under other batons to become a furiously driven, vertiginous plunge to damnation. The intensely chromatic concluding adagio grinds massive planes of conflicting tonalities, heaves its way through feverish unrest to a fearsome dissonance, and withers its turbulent fragments into exhausted silence. Furtwängler's radical grasp of the Ninth is one of the most devastating and demanding performances ever captured on record.
Oswald Kabasta, too, was charged with collaboration by the Allies but, rather than defend his choices, killed himself in 1946. While lacking the full measure of Furtwängler's manic intensity and volatile temperament (but with an even more terrifying scherzo), his wartime performance with the Munich Philharmonic (Lys) reflects a similar outlook and temperament. While the loyalties and activities of Hermann Abendroth during the war are shrouded in ambiguity, his 1951 concert with the Leipzig Radio Symphony (Berlin Classics) also derives huge power from jarring conflicts of the type that beset the beleaguered composer. Carl Schuricht also remained in Germany until the last year of the War, and led a somewhat less volatile yet heartfelt 1951 concert with the Stuttgart Radio Symphony (Hanssler) in which sharp brass accents interrupt the continuity.
Jascha Horenstein, one of the least heralded of the great Brucknerians (surely reflecting the nomadic nature of his career rather than a lack of talent),
cut a taut 1953 studio recording with the Vienna Symphony of propulsive vigor (Vox, coupled with a superb Mahler First), while a late BBC concert (BBC, with a spectacular Mahler Eighth) is deeply atmospheric and alive with detail. A constant undercurrent of unrest throbs beneath its tightly controlled surface, as if to suggest the turbulent profundity which the seemingly naïve and reticent composer suppressed within his outwardly simple bearing.
The distinctive tympani accents that offset the moderated emotions,repressed climaxes and detail of Daniel Barenboim's
1990 Berlin Philharmonic concert (Teldec) suggest the composer's straining against conventional inhibitions. Similarly, the dramatic pauses and inflated dynamics of Eugen Jochum's Staatskapelle Dresden recording (EMI) evoke the earnest urgency of Bruckner's desperate race against mortality.
The dour Yevgeny Mravinsky and the Leningrad Philharmonic (BMG) lend their severe 1980 concert recording a brittle, sharp, acidic edge with chilly wind accents and harsh brass-heavy balances to suggest the bitterness of the composer's lonely dying toil.
At the opposite extreme stands Sergiu Celibidache and the Munich Philharmonic (EMI). Invoking his Zen beliefs,
Celi slows the pace to a glacial 77 minutes. His inflexible, unremitting stride crafts a spiritual experience in which calm evolution supplants emotion. Passing details assume cosmic significance amid persistent monolithic planes of sound, suggesting the composer's numb resignation to his looming demise.
In a surprising departure from his reputation for expansive tempos and thick textures (fully evident in a 1950 concert on Tahra), a 1958 Hans Knappertsbusch Bavarian State Orchestra concert (Music & Arts) is fleet, ardent and downright youthful at a mere 51 minutes, as if to evoke the composer's desperate fading memories of earlier times.
Interestingly, although all other conductors came to discredit it, Knappertsbusch clung to (and lets us hear) the Löwe edition, which complements his swift tempos with its vital and simplified rescoring.
While his earlier concert Ninths are also fleet, nimble and pointed, following a heart attack Bruno Walter cut a 1959 studio Ninth with a reduced Columbia Symphony (Sony) that boasts luminous, transparent textures, finely-tuned balances and an utterly sweet outlook, as if strife and resistance against fate no longer seemed relevant after his brush with death. By coming to view even the most complex music as idealized, spiritual harmony, Walter illuminated the composer's naïve and sincere religious faith.
Zubin Mehta (Decca), Carlo Maria Guilini (DG) and Leonard Bernstein (DG) all led the Vienna Philharmonic in remarkably similar readings, tailored to that famed ensemble's smooth, blended sound.
Their massive but deeply sensitive approaches emphasize magisterial power, with Mehta's fueled by volatile climaxes, Bernstein's tempered by a somewhat warmer gloss and Guilini's fired by brass and tympani accents. Their finales end on a breathtakingly smooth and gentle plane, as if to bid the composer a loving farewell and to grant him the eternal peace he never knew in life.
In a 1998 concert with the Berlin Philharmonic (BMG), Gunter Wand sought to hold Bruckner's weighty materials in equilibrium to portray the monumentality of his conceptions, his withdrawal from life's demanding details and his inner truthfulness. Otto Klemperer, who led the American premiere of the original version in 1934, took a similarly massive, objective view with the New Philharmonia (EMI).
Born in Vienna and trained by a Bruckner pupil, octogenarian Georg Tintner
achieved as his sole major recording project a superb set of the complete Bruckner symphonies, but then took his own life rather than suffer through a final illness. The sheer poise of his 1997 Ninth with the Royal Scottish National Orchestra (Naxos) perhaps reflects both his and Bruckner's final escapes into the solace of pure, abstract music from the anxiety of their respective worlds.
In leaving his Ninth Symphony unrealized, Bruckner empowered future generations to apply their insights to build and complete an artistic legacy that explored and transcended the confines of his own life.
---
While we have come to accept the three-movement Ninth as definitive and emotionally whole, Bruckner actually left 180 pages comprising about 15 minutes of music for a finale, ranging from sketches to fully orchestrated passages.
Its coherence is compromised by entire missing blocks of pages thought to have been kept by associates as souvenirs. Several modern scholars have attempted to realize performing versions, but all are somewhat speculative and lack the special inspiration that Bruckner would have provided to meld these and perhaps other materials into a masterful structure. The most successful presentation is a recording by Nikolaus Harnoncourt and the Vienna Philharmonic (BMG CD), coupling a decent performance of a new critical edition of the score with a performance of the surviving sections in the course of a fascinating lecture in which he explains the structure and leaves tantalizing clues as to the gaps, including a coda in which Bruckner was to include references to several former symphonies, as if to conclude what he know would be his final work with a literal summary of his career. In any event, despite some typically powerful "Brucknerian" themes, lyrical respites and intriguing implications, in years of toil Bruckner himself was never satisfied with the finale, and so we can only wonder how (or even if) he would have brought the desperation and yearning of the first three movements to a suitable denouement. (Some scholars speculate that by writing "Te Deum" at the end of the adagio, Bruckner meant to signal that his earlier choral work of that title be used for a finale, but its festive, ecstatic tone is wholly inappropriate to his grave, probing symphony, and it seems far more likely that Bruckner meant his inscription to be taken literally as a sincere and fervent dedication (and perhaps supplication) to God.) My personal feeling is that Bruckner's "failure" merely verifies the impossibility of the challenge he had created – the portion of the Ninth that Bruckner did complete was so astoundingly powerful and far-reaching that not even he could have suitably concluded it. Although he reportedly was still working on his finale the very day of his death, Bruckner's intentions, whatever they might have been, must remain consigned to eternal mystery.
---
For further reading, I wholeheartedly recommend Hans-Hubert Schönzeler's Bruckner (Grossman Publishers, 1978). It's concise, copiously illustrated and packed with fascinating insights about his life and work.

Copyright 2005 by Peter Gutmann