In all the years of Spanish my sons took in school,

the cultural units dwelled upon literature, poetry, painting and drama – but barely a word about music. Indeed, of all the great European civilizations, Spain's contributions to serious music seem negligible.
Foreign composers, especially the French, often were intrigued by their exotic neighbor – consider Liszt's Spanish Rhapsody,

Rimky-Korsakoff's Capriccio Espagnol, Chabrier's España, Bizet's Carmen, Debussy's Iberia and Ravel's Alborada del Gracioso, L'heure espagnole, Rhapsodie espagnole and many song cycles. Yet, despite performers who revolutionized technique and expression on their respective instruments – violinist Sarasate, cellist Casals and guitarist Segovia – not until the early 20th century did Spanish composers belatedly emerge to produce work of distinctive local character. Late in careers otherwise squandered on copious but trivial occasional piano pieces, Isaac Albéniz and Enrique Granados each produced a single masterpiece – Iberia (1909) and Goyescas (1912). They were inspired by Felipe Pedrell (1841-1922), a scholar who fervently proselytized for a rediscovery of Spanish polyphony,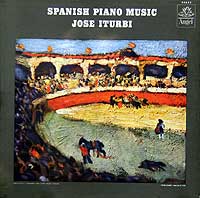 which had flourished hundreds of years earlier, and for turning to folk music as the essence of the expression of the Spanish people. But it fell to Manuel de Falla (1876-1946) to achieve Pedrell's goal and to legitimize Spanish music to the rest of the world.
Falla was born and raised in Cadiz, a cosmopolitan port in Southwestern Spain. His family moved to Madrid, where he completed a seven-year course of conservatory study in two years and tried to support himself by writing zarzuelas. Begun as royal entertainment in the 16th Century, these brief plays with songs were revived to combat enthusiasm for Italian opera, featuring uniquely Spanish settings and characters, all suffused with the potent and highly distinctive flavor of gypsy music. As outlined by Suzanne Desmarquez, the origins of this style were Arab, with intense and irregular rhythms, sharp attacks, rough endings, and wide vibrato, manifested through guitar accompaniment, castanets, zapateado (foot stomping and tapping), palmar (hand clapping), rapid triple meters, melismatic beginnings and ends of long held notes and harmonies based on open guitar chords. According to his student, Adolfo Salazar, Falla rejected basing his music directly on folklore, but rather used it as the seeds of his own style, extracting the substance of its sonorities, rhythms and spirit. To David Ewen, Falla was a mystic who sought out and assimilated the soul of Spain to produce a vibrant evocation rather than a literal depiction.
Only in 1905 did Falla produce his first major work – La Vida Breve (The Brief Life), his only opera (and a brief one at that – barely one hour). Although intended to lend greater scope and dignity to zarzuela, which serious musicians derided as trivial crowd-pleasers, La Vida Breve is hobbled by perhaps the most absurd plot in all of opera, even by the meager and forgiving standards of that genre – a jilted woman avenges herself by crashing her lover's wedding and dropping dead!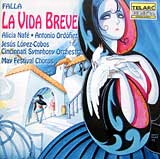 It's also rather ironic for an opera that the vocal sections seem a pale imitation of Italian verismo while the writing of truly forceful national character only infuses its vibrant instrumental dances and an interlude, which comprise about a third of the score and, standing on their own, are the only portions played nowadays.
Although La Vida Breve won first prize in a prestigious national competition, Falla couldn't get it published or performed. Disillusioned with his country's apathy toward native art, he went to Paris where he befriended Dukas, Debussy, Ravel and Faure who were intrigued by his roots, encouraged him to write Four Spanish Pieces for piano and Seven Popular Spanish Songs and opened doors for dissemination and presentation. From his mentors, Falla absorbed the lessons of French impressionism that would enrich his own writing with its complementary emphases on efficiency and resourceful orchestration.
After seven years in Paris, upon the outbreak of World War I Falla returned to Madrid. There, Pastora Imperio, a legendary ballerina of Gypsy background, commissioned him to write a song and dance, which soon evolved into a full-blown story based upon legends recounted by her mother and fashioned into a scenario by Gregorio Sierra (although recently it has been suggested that Sierra's wife Maria ghost-wrote this and most of his work). Fortunately for posterity, the Madrid premiere of the original version (now heard on Naxos 553499) was a failure. Perhaps sensing a greater work within, Falla condensed and refashioned the score into an abstract ballet,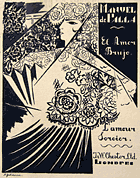 trading plot progression for artistic structure, excising all the dialog that had interrupted and obscured some of his most captivating music, removing a song and monologue that had more narrative than musical interest and expanding the eight-piece ensemble into a full orchestra for a richer, more versatile sound. He emerged with a work that stands as his artistic legacy – El amor brujo (literally, Spell-bound Love, but generally anglicized as Love, the Magician).
The plot is disarmingly simple – a gypsy is possessed by the ghost of her faithless former lover until her new suitor enlists a beautiful friend to entice it away. Every one of the thirteen scenes evokes a diverse mood that is seamlessly integrated into a moving tapestry of enthralling but restrained human feeling. The emphatic rhythm, compressed tonal range and alternating long notes and rapid sequencing of the opening fanfare both commands attention and heralds the style of the vocals to come. In three sections an off-stage mezzo-soprano sings of the cruelty and deceptions of love, in songs derived from jundo (Andalusian folk songs) and delivered in that chesty, guttural style unique to Spanish folksong that projects languid yet spellbinding lust. The piquant "Dance of Terror" and the intense "Ritual Fire Dance" have become famous as orchestral excerpts and piano transcriptions. "In the Cave" evokes a quest of eternal mystery as incisive, fragmentary events flit expectantly over the deceptively calming lull of sustained strings. "The Magic Circle" summons timeless wonderment with a pre-tonal medieval sound. A "Pantomime" conjures a meltingly lovely reverie in 7/8 meter, graced with a ravishing countermelody. The terse finale leaves audiences rapt but avid for more, as the two lovers, at last freed from the stifling burdens of their past, emerge from a night of sorcery to face the wondrous splendor of a new dawn, as morning bells peal in hopeful triumph.
Falla's supreme gift, fully evident in El Amor Brujo, is to suggest a multitude of distinctive sounds rather than depicting them outright. Perhaps the most magical moment is a passing scene that clearly evokes the chimes of midnight, but without a single chime; rather, the effect is induced entirely with a resourceful combination of brass, strings and piano.
Indeed, despite the essential Spanish character of the work, nowhere do we hear an actual tambourine, castanet, hand clap, foot stomp, flamenco tap, or even a guitar, yet in a sense they all are present and deeply felt throughout. This is the ultimate feat of art – to use surrogate means to produce a sensation even more vivid than the real thing would have been.
Perhaps in keeping with Falla's extraordinary sublimation of the simmering passion of his culture, all the El amor brujo recordings led by Spanish conductors seem sultry and reserved, letting the music and its inherent ardor unfold patiently and subtly. The pace was set by a deliberate 1930 Columbia recording by the Orquesta Beticade Camera, Seville with Conchita Valesquez that can claim a special degree of authenticity, as the conductor, Ernesto Halffler, was a protege of the composer. There's little to chose among the successors – all have a refreshingly casual aura and feature soloists raised in the folk and zarzuela tradition who exhibit a keenly affecting sense of genuine style. Most others, including Maazel (DG), Reiner (RCA), Dutoit (Decca) and even Bernstein (Sony) try to emulate this approach, but with incongruous operatic soloists. If all these seem too prosaic, and at the risk of contempt for authenticity, a zesty alternative approach was paved by two 1946 studio recordings by Reiner and the Pittsburgh Symphony (EMI) and by Stokowski and the Hollywood Bowl Orchestra (Pearl or Dutton). But even they are topped by Stokowski, that sorcerer of sound, who (at age 82!) unleashes a stunning razor-sharp and ecstatic, if strikingly unidiomatic, 1964 concert with the BBC Symphony (on BBC or Music and Arts). Curiously, although the original score is marked with a duration of 19 minutes, no recording runs less than 23 (and most several minutes beyond that), and indeed it's hard to imagine the score's manifold beauties revealed so swiftly.
While all of these recordings are of the concert-hall version,
El Amor Brujo is, after all, a ballet. It's marvelously danced by Antonio Gades (who also choreographed) and Christine Hoyos in a 1986 movie by Carlos Saura, who spreads Falla's pieces among an added hour that expands the plot and characters amid atmospheric folk songs and blazing flamenco dancing. It begins as a cinematic tour de force with a four-minute tracking shot and a one-minute dissolve, but then settles into a soundstage set that deftly melds theatrical artifice and genuine relics of a gypsy camp. There's an awesome knife fight to a percussion score and the "Ritual Fire Dance" is energized by a huge blazing nighttime bonfire. Wisely, Saura concludes with the unaltered end of the ballet, eloquent and haunting.
At the same 1916 concert as the premiere of his reworked El Amor Brujo, Falla also introduced his Noches en los jardines de España (Nights in the Gardens of Spain) for piano and orchestra, in which native melody and figuration are suffused with the lush atmosphere of French impressionism. Written mostly before leaving Paris, its three nocturnes present a panorama of the aromas of an alluring Iberian night of wonder. Falla himself called this evocative work expressive rather than descriptive, and tempered by melancholy and mystery.
In 1919 Falla wrote another half-hour ballet, El sombrero de Tres Picos (The Three-Cornered Hat) for the Ballet Russe, based on a folk-tale of an elderly lecherous governor's comic and frustrating attempts to seduce a miller's wife.
The star-studded premiere was produced by Diaghilev, choreographed by Massine and designed by Picasso. Although its wonderful dances, often excerpted, have a compellingly Spanish sound, local critics claimed that the work co-opted their culture, leading the composer to note with irony that he felt like a Spaniard while abroad but like a foreigner when in Spain.
Based on entertainment that enthralled him as a child, El Retablo de Maese Pedro (Master Peter's Puppet Show) (1923) takes the concept of a show within a show one key step further. To depict the episode from Cervantes' Don Quixote in which the delusional knight attacks stage villains and destroys a puppet theatre, Falla mounts a real puppet show, but with a catch – the audience of the Don and his entourage, and even the inn-keeper and puppeteer, are all puppets themselves! Indeed, the whole fanciful thing is seen through a child's eyes – each incident of the story is introduced by a youthful narrator's recitative, fleeting scenes match a short attention span, emotions are gentle and the overall tone is one of lighthearted whimsy.
The famous harpsichordist Wanda Landowska played in the Puppet Show premiere (which, to evoke its medieval setting, featured a prominent part for her instrument) and was so enchanted that she commissioned what would be Falla's last major work – his Harpsichord Concerto (1926). Despite the title, this twelve-minute gem wasn't a traditional concerto (in which a solo instrument contends against a full orchestra);
rather, the delicate sonority of the harpsichord blends among and neatly complements a single flute, oboe, clarinet, violin and cello. "The spirit matters more than the letter," Falla told Salazar, and here, rather than stating them directly, he spreads largely abstract hints of Spanish themes and rhythms within a lean and austere yet modern neoclassic sonority.
Falla's lifetime output was small – he published just 15 pieces, including but one short study for that quintessential Spanish instrument, the guitar. He worked with great care and deliberation – after two decades of struggle, he left a final oratorio, La Atlantida, incomplete, unworthy of publiction. Indeed, he was a deeply humble man – he declined to print his name on most of his music and turned down a contract to appear in the US because he considered the fee too high. But his care paid off – nearly every one of his works is an acknowledged masterpiece of its type into which he distilled the core of his creative thought. Like Albeniz and Granados, he never sought to force his culture into symphonies, quartets, sonatas and other standard forms of European art music. Rather, he favored structures that would better display the essence and sensibility of his distinctively Spanish inspiration.
Thus did Falla redress centuries of geographic, political and cultural isolation to bring Spanish music to the world's attention.
---
Two biographies proved especially helpful in preparing this article. Jaime Patrissa's Manuel de Falla – His Life and Works (Museum Press, 1954) benefits from the author's friendship with the composer, and Suzanne Desmarquez's Manuel de Falla (Chilton, 1968) relies heavily upon the Patrissa book but adds a fine overview of influences.

Copyright 2004 by Peter Gutmann