Composers' own records have unique value.

More clearly than verbal descriptions or even written notation, they document the creator's conception, inspire understanding and guide further interpretation.
Among the most essential of these is George Gershwin's brilliant 1924 record of his Rhapsody in Blue,

which preserves the world premiere of one of the most popular works in the entire repertoire – and in a performance strikingly different from those to which we're accustomed. Here is Gershwin himself playing the piano solo in his own peerless style, accompanied by the musicians for whom he wrote the work. If only we could transcend conjecture to hear how Beethoven played his own revolutionary piano sonatas or how Wagner conducted his own tradition-shattering operas!
Gershwin was born Jacob Gershvitz in 1898 to Russian immigrant parents in Brooklyn, where he was immersed in a vast range of music.
He left high school for Tin Pan Alley and worked three years as a pianist plugging sheet music for Remick's music publishers. Quickly absorbing both the writing and performing styles of his time, Gershwin moonlighted as a vocal accompanist and dabbled in composition. A mere 20 years old, he soared to fame with "Swanee," a mega-hit for Al Jolson. Within the next few years the flow of songs continued, including several Broadway musicals.
Apparently, at one point Gershwin had mentioned his desire to write a serious piece incorporating jazz and pop elements to Paul Whiteman, whose dance band was among the most popular in America. Nothing more came of this until January 3, 1924, when Whiteman announced an eclectic concert to take place at New York City's Aeolian Hall, with the bold purpose of displaying modern American music in all its varieties.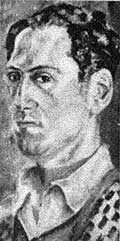 A self-portrait

Whiteman went on to proclaim that Gershwin was at work on a jazz concerto which would receive its premiere at the event. This was news to Gershwin, who read about it in the next day's paper along with the rest of the world. Gershwin protested that he had nothing in progress except a new show and was headed to Boston for a tryout. Worse yet, the Whiteman concert was slated for February 12!

Despite the confusion, Whiteman apparently persuaded Gershwin to accept his commission. Gershwin later recalled that he formed the concept of the piece on his way to Boston, inspired in part by the rhythmic noises of the train ride. Upon returning to his New York apartment, he produced a two-piano score to be orchestrated by Whiteman's top arranger. Best remembered for his glitzy but trifling Grand Canyon Suite, Ferde Grofé knew the special talents of the Whiteman musicians and was uniquely qualified to customize the score to maximize its impact. Thus, the famous opening glissando was tailored for Russ Gorman, Whiteman's first-chair clarinetist.

The instrumentation was completed barely a week before the scheduled premiere. Due to the rushed circumstances and his other commitments,
Gershwin had no time to write out the solo passages, which he played from memory (and, great improviser that he was, probably embellished considerably). Gershwin's understanding with Whiteman was that he would nod when his solos were over and the next orchestral portion was to begin.
The concert was long and tedious, with Gershwin's piece nearly at the end. While critical reaction was mixed, the audience was thrilled and the work was recognized immediately as something new and excitingly different. Even now, with the vantage of retrospect, the Rhapsody in Blue eludes convenient classification. Is it classical music with pop elements, or jazz with serious pretensions?
Just what type of musical creature is the Rhapsody in Blue? From the very outset, commentators have struggled to describe it.
Gershwin had declared his intention as breaking down misconceptions about the limitations of jazz. But such terminology is confusing – this wasn't the same spontaneously improvised "jazz" that his contemporaries Louis Armstrong, Jellyroll Morton and Bix Biederbecke were creating. Rather, it was a mainstream version filtered into dance arrangements that stretched conventional rules with a novel edge of some harmonic flights, rhythmic variation and emphatic playing. Whiteman's claim to have been "The King of Jazz" must have gotten a good sneer from real jazz musicians.
Far more cogent is John Struble's observation that Gershwin approached all music as a songwriter. His strength was as one of the great instinctive melodists of all time. Although he did receive some formal musical training, his abiding weakness was structure. Thus, notwithstanding a great love for the piece, Leonard Bernstein disparaged the Rhapsody in Blue as "not a composition at all [but] a string of … terrific tunes … stuck together with a thin paste of flour and water." Arthur Schwartz agreed, calling the development and transitions "more intuition than tuition." All Gershwin's works discount traditional development and proceed linearly from one event to the next. The appealing result, as Alex North observed, is a natural, sincere expression which, as James Lyons noted, manifests the confidence and nervous energy of the "Roaring Twenties."
Perhaps the most reliable measure of the Rhapsody's originality is that it had no direct descendants. Indeed, subsequent attempts to meld pop and serious music always seem awkward. Yet, its fame and impact inspired many serious composers, including Ravel, Stravinsky and Milhaud, to explore jazz and stirred countless pop composers to dabble in classical forms.
But all of this lay well in the future, a future which Gershwin, who died at age 38 of a brain tumor, would not live to see.
In the meantime, the months following the Whiteman premiere saw many more performances, including two at Carnegie Hall. And then for the young and daring composer came a terrific break – the opportunity to record his sensation for Victor, or at least as much of it as could fit onto a 2-sided 12-inch record.
The session took place on June 10 and featured the same Whiteman players who had been at Aeolian Hall, including Gershwin himself at the piano. Although the second half is heavily cut, the performance captured that day fully regenerates the exhilaration that elated the first audience. The pacing is brisk and at times even frantic, the dynamics extreme, the playing biting, tense and driven. There is not a bit of the gushy romanticism heard on so many bloated modern interpretations of the piece (in part because they use Grofé's later full orchestration). Even the shrill, brassy, lean orchestration seems an ideal match for the sonic limitations of the acoustic process, a purely mechanical recording system in which musical vibrations were gathered by a horn and engraved by a stylus directly on a wax master.
This is an ideal realization – brash and arrogant, just the impression we would expect from the young composer who had turned the world on its head by daring to synthesize "jazz" and the classics. The opening glissando is lumpy, but effectively sets the aural stage for the spontaneity to come. Gershwin's solos are so free-flowing as to sound as if they truly did arise on the spot. The band responds with biting sarcasm, as if to mock the pretension of a formal concert setting.
The entire performance has a rousing impromptu tone, as if to proclaim the passionate commitment of the original ensemble infusing the score with the very breath of creation. The sheer sincerity of the record is simply overwhelming. It's currently on budget Naxos CD 120510 and BMG 62376.
Gershwin himself left us two other performances. A comparably abridged 1927 remake with Whiteman's band (but not Whiteman himself, who stormed out of the session after arguing with Gershwin over tempo) used the new electrical recording process of microphones and amplifiers (also on BMG 62376) and comes close but doesn't quite recapture the fresh authority of the original. A full-length 1925 piano roll (Nonesuch 79287) thickens the texture to sketch in the orchestral parts (even though it may have "cheated" a bit by extending Gershwin's own considerable virtuosity through extra hand-punched holes).
Of other performances, the most compelling have no pretense of manicured refinement, but follow Gershwin's own cue of free-wheeling impulse.
We remember Oscar Levant primarily as an insufferable character in the MGM musicals The Band Wagon and An American in Paris (in which he whimsically dreams that he and multiple clones play the finale of Gershwin's Concerto in F). More significant than his acting, though, was his dedicated service as a Gershwin aide and accompanist. Thus, Levant's brisk and highly personal 1945 reading of the Rhapsody with Eugene Ormandy and the Philadelphia Orchestra (CBS 42574) is second only to Gershwin's in authenticity. When first released on LP, the album bore the "CL" prefix used for pop albums rather than the "ML" classical prefix, a clear recognition of its crossover appeal.
Another striking performance
comes from a most unlikely source – that straight-laced classicist, Arturo Toscanini. During World War II, Toscanini pushed the performance of American music as a patriotic gesture. While he had no feeling for the pop language that infuses Gershwin's work, to his credit he made no attempt to mimic an alien style. Rather, he approached Gershwin with the same fierce severity as any other classical piece, tearing into the accompaniment with dramatic gusto while yielding to idiomatic solos by a young and intrepid Earl Wild. (Benny Goodman, a celebrity recruited to play the opening clarinet solo, muffs a disastrous climactic note.) The 1942 broadcast (on Hunt CD 534) is vivid and committed, a fascinating if perverse contrast to the usual readings. The elements missing from Toscanini's rigorous interpretation attest that the essence of Gershwin lay well beyond the limits of serious music alone.
Of the dozens of modern versions,
Leonard Bernstein, conducting the Columbia Symphony Orchestra from the keyboard, manages to capture much of the lean vigor and jaunty attitude of Gershwin's original and has been constantly around in various incarnations since its release in 1959 (currently on Sony CD 42264 or 63086, each paired appropriately with Grofé's Grand Canyon Suite). (Bernstein's sharply articulated 1983 remake is with the Los Angeles Philharmonic, with which he had given his first professional performance of the Rhapsody in 1944 – DG 410025.) Pianist/conductor Morton Gould, who worked with Gershwin, adds lots of personal inflection to his spirited 1955 account (BMG 62376).
More conventional are the fine remake by Earl Wild with the vastly underrated Arthur Fiedler and the Boston Pops (BMG 68796 or 68109) and the sassy outing by Jerome Lowenthal with the Utah Symphony under Maurice Abravanel (Vanguard 10017). The leisurely, lyrical and well-balanced reading by Jeffrey Siegel, with Leonard Slatkin and the St. Louis Symphony Orchestra, permits the work's wry humor and playfulness to emerge gently (and is a superb bargain on Vox CDX-5007).
---
Ready for more Gershwin? Encouraged by the success of the Rhapsody in Blue, Gershwin produced an even more ambitious crossover work the next year. His Concerto in F for Piano and Orchestra, a full-blown three-movement concerto, was traditional in title and form, but jazzy in all its details. Its melodies were bluesy, its harmonies extended, its rhythms sharp, and its orchestration (by Gershwin himself this time) blazing.
The opening phrase alone is a knockout, boldly proclaiming what lies ahead: four tympani strokes, a cymbal clash, a bass drum thud, and snare drum roll, all repeated, which leads directly into a Charleston motif – truly a concerto for people who hate concertos!
My favorite realization of the Concerto in F is the extroverted account with Earl Wild at the keyboard and Arthur Fiedler conducting the Boston Pops. Gould's and Levant's performances have fine, distinctive solo work, but the latter's accompaniment by Andre Kostelanetz is pretty colorless. The Siegal/Slatkin reading is dry, witty and subtle. Each is packaged with the Rhapsody in Blue performances already noted (except for the Gould, which is only available on the original LP coupling of LM-2017).
Next from the "serious" Gershwin came An American in Paris (1928),
a delightful musical souvenir of a European trip. Early in the days of the LP, its breezy tone and length marked it as a natural flip-side companion to the Rhapsody in Blue, and it has been so coupled ever since. Indeed, each of the above Bernstein, Fiedler and Slatkin readings of the Rhapsody in Blue is associated with equally fine performances of An American in Paris.
But there is one standout reading that preceded LPs,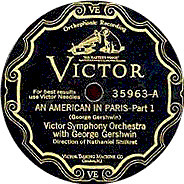 played in February, 1929 by the RCA Victor Symphony Orchestra led by Nathaniel Shilkret (Pearl 9483 or RCA 63276). This was the first recording of a complete Gershwin work (both the acoustic and electric Whiteman versions of the Rhapsody in Blue having been abridged) and features Gershwin playing the brief celesta passage near the middle. (Apparently, his participation was unplanned, and was necessitated when it was realized, only once the session began, that the producer had forgotten to hire a celesta player.) The authenticity of this performance is assured, though, not only from Gershwin's unexpected presence, but by Shilkret's use of the actual taxi horns that Gershwin brought back with him from Paris and which inspired the introductory "walking" section.
Over the next few years, Gershwin produced some lesser pieces, including a disappointing sequel (the Second Rhapsody for Piano and Orchestra, a quarter-hour of meandering, empty sequencing without a shred of memorable melody), the rhumba-flavored Cuban Overture and the self-descriptive 'I Got Rhythm' Variations for Piano and Orchestra. And then came the last and most ambitious of Gershwin's classical works – Porgy and Bess, a collaboration with his lyricist brother Ira and playwright Du Bose Heyward.
Launched in 1935 as grand opera, its story of poverty, drugs and racism set in a Charleston waterfront slum was hardly the stuff of operatic tradition, and its main characters of a crippled beggar, a drug pusher and a fugitive woman were hardly apt to gain the identification of typical opera audiences. The reception of this realistic brew was mixed, and its success came eventually only in subsequent revivals which Gershwin did not live to enjoy.
Gershwin supervised a set of eight selections shortly after the New York opening (on BMG 63276). Its authority is compromised somewhat by substituting for the original leads white Metropolitan Opera stars Lawrence Tibbett and Helen Jepson, but they sing superbly, only barely sounding strained with the dialect (although Jepson can't avoid rolling her "r's" in the grand European manner). Several complete recordings are available, including the pioneering set produced by Goddard Lieberson for Columbia in 1953 (Sony Heritage 63322). There's a wide choice among excerpts, including an arrangement by Morton Gould (on BMG 63276) and Catfish Row, Gershwin's own orchestral suite (included in the Slatkin Vox set), which would become Gershwin's last serious work. But Porgy and Bess has been enjoyed more for its parts than as a whole. Many of its arias and set pieces have taken flight as popular songs, including "A Woman Is a Sometime Thing," "I Got Plenty o' Nuttin'," "Bess, You Is My Woman Now" and "It Ain't Necesssarily So." One in particular, the ravishingly beautiful first act curtain-raiser, "Summertime," has been interpreted by artists as diverse as Miles Davis and Janis Joplin.
This was the serious side of Gershwin.
His other, popular, side has been popular indeed, perpetuated by the intense interest which jazz musicians have taken in his daring harmonic structures and exquisitely-wrought melodies, which have provided a wealth of material for improvisation. Gershwin himself can be heard in splendid if confined fox-trot versions of eight show tunes, together with his Three Preludes (on Naxos 120510) and in realizations of two dozen piano rolls (on Nonesuch 79287 and 79370). A marvelous collection of lighter pieces is played authoritatively by pianist William Bolcom (coupled with Gershwin songs by Bolcom and Joan Morris on Nonesuch CD 79151). More unusual arrangements range from violinist Jascha Heifetz to the Canadian Brass.
But no matter how much you hear in other hands and in more recent times, the most startling performance of them all remains that first crack at the Rhapsody in Blue. Never again would coalesce the heady thrill of creating something new and wonderful, the first marvel of acceptance by the world of serious music that the tunesmith kid from Brooklyn had joined on his own terms, and the awesome faith that the most distant artistic horizons were now his to conquer.
---
The compilations of historical Gershwin recordings can be confusing, so here's a quick summary:
Historic Gershwin Recordings (BMG 63276, 2 CDs priced as one) – a wonderful collection, with three Rhapsodies in Blue (both the 1924 and 1927 Gershwin/Whiteman versions and the 1955 Gould), two Americans in Paris (the 1929 Shilkret and a bracing 1949 Bernstein), and the 1935 Gershwin-supervised Porgy and Bess excerpts. There's also Gould's fine half-hour Porgy and Bess orchestral suite. My only quibble is that the transfer of the acoustic Rhapsody is quite bass-deficient, although the amount of detail extracted through computer processing is remarkable.



Gershwin Plays Gershwin (Naxos 120510, budget-priced) – the 1924 Gershwin/Whiteman Rhapsody (but in a blurry transfer that perhaps better than the clean BMG one above conveys the solid sound of an acoustical record played on the actual equipment of the time), Gershwin's own 1931 broadcast of his Second Rhapsody, plus Gershwin at the keyboard playing his Preludes and eleven songs.



Levant Plays Gershwin (CBS 42514, mid-priced) – Levant's fine recordings of the Rhapsody, Second Rhapsody, Piano Concerto, 'I Got Rhythm' Variations and Preludes.



Toscanini Conducts Gershwin (Hunt CD 534) – the Rhapsody is fascinating, but a 1943 broadcast of An American in Paris is similar to, but far less well recorded than, his 1945 studio account (on RCA 60307) and his 1944 broadcast of the Piano Concerto stifles Oscar Levant with a deadly dull and wooden accompaniment.



The Complete Gershwin (Vox 5007, super-budget 2-CD set) – I'm cheating a bit, since these are late-1960s stereo recordings, and thus not really historical, but you can't find a finer set at anywhere near this price of all the above pieces plus the Cuban Overture and Catfish Row, all played wonderfully by Jeffrey Siegal, pianist, and the Saint Louis Symphony Orchestra conducted by Leonard Slatkin. As the composer himself would have said (through his lyricist brother Ira): "Who could ask for anything more?" Enjoy!

Copyright 2003 by Peter Gutmann