Culture is a constant battle between the elite who shape taste and the masses who confer fame.

Nowhere is this schism more apparent than with Peter Ilyich Tchaikovsky, whose music was reviled by critics but adored by the public.
All music is sublimated emotion, but Tchaikovsky pushed the envelope just enough for staid concert-goers to be genuinely thrilled without being scandalized.

Detractors bridled at his seeming lack of refinement but unwittingly grasped the very quality of his mass appeal – in the words of conductor Leopold Stokowski, "His musical utterance comes directly from the heart and is a spontaneous expression of his innermost feeling. It is as sincere as if it were written with his blood." Tchaikovsky poured his emotions into traditional structures in an edgy combination of Slavic passion and French stylistic flair, bolstered with ravishing melody and brilliant orchestration.
Tchaikovsky's final work was his Symphony # 6 in b minor, dubbed by his brother Modeste, with the composer's approval, as the "Pathétique" (in the sense of "pathos," not "pathetic"!). Robert Simpson aptly observed, "No other work has survived so many critical burials." Its popular appeal is indeed immortal, displaying, as with all Tchaikovsky's great work, a complex texturing of emotion – sorrow leavened with hope and happiness tinged with a foreboding of despair. Indeed, in retrospect the Pathétique can be seen as a reflection and culmination of the composer's deeply discordant life, the details of which have only recently emerged from the historical gauze of suppression.
Tchaikovsky died nine days after the premiere – he drank a glass of unboiled water at the height of an epidemic of cholera, to which he succumbed in great agony. The official explanation was that he had made a grievous mistake.
But even before his massive state funeral rumors began – how could a discreet, intelligent man do such a thing? Yet, if Tchaikovsky had taken his life, why? Was he depressed? That's unlikely – reaction had been tepid to the first performance, which Tchaikovsky had led with his usual nervousness, but acclaim for nearly all his works was at first elusive and invariably had swiftly grown. Tchaikovsky reportedly proclaimed the "Pathétique" to be his finest achievement and was quite proud and satisfied.
The most far-fetched yet now widely-accepted view is that the composer had been condemned by a "court of honor" of former schoolmates and pressured to kill himself in fear that one of his affairs was about to be exposed and reported to the Czar. Tchaikovsky was a life-long homosexual in a rigid society in which such behavior was harshly condemned. (So was Modeste, in whose otherwise thorough 3-volume biography not a hint of sexuality was mentioned.) Indeed, he lived in perpetual dread of disclosure and relied upon the discretion of a huge number of people, including myriad male students to whom he had been attracted.
It's ironic that the love life of the composer best known for his ardently romantic music was such a thorough mess. He had only two significant relationships with women. Both began at age 37 and were quite bizarre.
The first was a brief and disastrous marriage to an infatuated former student who threatened to kill herself if he spurned her. Tchaikovsky later claimed that he could not have borne the guilt of her suicide, but biographer Anthony Holden suggests that he seized upon matrimony as a drastic but logical therapy for his homosexuality, which at the time was considered a curable malady.
If so, the remedy failed miserably. Tchaikovsky reportedly was deeply depressed at a celebratory breakfast, nearly fainted at the ceremony when told to kiss his bride and was so horrified by the wedding night that he ran off and tried to drown himself. Rather than the embarrassment of a divorce, the couple remained separated, Tchaikovsky acceding to his wife's demands for money whenever she threatened to publicize his ruinous secret.
The same year he began an equally odd but far more suitable relationship with Nadazhda. van Meck, a wealthy older widow who idolized him. Their agreement – she would provide generous support but they were never to meet. Even when she furnished him with a villa next door, they carefully coordinated their schedules to avoid direct contact. Rather, they poured their souls into copious correspondence – up to 300 letters per year – which provide us with a detailed map of Tchaikovsky's feelings.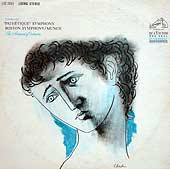 It was an ideal bond, with all the intimacy and emotional fulfillment he craved but without the loathsome physicality; he could idealize his affections from a distance without having to face the reality of emerging flaws and the boredom of domestic routine. After 14 years, though, both funds and letters abruptly stopped.
Tchaikovsky was shattered. As with his doomed marriage, he fled, this time to New York, where he was feted in a series of concerts to dedicate Carnegie Hall. Upon his return to Russia, he launched into a new work which he described as a symphony of life, loss, disillusionment and death. Although he abandoned that effort, it's program is often mistaken for an outline of the Pathétique, leading to speculation that he intended the work as an autobiographical requiem in anticipation of his demise. The Pathétique, too, had a narrative plan, but this time Tchaikovsky wouldn't elaborate, saying only that it was "impossible to put into words." Even so, Modeste regarded the work as cathartic and recalled that his brother wept often as he wrote it. The symphony that emerged was his most progressive and suggests that he was on the verge of rebuilding the emotional turmoil of his life into even greater art. Indeed, the Pathétique leaps from one novel wonder to the next.
The first movement adheres to traditional symphonic sonata form, but you'll barely notice – as with Tchaikovsky's potent tone-poems, the interplay of sharp, angular commotion and lush, sensual longing attains a compelling but uneasy balance between the comfort of scalar passagework and the aching tension of figures based on the ambiguous interval of the fourth. The drama surges at the mid-point, as Tchaikovsky throttles down the volume to an unprecedented notation of pppppp to prepare for a startling full outburst.
The second is a "limping waltz,"
boasting the near-miracle of a melody so smooth you're hardly aware it's in 5/4 time and missing a beat. The 5/4 signature occasionally surfaces in jazz (Dave Brubeck's "Take Five") and rarely in rock (Ginger Baker's "Do What You Like"), but was unheard in classical music, until this. Typical of Tchaikovsky, it pulsates with doubt – brimming with grace yet constantly off-balance enough to cast a pall over the otherwise elegant mood.
Next comes a vivid march that builds repeatedly over tense, chattering strings to a rousing brass-fueled climax so thrilling that audiences invariably burst into spontaneous applause. But the Pathétique isn't over. Instead, in his most visionary touch of all, Tchaikovsky concludes with a slow movement that thrashes and seethes with stressful emotion before finally fading away into restless exhaustion. In the words of composer Arnold Schoenberg, the finale "starts with a cry and ends with a moan." Of all the work's innovations, surely this was the most influential. Never before had a symphony (nor, for that matter, any major work) ended in abject despair. (Haydn had concluded his 1772 Symphony # 45 ("Farewell") with a slow movement, but it was a mere gimmick appended to a standard form to symbolize his orchestra's discontent with their working conditions.
Brahms's 1877 Symphony # 3 had a slow ending, but with a tone of calm contentment.) It's hard to imagine the unresolved angst of Mahler's Sixth and Ninth, nor, indeed, the emotional void of 12-tone or aleatory music, without Tchaikovsky's bold precedent.
If a fully authentic Pathetique demands a Russian sensibility, it's well-represented on record.

Perhaps the most widely acclaimed came from the dour Evgeny Mravinsky, who consistently achieved a remarkable blend of discipline and passion throughout his four available performances, all with the Leningrad Philharmonic – a 1949 studio set of 78s (BMG 29408), a 1956 mono LP (DG 47423), a 1960 stereo remake (DG 19745) and a 1984 concert (Erato 45756). Most recently, Valery Gergiev has emerged as the inheritor of the Russian interpretive mantle. His enthralling 1995 recording with his Kirov Orchestra (Philips 456 580) is richly played and recorded, full of subtle coloration and a magnificent realization of the work's inner tensions without ostentation.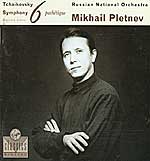 More intense but slightly less consistent is the striking 1991 conducting debut of pianist Mikhail Pletnev; if you detect a trace of abandon in their playing, it may be because his Russian National Orchestra is that country's first to be free of state support (Virgin 61636). And of particular local interest is our own National Symphony Orchestra led by Mistislav Rostropovich, taped during a 1991 Moscow concert (Sony 45836).
Mravinsky's tightly-controlled emotion provides a fulcrum for other interpretations.
An "objective" approach was pioneered by Arturo Toscanini. Of his two studio recordings, a 1947 NBC Symphony venture (BMG 60295) sounds brittle, rigid and heartless, further brutalized by a dreadful transfer from damaged 78s (not evident in an earlier Victrola LP transfer). Far more yielding (and in vastly superior sound) had been an earlier 1940 Philadelphia Orchestra version (BMG 60312). Both, though, are eclipsed by a fervent, propulsive 1941 concert that boils with headstrong (albeit straight-forward) excitement and testifies to the depth of Toscanini's deceptively simple surface.
(On Naxos 110807 it's paired with an equally spectacular Piano Concerto with Horowitz from the same concert.)
Also widely admired for their detached styles are classic stereo accounts by Pierre Monteux and the Boston Symphony (BMG 61901), Charles Munch and the Boston Symphony (RCA LP), Igor Markevitch and the London Symphony (Philips 38335) and Fritz Reiner and the Chicago Symphony (RCA 61246).
Perhaps the most popular of the restrained recordings is the lushly played but interpretively bland 1960 version by Eugene Ormandy and the Philadelphia Orchestra (Sony 47657); there was more oomph in their 1937 debut (Biddulph WHL 046).
But, having poured so much of himself into his Pathétique, Tchaikovsky gains when his interpreters follow suit.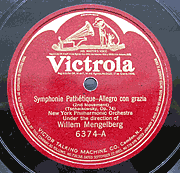 Indeed, the proactive tradition is far older than the "modern" uninflected style and thus presumably is more authentic. The earliest record I've found of the work is a 1923 double-sided acoustical 78 of heavily edited second and fourth movements by Willem Mengelberg and the New York Philharmonic (Victor 6374); deeply subjective, and despite the abridgement, it manages an even more ominous, brooding conclusion than Mengelberg's full-length 1937 and 1941 Concertgebouw remakes.
Serge Koussevitzky
and the Boston Symphony (BMG 60920) and Oscar Fried and the Royal Philharmonic (Lys 200) left us wildly impulsive and improvisatory 1930 and 1932 readings, building to scorching adagios of frenzied intensity. Fried's giddy speed (at 39 1/2 minutes the fastest on record) adds to the excitement. Among impassioned conductors of the next generation is the nearly-forgotten Constantin Silvestri, whose 1957 Philharmonia LP bristles with surprises, including a suspenseful pause before the first-movement outburst and the slowest second movement on record.
A sensation in its time,
the justly famous 1938 set by Wilhelm Furtwangler and the Berlin Philharmonic (Biddulph 006) molds each phrase with subtle meaning while building the overall structure, a wondrous balance of passion and intellect, detail and architecture. Every detail fits seamlessly and inexorably into the whole. Even the sudden outburst in the first movement sounds like an organic logical outgrowth of the preceding material.
The sound remains remarkably fine. Furtwangler's genius often emerged only in concert, but this is one of his finest studio achievements.
Perhaps the most controversial and unabashedly personal of all Pathétiques is by Leonard Bernstein and the New York Philharmonic (DG 419 604). Broadened to a glorious 58 minutes, Bernstein's conception is one of grand effects – grueling tempos, massive climaxes and ardent phrasing, crowned by a profoundly dark finale that lingers for nearly double the standard timing. Detractors quipped that he wasbeing paid by the minute, but this is a unique and fascinating vision. Perhaps Bernstein found a release for his own conflicted life in the work with which Tchaikovsky ended his own.

Copyright 2003 by Peter Gutmann