One of the most powerful of all creative urges is to memorialize.

The results can range from the trivial statues of mounted generals that clutter our parks to the awe of the Pyramids. Yet, perhaps the most powerful creations are those which try to overcome a grievous personal loss by immortalizing the evanescent.
Modeste Mussorgsky produced his Pictures at an Exhibition to perpetuate the memory of a friend. In the process, he created a monument far more massive and lasting than his subject.
Mussorgsky was an ardent Russian nationalist,

but he was far more interested in folk art than in the grandiose ornamental designs of the aristocracy. (Or, as Tchaikovsky put it, "He likes what is coarse, unpolished and ugly.") Mussorgsky's career began in the military, but he resigned from the life of a fastidious officer to study music and supported himself as a civil servant.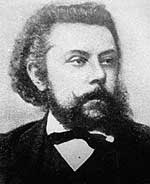 Modeste Mussorgsky

Yet, his soul was far less complacent than one would expect from a life-long bureaucrat – he lived in a commune and the radical ideology he absorbed there infused his music, as he devoted himself to seeking truth in art by crafting a natural style without classical artifice.

Victor Hartmann was a close friend who shared Mussorgsky's ideals in his own field of architecture and painting.

Victor Hartmann

When Hartmann died in 1874, aged only 39, Mussorgsky was devastated. In abject bitterness, he wrote: "Why should a dog, a horse, a rat live on and creatures like Hartmann must die?" But soon his incomprehension took a more constructive tack. The following year saw a memorial exhibit of 400 Hartmann works, including sketches, watercolors and costume designs. Mussorgsky was deeply moved. Seized with inspiration, he quickly reacted to the exhibition by writing a suite of ten piano pieces dedicated to the organizer.

The work opens with a brilliant touch – a "promenade" theme that reemerges throughout as a transition amid the changing moods of the various pictures. By alternating 6/4 and 5/4 time, its regular metric "walking" pace is thrown off-balance and cleverly suggests the hesitant gait of an art-lover strolling through a museum, attracted by upcoming pleasures but hesitant to leave the object at hand without a final glance at a telling detail.

The ten pictures Mussorgsky depicts are: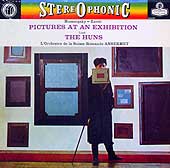 a gnome-shaped nutcracker; a troubadour plaintively singing outside an ancient castle; children vigorously playing and quarrelling in a park; a lumbering wooden Polish ox-cart; a ballet of peeping chicks as they hatch from their shells; an argument between two Warsaw Jews, one haughty and vain, the other poor and garrulous; shrill women and vendors in a crowded marketplace; the eerie, echoing gloom of catacombs beneath Paris; the hut of a grotesque bone-chomping witch of Russian folk-lore; and a design for an entrance gate to Kiev. Mussorgsky clearly chose these subjects for the variety of moods they invoked and the opportunities they presented for a wide array of musical depictions.
Hearing the work today conjures visions of grand, imposing pictures of exquisite delicacy, profound atmosphere and blazing glory. Such is the power of abstract art.
Musicologist Alfred Frankenstein scoured Russian archives and managed to find 70 of Hartmann's works, including most of those that had inspired the Pictures, and published them in 1939. The result is quite a surprise – the graphics are modest, conventional and barely remarkable. The drawing of the chicks shows two dancers stiffly modeling plain ballet costumes of egg-shells topped with a few feathers. The witch's hut is merely an ornate clock. Even the subject of the towering finale that so fired Mussorgsky's imagination to depict a triumphant procession passing through a mammoth gate to honor the czar is but a brick archway decorated with wrought iron, tiles and stained glass, with a few well-dressed people loitering by and a horse-drawn cart about to enter. (Hartmann's image is shown on the album cover at right.)
Alcoholism and severe depression not only cut short Mussorgsky's life but plagued his most creative years and prevented him from advocating his work, which succumbed to the dismissive attitude of the cultural gatekeepers. Fame came only after his early death at age 42, when well-meaning admirers indulgently undertook to edit his operas in order to correct what they perceived to be artistic flaws, lapses of inspiration and overall carelessness. Only in more recent times have the originals been revived to display their frank elemental power.
The Pictures at an Exhibition met a similar fate.
The score remained unpublished until 1886, five years after Moussorgsky's death. But then, almost immediately, an amazing phenomenon began – while the original version generated little interest among pianists, over two dozen composers were seized by a compulsion to orchestrate it.
By far the most famous was by Maurice Ravel. Commissioned by Serge Koussevitzky in 1922, his was a propitious choice – Ravel's version strongly underlines the mood of each piece, from the woodwind chirping of the chicks through the reverberant, dark brass of the catacombs, the percussive terror of the witch and especially the blazing brass and pealing carillons of the finale. Koussevitzky was not only a great conductor but a wise businessman – his deal with Ravel included in five years of exclusive performance rights.
Koussevitzky led the new work to great acclaim with the Boston Symphony Orchestra, of which he had just become music director (and where he would remain for 25 glorious years).
Their 1930 recording (BMG 61392, Pearl 9020 or Naxos) is entitled to a particular aura of authenticity. Koussevitzky had an uncanny ability to invest every work (even the vapid patriotic stuff he recorded during World War II) with an aura of musical integrity, sincere expression and deep human communication. Some have claimed that his Pictures lacks the character and overt excitement of interpretations that more forcefully emphasize the individual color and drama of each section (or, as one put it, at the time of Koussevitzky's recording the paint was not yet dry). Yet, Koussevitzky instead chose a more subtle approach: by melding the disparate pieces into a musically-unified whole, he underplayed the awkwardness of the contrived structure and attained a more convincing result. (A 1943 concert (Naxos 110105) is more conventionally dynamic but heavily cut, omitting two entire episodes, a rather curious approach by the same conductor who had commissioned the Ravel original.)
The potent combination of Mussorgsky's varied moods and Ravel's vibrant orchestration have made their Pictures hugely popular with both critics and audiences, a rare accord of popular and professional esteem. While it flourished in concert and on 78s, the advent of the LP (on which it fit neatly) and burgeoning consumer interest in home sound systems boosted its appeal yet further. Of the bounty of recordings that have proliferated since Koussevitzky's (over six dozen in the current catalog alone), nearly all convey the essence of this foolproof score quite well.
Perhaps out of deference to the intrinsic strength and forthright character of the music, most add only minor interpretive gloss. There's little to choose among them, so the pioneering accounts retain the greatest interest.
The very first of Mercury's famed "Living Presence" LPs (MG50000) became known as a hi-fi demonstration disc, presenting the Pictures by Rafael Kubelik and the Chicago Symphony Orchestra through a single microphone and full-track tape for a wonderfully natural image (mono, of course), fully detailed with natural resonance. (Unfortunately, due to deterioration of the master tape, only a depreciated shadow of the original LP remains on the current transfer on Mercury CD 434 378.)
A similarly incisive but better preserved 1953 recording by Arturo Toscanini and the NBC Symphony Orchestra (BMG 60287) drew further accolades, although his magnificent 1948 La Scala concert (Radio Years 99 or Originals 852) had been more supple and elating, despite rather crude sound.
The advent of stereo boosted the technology and marketing stakes yet higher.

Among the first to take advantage of the new aural depth with a Pictures recording were Fritz Reiner and the Chicago Symphony in RCA's "Living Stereo" (BMG 61958), Leonard Bernstein and the New York Philharmonic in Columbia's "360 Degree Sound" (SMK 47495) and Ernest Ansermet and the Orchestre de la Suisse Romande in Decca/London's "Full Frequency Stereophonic Sound" (no CD transfer).
And for those who insist upon digital sound, the very latest version by Valery Gergiev and the Vienna Philharmonic (Philips 468 526) is superbly dramatic and richly recorded.
But, as in any art ripe with ego, there are notable exceptions to the mainstream approach. By availing themselves of 45 minutes in lieu of the usual half-hour,
Sergiu Celibidache and the Munich Philharmonic (EMI 56516 or Artists Live FED 017) transform the usual whirlwind tour through an art gallery into a probing study of transitory mood and deep meditations on the scope of human activity.
The Pictures proved a natural attraction for master colorist and sound enthusiast Leopold Stokowski, who undertook his own "symphonic transcription" in 1939. Omitting two of the pictures, he imparts a more Slavic and overtly dramatic texture while giving fuller rein to the scope of orchestral sound. (Ravel, after all, was a rather restrained and efficient French impressionist.) Although he declined to depart from the chicks' fluttery woodwinds or the catacombs' booming brass, much of the rest seems a determined break from Ravel's instrumentation wherever possible; thus, his opening promenade sounds in richly harmonized strings rather than a brass fanfare and the witch's hut replaces sharp tympani accents with brass snarls.
Stokowski's version is conveyed well in his final 1965 studio recording with the New Philharmonia (London 443 898) and an even more vibrant 1963 BBC concert (Music and Arts 765). Stokowski's successor at the helm of the Philadelphia Orchestra, Eugene Ormandy, cemented his leadership with a commission for a new Pictures. The smooth swells and rich textures of the 1937 orchestration by the orchestra's bass-clarinetist Lucien Cailliet is custom-fitted to the Philadelphians' distinctive sound (Biddulph 046).
If Stokowski's transcription treated the orchestra as a mammoth virtuoso instrument, pianist Vladimir Horowitz applied a similar outlook to his own adaptation that was clearly attuned to project his fabulous technical wizardry. In his legendary hands, the culmination at the great gate of Kiev ends in a
dazzling display of rolling chords, glittery descant accents and tremelos, all managing to suggest a full range of orchestral effects through the unadulterated sound and resources of the keyboard.
And what about the unadorned piano version that started it all? Although there had been others, it was a recording of an extraordinary 1958 Sviatoslav Richter recital in Sofia, Bulgaria (Philips 464 734) that refocused public attention on the merit of the original. Intense, full of nuance, supremely poised and Russian to the core, Richter's masterful performance fully vindicated Mussorgsky's work as a masterpiece in its own right, without need of translation, embellishment or improvement.
Hartmann would have been proud of his friend's work!

Copyright 2002 by Peter Gutmann