Truly meaningful writing about music is nearly impossible.

Those of us who try may come close on occasion, but a frustrating gap always remains between such utterly disparate media of expression. Indeed, apart from the artists themselves, I often deem those who truly appreciate music to be not the gifted few who can produce a cogent review or a detailed analysis, but rather those who emerge from a concert in a state of inarticulate rapture.
Leo Tolstoy was criticized by none other than Anton Chekhov for the audacity of writing about matters he knew nothing about.

Yet, despite his formal ignorance of musical matters, Tolstoy produced a work of remarkable insight in his 1889 novel The Kreutzer Sonata. It's highly ironic that the pen of a non-musician conveyed such an accomplished grasp of the soul of Beethoven, arguably the greatest composer of all.
The narrator, having murdered his wife, details how his vapid marriage deteriorated through lust, hypocrisy, discord, humiliation, jealousy and rage. His sardonic and jaded view of the widening gulf between the flesh and spirit of human relationships has an internal logic and perverse allure. At a dinner party, his wife plays the Beethoven sonata of the title with an amateur violinist, kindling complex and conflicting passions. Although aware of a bond of pleasure between the performers, he personally feels it as mere agitation – being mystically and hypnotically drawn into the composer's mental condition but being powerless to fully understand it, revealing and arousing new feelings and possibilities but unable to react meaningfully.
His description of the sonata itself is justly famous:
How can that first presto be played in a drawing-room among ladies in low-necked dresses? To hear that played, to clap a little, and then to eat ices and talk of the latest scandal? Such things should only be played on certain important significant occasions, and then only when certain actions answering to such music are wanted.
By seizing upon this particular work, Tolstoy intuitively sensed not only the Kreutzer's intrinsic merit but its significance as a key work in Western art. Indeed, with the Kreutzer Beethoven launched a new kind of music that lies at the heart of his genius. The Kreutzer was a personal watershed, marking

Beethoven in 1804

Beethoven's leap from a gifted, occasionally edgy, often innovative composer to the revolutionary activist who rewrote the essential rules of musical art.

The Kreutzer also marked a cosmic cultural shift, although there had been ample prior hints. His piano sonatas began with the stylized drama of Mozart but added a new sense of architectural space, thickening texture and deepening gravity. Their mood, too, began to push the bounds of convention – the 1798 "Pathetique" is broody and stormy, and his 1801 "Moonlight" is contemplative but ends in a burst of energy. Among his eight prior violin sonatas, the fourth is rather grim and acerbic and the eighth rumbles with an undercurrent of nervous energy. But all these solo or duet works were intended for personal gratification or private pleasure. The Kreutzer is the very first work for such reduced forces that bursts the accustomed modest bounds of chamber music with the weighty emotional gestures that formerly were the province of opera, oratorio, concerti and symphonies for massive ensembles. Through the Kreutzer, Beethoven raised chamber music out of the salons of royalty into the public arena.

Suitably, such a momentous work had an odd genesis and a curious aftermath. Two hundred years ago, violinist George Bridgetower was one of the very few men of color to have broken into European art circles, albeit not solely on the basis of his considerable talent. Although his mother was Polish and his father West Indian, he was billed as an African prince.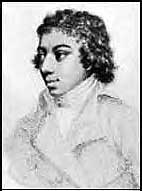 George Bridgetower

Beethoven met and was drawn to Bridgetower shortly after the violinist's arrival in Vienna in March 1803. For his Vienna debut of May 24, Bridgetower commissioned a new sonata from Beethoven, who would play the piano part.

It's tempting to speculate that Beethoven seized upon his partner's outsider status to craft a suitably exotic and genre-stretching piece. Yet, sketches for the first movement are found in his prior notebooks and the finale had been written a year earlier for his sixth sonata, but then rejected as too brilliant. The rest was barely done in time – the violin part of the first movement was copied just in time for the concert, Bridgetower had to read the andante from Beethoven's own messy manuscript, and Beethoven largely extemporized all but the finale from sketches.

Beethoven initially dedicated the sonata to Bridgetower, but apparently they had a falling out over a woman (although it's not clear whether the cause was rivalry or a crude remark to which the composer took offence). In any event, prior to publication in 1805 Beethoven switched the dedication to Adolphe Kreutzer,

Adolphe Kreutzer

a Parisian violinist who had just published a "methode" of 42 exercises to expand left-hand technique and whom Beethoven admired for an objective performing style rare among virtuosi of the time. Alas, although the sonata would become the sole basis for his modern fame, Kreutzer never deigned to play it.

The quick (for Beethoven) pace of composition is itself significant, as it suggests not a typically polished work of art in which fleeting impulse is refined into stylized moderation, but rather an unusually candid snapshot of Beethoven's volatile state of mind. Indeed, his personal life was in crisis. Following his death in 1827, among his private papers was found an extraordinary document now known as the "Heiligenstadt Testament." In a rambling but frighteningly blunt and intense plea, confession and suicide note dated October 2 and 6, 1802 and addressed to his two brothers (but apparently never sent), Beethoven begs forgiveness for his ill-tempered and rude behavior and reveals the "secret cause" – his smothering deafness, the cruelest fate for a rising master musician, which he had tried to hide but after six years of futile medical treatment now has given up all hope for a cure. He yearns for freedom from his suffering, provides for the disposition of his meager assets and asks his doctor to explain his condition after his death.

Despite the power of his Heiligenstadt Testament, Beethoven was not a man of letters. Rather, it was in the Kreutzer that the turbulence of his suppressed feelings erupted with full artistic force. This astounding work was not only a musical means to depict his pain and confusion, but the vehicle by which he Beethoven signalled to the world, and to himself, how he planned to surmount his distress.

In contrast to all eight of his previous violin sonatas that began with the piano's plain statement of the melody, key and tempo, here the soloist wanders out naked and lost.
The tempo indication, adagio sostenuto, barely stirs and the score presents an immediate challenge – how the violinist, able to sound only two strings at once, is to sustain the static opening figures of three- and four-note chords without disrupting their tense continuity. Upon the piano's sudden entrance, the key shifts abruptly from A major to a minor, from which it never recovers. Conventional wisdom is that Beethoven, a concert pianist, wrote a dominant role for his own instrument, but that's not really true – he was also an accomplished violinist and in any event had to provide display opportunities for guest artists at his concerts. Indeed, the key to writing duo-sonatas is to find themes that exploit the distinctive expressive character of both instruments, while suggesting a wide range of possibilities for accompaniment. Here, the relationship between violin and piano is complex – they both blend and chafe, suggesting a common purpose, yet plunging into frenzied competition as the piece erupts into an astoundingly stormy movement, which Beethoven aptly described on his score as "quasi come d'un concerto" ("almost like a concerto") that heaves between gentle respite and exhausting, violent attacks of furious slashing figures at a delirious pace (labeled "presto" and generally taken anywhere between 300 to 500 beats per minute).
Tolstoy pronounced the second movement "common and unoriginal" and the finale "very weak." That's a bit harsh, yet sensible – nothing really could top the scope and fervency of the first.
Beethoven meets the challenge brilliantly but subtly, while again disrupting our expectations for a worthy successor to the opening frenzy, this time with a genial andante, a throwback that would fit in any of his prior works, comprising a placid theme with four variations of escalating complexity – first with piano figuration, then the violin elaborates, next a plunge into f-minor, and finally ornate combinations. It's as if, having depicted his rebellious angst, Beethoven assures us that his inner soul remains loving and steeped in common values and that he knows how to fulfil social expectations.
The finale is also conventional – a rondo in which the techniques of the first movement emerge in a brighter light – the suspensions now playful, the accents joyous, the galloping theme invigorating, the interplay of major and minor modes vitalizing. Thus, having bared his soul, the deeply conflicted composer vows to endure and resolves to redirect his torment toward a more constructive end. Indeed, over the next quarter century of his life Beethoven would go on to sublimate his distress over his dire affliction to produce the greatest body of music in all of Western culture.
Did the audience at that May afternoon premiere grasp any of this?

Yehudi and Hephzibah Menuhin

Not a bit. The atmosphere of the concert was hardly conducive to profound aesthetic reflection. Indeed, concerts of the time often lacked the sobriety of purpose we now attribute to them – the soloist at the 1806 premiere of Beethoven's only violin concerto reportedly entertained the crowd between movements by playing his fiddle upside down. In a note left in his original copy, Bridgetower recalled that after Beethoven played a piano run (at measure 37), he departed from the score to mimic it, prompting the composer to leap from his seat and embrace his partner before resuming. Bridgetower further reported that audience enthusiasm was directed toward the andante variations, the most conservative of the three movements, of which they demanded an encore. Bridgetower also left a curious reminiscence that the andante's appeal was boosted by Beethoven's "chaste" playing, but it's not clear just what he meant – perhaps the audience was vastly relieved in comparison to the shocking opening movement, or perhaps Beethoven's style appeared commendably earnest when contrasted to the carnival atmosphere of other concerts.

While the Kreutzer went on to become the most popular of all violin sonatas,
it is a work that emerged the following year – the Symphony # 3 ("Eroica") – that is usually considered the means through which Beethoven transformed music with deep personal expression that overflowed the bounds of traditional structure. Thus, Paul Henry Lang salutes the Eroica as nothing less than the greatest single step made by an individual composer in the history of music, a "feat of fiery imagination" and a "fling at the universe" that even Beethoven himself would never take again. While the Eroica may trump the Kreutzer for the sheer scope of its novelty of invention, it essentially expands the fundamental emotional premise of its predecessor – after a sprawling first movement that explores daring musical frontiers, Beethoven seemingly buries tradition in a funeral march, reawakens to a scherzo of energy and joy, and then concludes with a massive set of variations that embraces and intensifies the past before plunging into a brilliant coda that strides confidently into the future.
Of the many Kreutzer recordings, a disappointingly large number are musically correct but emotionally vapid and intellectually shallow.
Such an approach can function as a deliberate sacrifice in order to better integrate the work into a more uniform, if deficient, whole by avoiding the inevitable letdown after the torrid unrest of the opening movement. Yet, the undercurrent of anxiety is woven so deeply into Beethoven's fabric that it can't be wholly suppressed, and a slick surface seems perversely cavalier. These include the downright saccharine Kulenkampff/Kempff (1935), the workmanlike but slightly labored Yehudi and Hephzibah Menuhin (1935), the violin-dominated Heifetz/Moiseiwitsch (1951) and Szigeti/Arrau (1944), the monumental 41 minute Menuhin/Kempff (1970) and 42-minute Schneiderhan/Kempff (1952), the elegant Francescatti/Casadesus (1959) and the nicely nuanced and patrician Szeryng/Haebler (1979) and Szeryng/Rubinstein (1958).
Others achieve a superficial degree of excitement through sheer speed, bringing the work home in well under a half-hour – the vehement energy of Busch/Serkin (1941), the buoyant but precisely chiselled Milstein/Balsam (1957) and the rugged yet surprisingly subtle Groschl/Spierer (1991). Timings, though, can be deceptive – many recordings only seem to outpace their stolid tempos by omitting the repeats of three of the four andante variations, as well as the expositions of the first and last movements, that Beethoven clearly indicated in the score.
All but a few recordings omit the latter, which perhaps is justified nowadays as an outdated practice now that we can simply play replay a favorite passage, rather than have to await another concert to hear it again.
A significant historical note … Given the nearly complete male dominance of instrumental recordings of the time, it seems altogether remarkable that the earliest recordings of the Kreutzer were by female violinists. The very first appears to have been a 1918 HMV acoustic set by Marjorie Haywood and Una Bourne – thoroughly stylish, even though heavily abridged to fit on four sides, with huge portions cut from the outer movements, including the entire development of the first, leaving only the variation movement relatively intact (but without any repeats). The first recording using the then-new electrical technology was an uncut November 1925 HMV set by Isolde Menges and Arthur de Greef, who offer a fine combination of fire and elegance, impulse and resolve. (Menges had already pioneered the first complete recording of the Beethoven Violin Concerto in 1922 with Landon Ronald and the Royal Albert House Orchestra for HMV.)
While most recent versions sound too easy and seem frustratingly tepid (excepting the virile, emphatic 1973 Perlman/Ashkenazi on Decca and even more focused 1998 Perlman/Argerich live on EMI), records have preserved historical readings that revel in the Kreutzer's power and brim with personality to invoke the power of Beethoven's startling conception and the depth of his struggle, even for a modern audience whose notion of musical thrills is light-years beyond that of the composer's era.

Thibaud and Cortot
Fritz Kreisler and Franz Rupp (1936) remain fundamentally within the sweet and elegant bounds of classical restraint, yet yearn for freedom through an array of tonal color and subtle tempo gradation. The opening is a marvel of tense anticipation, as Kreisler invests each note with a different and unexpected rhythmic value, a hugely effective portrayal of the composer on the cusp of two eras.
Although Jacques Thibaud was renowned as suave and stylish, in his 1929 pairing with his poetic French compatriot Alfred Cortot he digs into his instrument to produce a crude tone and rhythmic vagaries, the distortions suggesting the labor of a huge recreative effort.

Hubermann and Friedman
In the most gripping studio reading, Bronislaw Hubermann and Ignaz Friedman (1930) urge the other on with hugely assertive phrasing, bold dynamic outbursts, roiling swells of volume, sudden extreme tempo shifts from suspenseful hesitation to firmly decisive, and daring changes in texture from cloyingly sweet to harshly abrasive. In a highly expressive and individual touch, the entire first movement bristles with edgy tension, as violin and piano deliberately fall in and out of synch. The second zips by, including all repeats in the same time others take without them, and the finale blends eloquence with weight. (The current Naxos release includes an equally compelling alternate take.)
Most extraordinary of all is an April 13, 1940 concert by Joseph Szigeti and Béla Bartók that quivers with musical and cultural significance. Their performing style springs from the musical traditions of their beloved Hungary, in which intonation, rhythm, dynamics and texture all yield for unbridled emotional impact.

Bartók and Szigeti in 1929

(The program also included incisive readings of Bartók's own folk-infused First Rhapsody and astringent Second Sonata that provide crucial aural documentation of the extreme degree of departure from the written notation that is needed for a truly idiomatic performance.) Vehement patriots and anti-fascists, they were burdened with dread that the world they cherished appeared on the brink of extinction. A mere two days after Bartók's arrival, this was their first concert in the New World, held at the Library of Congress, the symbolic shrine of artistic freedom. This extraordinary confluence of overwhelmingly vital events channelled Beethoven's own despair, aspirations and resolve in a way that no other performance on record can ever approach.

No writing can ever fully convey the splendor of such performances. Fortunately for posterity, these magnificent recordings overcome that otherwise insoluble problem to let the music speak for itself.

Copyright 2007 by Peter Gutmann