Michelangelo had the Sistine Chapel, James Joyce Ulysses, D. W. Griffith Intolerance,

Beethoven the Grosse Fuge – the one crowning project in which inspiration, resources and freedom combined to enable a visionary artist to pursue virtually any goal he wished, free from the demands of populist audiences, the fetters of cultural gatekeepers and the barbs of conservative critics. For Leonard Bernstein it was Mass.
Mass was commissioned to inaugurate the John F. Kennedy Center in 1971 as a national showcase for the performing arts in Washington, DC. Bernstein later claimed that he had always been fascinated by Catholic ritual, which he deemed dramatic and even theatrical and "always wanted to compose a service of one sort or another," especially an ecumenical one "that would combine elements from various religions and sects of ancient or tribal beliefs, but it never came together in my mind until Jacqueline Onassis asked me to write a piece dedicated to her late husband." Funded by the Kennedy family, cost was no object and the eager composer's unfettered imagination ran rampant. His associate Maurice Peress recalled that Bernstein studied with the Jesuits that summer and his authorized biographer Humphrey Burton asserted that much of it was adapted from "bottom drawer" material.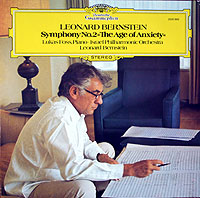 John Mancieri called it an "accumulation of fragments" and offered as an example that the "Sanctus" began as a birthday ditty for Helen Coates, Bernstein's long-time secretary. As ideas accrued, they coalesced into a sprawling work which Bernstein subtitled "a Theatre Piece for Singers, Players and Dancers," and indeed it ultimately required over 200 performers, including choirs, soloists, rock combos, bands, an orchestra and the Alvin Ailey dance troupe.
It's fair to say that no other musician of Bernstein's generation, or perhaps of any generation, could have produced such a work. To create it, he drew upon one of the most variegated careers in music, including those of a virtuoso pianist, conductor, writer, teacher, symphonic composer and Broadway tunesmith.
Bernstein was a throwback to an earlier age of composer/performers. Indeed, until the late 1800s the notion of having a vocation as a pure conductor was inconceivable. Yet, as artistic barriers continue to crumble in our time, the wall between serious and popular music continues to mount. Very few composers (or performers, for that matter) succeed in both realms and their few attempts (Paul McCartney writing oratorios; opera divas going pop) invariably seem vapid and strained. Yet from the very outset Bernstein was fully conversant – and triumphed – in both domains. The year after his spectacular 1943 New York Philharmonic conducting debut, he produced both his first symphony (subtitled "Jeremiah") and his first Broadway show ("On the Town").
Bernstein never attempted to segregate the two genres or to maintain purity in his output in either one; rather, he integrated pop elements into his nominally serious work and symphonic features into his musicals. Thus, a jazz piano infuses an entire movement of his 1949 Symphony # 2 ("The Age of Anxiety") and both acts of his 1951 opera Trouble in Tahiti are launched by bop vocal trios, while his 1956 show Candide is replete with Viennese waltzes, Lutheran chorales, a Mozartean Act One finale and a riveting Mahleresque orchestral climax, and his undisputed masterwork, West Side Story, boasts hymns, a vocal quintet and a riveting opera duet.
Bernstein had also turned to dance as a means of integrating his diverse musical and theatrical passions. Even before devoting vast portions of West Side Story to Jerome Robbins' ballet sequences, which ranged from a high school dance to a knife fight, the two had created Fancy Free (1944) and Facsimile (1946) at the outset of their careers. Indeed, dance was an integral part of Bernstein's very being – witness his astonishingly athletic body movements while conducting.
The timing of Mass was propitious – having set aside both serious composition and theatre for a decade to head the New York Philharmonic, the irrepressible urge to indulge these essential parts of his creative being came bursting out upon his retirement from full-time conducting.
In Mass, Bernstein attempted to universalize the Catholic ritual in order to explore the spiritual crisis of our time. All the sections of the traditional ritual are there, but interspersed with decidedly nontraditional observations and challenges. While arguing with God is an accepted part of Jewish theology (which Bernstein had exploited in his 1963 "Kaddish" Symphony), many Catholics were shocked at applying such rhetoric to the immutable truth and order of their Mass.
Yet, Mass was hardly a radical departure from Catholic tradition. As Habakuk Traber noted, it presents the entire Mass text in the prescribed order and interpolates into that framework other accepted elements of the liturgy, including interpretive readings from the Psalms, Epistles, Gospels and a sermon. Even the several "tropes" derive from the vocal pieces of the Middle Ages that routinely commented upon and related the standard liturgy to everday life. Paul Minear noted that the sources of the interpolations are quite traditional, including accounts of early Christian pioneers, leading Minear to conclude with considerable irony that Bernstein may be the most Biblical at the very points when he seems the most sacrilegious. Indeed the Bishop of New York wrote that he personally identified with Mass and had been deeply moved by its creativity and deep insights.
Yet when a Cincinnati production was announced the following year, the local Archbishop condemned the work as blasphemous and forbade Catholics to attend. Any rift with the Church seemed partly mended in 1973 when Pope Paul VI invited Bernstein to give a concert at the Vatican and fully healed in 2000 with a performance of Mass there.
Nor was Mass a departure from musical tradition, but rather a logical successor to generations of increasingly liberal treatments of the Mass. That trend began with Beethoven's injection of overt passion in his Missa Solemnis (and in tribute Bernstein derived the motif of the second meditation of Mass from Beethoven's Ninth Symphony), and continued with quadraphonic brass choirs heralding the terror of the Day of Wrath in Berlioz's Requiem (a startling effect that perhaps inspired the opening of Mass), the personalized, operatic drama in Verdi's Manzoni Requiem, and the striking contrast of Latin text with the pacifist poetry of Winfred Owens in Britten's War Requiem.
Mass announces its intentions with mind-expanding harshness, as four loud, incompatible percussive settings of the Kyrie bombard the audience from quadraphonic speakers located in the corners of the darkened auditorium. The cacophony is silenced by a guitar chord, which begins a disarmingly sweet and naive song of praise by a blue-jeaned folk singer. Donning vestments, he becomes a Celebrant. Throughout the next 80 minutes he joins segments of the ensemble to careen through a phenomenal profusion of musics and moods – marches, meditations, opera arias, Broadway songs, blues, hymns, narration, scat, Hebrew prayers, gospel, folk, rounds, electronic dissonance, improvisation and even a kazoo chorus – a highly catholic, if not a Catholic, work, and one whose unflinching colliding and blending of such wildly diverse cultural influences emerges as quintessentially American. While all of this sounds like an unholy mess on paper, everything flows together miraculously, unified and vitalized by Bernstein's overwhelming humanism and staggering creativity.
While it's tempting to detail the variety of music Bernstein lavished on Mass, part of the joy of experiencing the work is its constant cavalcade of surprises. Bernstein infused Mass with a remarkable wealth of catchy tunes, captivating harmonic progressions and absorbing detail. Even the rhythms are consistently challenging, with many sections written in odd meters of 5 or 7 (a mock-gospel sermon even alternates between stanzas in 7 and 9½!), but so smoothly matched to suitable melodies that you barely notice. Few listeners are apt to love it all, but it's so diverse that it constantly tantalizes with the prospect of another great discovery just moments away. You may not enjoy the entire trip, but portions are bound to resonate, and when you finish you'll know you've been to a very special place. Perhaps the most intriguing part of such a journey is that no two listeners are apt to agree on their favorite portions.
Although Bernstein originally worked alone on Mass, he ultimately embraced a co-lyricist – the 23-year old Stephen Schwartz, who had just completed both music and lyrics for the uplifting (if lightweight) Godspell, and whose feel for effortless and colloquial adaptation of traditional religious narrative fluently complemented Bernstein's eclectic and accessible conception. Interestingly, the connection was prompted by Bernstein's sister Shirley, who was serving as Schwartz's agent, at a point when Bernstein was depressed and confronted a creative impasse despite the looming deadline for the premiere. As Burton observed, musicals often are put together at the last minute in a creative panic, and indeed the collaboration with Schwartz pushed the work quickly to completion. Their words to complement the Latin liturgy range from disarmingly simple ("I believe in God / But does God believe in me?") and wistful ("Whispers of living, echoes of warning / Phantoms of laughter on the edges of morning") to playful ("God said that sex should repulse / Unless it leads to results / And so we crowd the world / Full of consenting adults") and outright defiant ("We're fed up with your heavenly silence / And we only get action with violence, / So if we can't have the world we desire, / Lord, we'll have to set this one on fire!"). While few would argue that the lyrics are consistently brilliant (Stephen Sondheim snidely suggested that they all be in Latin so that no one would have to listen to them), it seems unwarranted to fault them as hopelessly naïve, as most critics tend to do. In that light, it's worth noting that often (as in prayer itself), the deepest thoughts are the most simply expressed. Thus, in the Celebrant's final "Things Get Broken" aria, some of his mutterings are far more profound than they might seem on the surface. Consider, for example, "Glass shines brighter when it's broken" or "Amen. I'm in a hurry" – these and others just might suggest far more than their actual words state. And let's be brutally honest – how many librettos of the grand operas that sophisticates prize so highly could ever pass as great literature?
The end is one of those outrageously corny but deeply moving gestures that only an ardent sentimentalist like Bernstein could possibly pull off. Crushed by the burden of his task and unable to satisfy the crowd's raucous demands for peace ("Donna nobis pacem"), the Celebrant ultimately shatters the sacraments, professes his confusion in a grand-operatic mad scene built on shards of the prior words and tunes, babbles incoherently and slips back into the throng of performers. After its wide-ranging explorations and relentless assaults on tradition, the work concludes with a symbolic resurrection in which an innocent boy soprano prompts a reprise of a ravishingly gorgeous, richly harmonized hymn for universal peace. As the cast drifts into the audience to spread a touch of benediction, Bernstein's own recorded voice simply and serenely intones the final words: "The mass is ended; go in peace."
The audience at the premiere reportedly sat in silence for three minutes before beginning a half-hour ovation. Bernstein himself was so moved that he hugged and kissed everyone in sight, including a gracious but shell-shocked Rose Kennedy, matriarch of the patron family. Many left in cathartic tears.
Critics, though, were less transported. Although Paul Hume in the Washington Post declared Mass to be "the greatest music Bernstein has ever written," the New York gang sharpened their fangs for a feeding frenzy, reviling it as "derivative and attitudinizing drivel," "subliterate rubbish," "pretentious and thin," "cheap and vulgar," "overblown" and a "preposterous exercise in self-gratification." Even the shimmering ending was attacked as "Love Love Love Love Love as a solution that may not be questioned."
Others found Mass fundamentally flawed by the "facile solution" of simply ending in an eternal suspension between rebellion and reconciliation (Donal Henahan) and an arbitrary stoppage of conflict rather than an organic resolution (Eric Bentley) in lieu of a "central pivot in which the central character will experience necessary insight into his own spiritual malaise that will make the ending seem genuine and inevitable rather than forced" (Merle Secrest). Yet, despite their insistence upon such a standard and expected element of routine dramaturgy, that had never been Bernstein's intention. Rather, Bernstein seized upon Mass as a vehicle for expressing his deepest personal feelings within the context of the time. As Traber aptly noted, Mass is a reflection of an era both of promise and illusions, "in which opposing models of human power and lifestyle came into violent collision." Few serious artists of 1971 could possibly ignore the impact of the huge social challenges and upheavals of the Vietnam War, youth alienation, Woodstock, campus unrest and generational conflict. Henahan views Mass as Bernstein's personal passion play, an inner monologue in which a loss of faith leads to open defiance, yet still needs love and acceptance – an accurate, if painful, snapshot of the state of American youth at the time. As Bernstein said in an interview: "In a sense I am always writing the same piece, as all composers do, [but with] new dimensions [and] new vocabulary.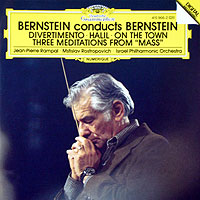 The work I have been writing all my life is about the struggle that is born of the crisis of our century, a crisis of faith." (Yet, despite the clear underlying sense of cynicism, frustration and friction, in his program note for the premiere Bernstein said that his intention was "to communicate as directly and universally as I can a reaffirmation of faith.") Joan Peyser goes further, suggesting that Bernstein was undergoing a mid-life crisis, and that Mass represented a personal rebellion against the authority with which he had been invested as the leader of the New York Philharmonic during the prior decade, and from which he had just been liberated.
Most of the censure, both at the time and since, was focused on the added English lyrics and their secular pop settings. Yet derision of the barbed lyrics seemed rather curious coming from the same religious leaders who venerate the Old Testament prophets – and Jesus – all of whom had far harsher things to say about the hypocritical religious practices of their time. As for the pop music, the Church itself was attempting to attract younger worshippers by replacing traditional hymns and staid organs with folk songs and guitars. Even so, the genuine tension may lie deeper within the fabric of Mass – nearly all of its engaging tunes, soothing harmonies and catchy rhythms enhance the supplementary colloquial sections, while the Latin text is relegated to far less appealing musical treatment. Indeed, the contrast is launched at the very outset, in which the brash, clashing dissonant Kyries (blasted into a dark auditorium) are immediately followed by the soft, imploring "Sing God a Simple Song," sweetly intoned by a solo guitarist bathed in light. The disparity remains through the Agnes Dei prayer for peace, but instead of bringing a traditional Mass to a comforting conclusion, here it is screamed repeatedly in escalating raucous anarchy, and ultimately dismissed by the Celebrant's self-discovery of his inner harmony. Indeed, the Mass proper concludes a half-hour before Mass does. In between, despite a few playful, upbeat sections toward the outset and an "In nomine Patris" that evokes ancient mystery, the Latin sections are mostly set mechanically, as dutiful and perfunctory, often backed by aggressive and downright hostile tympani-fueled settings, and are further impersonalized by being heard through prerecorded tape playback, as if they were not even worthy of being sung by the live cast.
The message and focus of Mass seem glaringly clear – the rigid ritual and doctrine of organized religion are a cacophonous annoyance compared to sincere, individual thought and reflection. (In a bizarre episode, FBI Director J. Edgar Hoover, fearing subversive lyrics – and apparently having little confidence in his colleagues' intelligence – warned President Nixon and important government officials to shun the Kennedy Center opening as "it is anticipated that they will applaud the composition without recognizing the true meaning of the words." But as Burton wryly noted, "the prayer 'Dona Nobis Pacem' ('Give us Peace') was hardly open to misinterpretation at the height of the Vietnam War.") Indeed the opening hymn provides a key to the entire work:
Sing God a simple song.
Make it up as you go along.
Sing like you like to sing
God loves all simple things.
For God is the simplest of all.
Millennia of philosophers, theologians and religious leaders undoubtedly would disagree, but the lasting impression of Mass is to urge rejection of rigid doctrine, formal expression and complex theology for a direct, instinctive, personal relationship to the Almighty. The ultimate vindication of Bernstein's potent message lay not with learned experts and emotionally dead cynics but with the people – when the original cast recording was released it flew to the top of the classical charts and for decades remained the best selling multiple-record classical album of all time (although CBS had so little confidence in it that they reportedly made Bernstein bear part of the production cost).

During the remaining two decades of Bernstein's life, Mass was often dismissed with indulgence as a bizarre eruption of the artist's notoriously huge raging ego. Bernstein's agent, Schuyler Chapin, argued that it was far too long and had urged that it be cut, to which the composer acceded during dress rehearsals but ultimately reneged after the preview, telling the entire production, "Tonight you've all had your fun; everything goes back in tomorrow." Asserting that "the creative person is frequently the worst judge of his or her own material," Chapin lamented that Mass "never was the triumph it might have been had the cuts and trimmings been retained." But following Bernstein's death in 1990, his extraordinary career could be viewed in perspective, in which Mass emerges as his artistic testament into which he poured his uninhibited genius without restraint. Its vast sweep, lavish casting, innovative staging and luminous ending fit into place as the apotheosis of Bernstein's vast embrace of humanity, allied with his brilliant grasp of all aspects of culture, music and theater.

As a distillation of Bernstein's prodigious talent, Mass is nothing less than the artistic bequest of a man who poured into his music his huge love of life in all its glorious but awkward facets. That one man could be so thoroughly conversant with so many disparate musical styles and could blend them all together with such consummate ease is the ultimate testament to Bernstein's eclectic genius. And despite all its secular elements, the lasting impression of Mass is profoundly religious, exalting the joy, probing the challenges and ultimately hallowing the timeless comfort and peace of pure and sincere faith.

Perhaps Bernstein himself had the last word on the subject when he concluded his final 1973 Norton Lecture at Harvard University on a touching note. Exploring the relationship between music and language, his wide-ranging lectures were entitled "The Unanswered Question" in tribute to the astoundingly prescient and allusive 1906 tone poem of Charles Ives. Bernstein ended the final session by saying that he no longer knew what the question was, but that he was sure of one thing – the answer was "yes." Perhaps that's another key to understanding Mass – it may not resolve any of the pressing issues of its era – or even of our own age – but it remains an awesomely wide-ranging and magnificently affirmative work of art. And even if parts of Mass were clearly a product of its time, replete with now-dated references to hippies, draft resisters and jailed war protesters, the underlying issues remain – who in all the years since then has found a better solution to the problems that still haunt us than "Love Love Love Love Love?"
Fortunately, Bernstein recorded Mass with the original Kennedy Center forces shortly after the premiere. For thirty-three years Bernstein's own recording remained a unique experience, not only for its authenticity, but for a far simpler reason – while fragments of Mass (especially the three orchestral meditations) occasionally appeared elsewhere, another complete recording only appeared in 2004. Since then, there have been two more. They afford a welcome opportunity to assess the work in a more meaningful context than when tied exclusively to a single reading. Yet, those of us who came to know Mass solely through the Bernstein recording, and have lived with it through half a lifetime entirely on that basis, face a steep challenge to separate the work from its seminal realization. Indeed, my initial reaction to each subsequent recording was to involuntarily catalog all the differences from the original. Thus, even apart from the deference to which a creator's recording always is entitled, it's hard to avoid evaluating any subsequent performance of Mass with even a pretense of objectivity. I did try – prior to hearing the three newcomers, I hadn't listened to the Bernstein recording for nearly a decade – yet I found that its influence had barely diminished.
Leonard Bernstein, conductor; Alan Titus (Celebrant), Norman Scribner Choir, Berkshire Boy Choir, [unnamed] orchestra (1971, Columbia LPs, Sony CDs)
An objective appraisal of this set is nearly impossible – like an original cast recording of a new opera or Broadway show, it features the performers hand-picked for their roles by the composer,
coached to realize the concept he had in mind, and performing under his personal guidance, all as an integral part of his creative process. Such a performance serves to document his intentions far better than a printed score. An immediate challenge, though, was how to realize a work conceived with an integral visual element by using only the aural dimension. The constraint was only partly finessed by issuing the album in the then-novel quadraphonic LP format that preserved some of the spatial breadth. Yet even the stereo version works beautifully on a more intimate and sensually constricted scale – no matter how often I hear it, the end gets me every time, and I, for one, don't miss being spared the embarrassment of being "touched" during the rather silly final gesture that the entire cast is charged with spreading among the audience in a live rendition.
Chapin recalled that in seeking to cast the key role of the Celebrant, Bernstein sought someone young, intense and compelling, who was able to sing as well as act, and found his ideal in Alan Titus, whose people-oriented life experiences showed in his work – he had worked in a mental hospital, was touched by the patients' problems, and was determined to alleviate their suffering. Matthew Epstein, Titus's agent, added that Bernstein liked passionate, vibrant performers and that his response to singers was always emotional. Titus delivers with a direct, sweet, unaffected manner – the sheer sincerity of his opening "Sing God a Simple Song" is profoundly moving, and the vast array of emotions in his concluding "Things Get Broken" aria is deeply involving and thoroughly convincing. The other soloists' voices and expressions are so well suited to their roles that the association seems all but immutable (and indeed most the subsequent recordings tend to emulate them closely). The boy soprano, in particular, projects a deeply poignant innocence. Although the fidelity is rather thin and the dynamics are compressed, the recording balance displays all the inner voices and its clarity reveals great detail – the layering of complex components that builds the increasingly frenetic "Dona nobis pacem" to its shattering conclusion is frighteningly intense. Tempos are steady and thus tend to unify the disparate sections with relentless momentum (except for the instrumental meditations, which Bernstein leads with the full measure of his trademark passion as a conductor, as he again did in a 1981 concert recording of the three meditations with the Israel Philharmonic on DG). The prerecorded tapes are fully integrated into the live performance, which sounds fine but tends to blur the distinction between the two performance media that form an integral part of the conception of the piece. But even possible blemishes must be accepted as idiomatic and the overall achievement as definitive.
Kent Nagano, conductor; Jerry Hadley (Celebrant), Rundfunkchor Berlin, Staats- und Domchor Berlin, Deutsches Symphonie-Orchester Berlin, Pacific Mozart Ensemble (2004, Harmonia Mundi CDs)
Nagano and his Berlin forces deserve credit for their sheer courage in presenting the first alternative (and implicit competition) to Bernstein's own formidable precedent, which had reigned unchallenged for a third of a century.
To their further credit, rather than attempt to replicate it, they proceed boldly into new interpretive territory – from the very outset the opening Kyrie tapes – and, indeed, all the prerecorded playback sections – while the same recordings as Bernstein had made, sound far different, as they are deliberately blurred, echoed and hushed, so as to magnify their artificiality and distance from the more vibrant presence of the live music, thus heightening a sense of mechanical alienation. Tempos often differ considerably from Lenny's moderation and uniformity – the "primitive and fetishistic dance" that concludes the Offertory begins in torpor and accelerates to a mad delerium, and the climactic Dona nobis pacem trades firm resolve for rampant speed. Balances, too, are different – the street chorus march in the first Introit explodes with a huge, booming bass drum, several sections end with a deep rumbling organ pedal, the third meditation is fueled by imposing brass, and the instrumental foundation of the gospel sermon builds to a powerful conclusion. Those immersed in the text of the Bernstein recording are apt to be startled by some substitutions which subsequent recordings adopt as well – thus in the Confession a blues singer replaces "If you ask me to love you on a bed of spice / Now that might be nice" with "If you ask me to join you in some real good vice …" – neither more (nor less) pointed or risqué, but just different.
Despite being in the heart of Germany, most of the soloists sport decent colloquial American accents, but not all – the ravishing "Thank you" and "Hurry" solos are ruined by a soprano who struggles with impenetrable pronunciation that obscures the words (and hence the meaning). Others merely sound disengaged. (And why in the world was a grown soprano used in place of the boy soloist in the first Introit – in all of Berlin they couldn't find a single kid with a decent voice?) In the crucial role of the Celebrant is Jerry Hadley, of whom Bernstein clearly approved, having cast him as the lead in a 1989 recording of Candide, yet he lapses into operatic inflection at times, with heavy vibrato and fully-shaped phrases, and his long, highly exposed "Things Get Broken" solo turn seems meandering, disjointed and just too long. The instrumental interludes are heartfelt and powerful, perhaps simply because Nagano is leading a real symphonic orchestra rather than a stripped-down theatre pit band. The soft endings linger exquisitely – except for the very final one, where the shimmering sense of eternal peace is roughly shattered by the intrusion of an expressionless harsh taped voice to intone the final benediction from the bowels of the theatre. Overall this is a rather smoother and gentler take than the composer's, a reconsideration freed from the crackling energy and irrepressible inspiration of its creator. Many unsuspected details and perspectives emerge and attract attention, not because they are better, but simply because they are different from Bernstein's initial take. Even the miscues serve a valuable purpose in pushing Mass beyond the tyranny of a single recording and opening the door to interpretations and perspectives through which others need not fear to tread.
Kristjan Järvi, conductor, Randall Scarlata (Celebrant), Company of Music, Tölzer Knabenchor, Chorus Sine Nomine, Absolute Ensemble, Tonküstker-Orchester Niederösterreich (2006 [released 2009], Chandos CDs)
The next recording, from neighboring Austria, accepted the invitation and brought something new and precious to the table – a Mass fundamentally reconceived as having grown to maturity and taken its place in the established canon of important twentieth century works.
This seems highly appropriate – much has happened in society and our musical culture since 1971, and the shocks of that era have lost much of their impact. All elements of this recording contribute to a sense of integration and gravitation toward an embrace of traditional principles. Järvi leads with ripe confidence and perspective, exulting in purely musical values and a rich, polished sound, even while revealing details of the complex orchestration. No doubt this approach is helped by the SACD six-channel mode, although the acoustic reveals a fullness and depth even in compatible stereo (which is all my equipment can play), culminating in a Dona Nobis of extraordinary density and emotional power (and capped by a startling sound effect of the sacraments shattering). That's not to suggest that Järvi is lazy or slow – the execution is sharp and convincing, fueled by aggressive percussion and some startlingly fast tempos (overall more than two minutes faster than Bernstein). By slightly overlapping many sections, as in a cinematic dissolve, Järvi blends and thus helps to unify contrasting sections.
If Bernstein proudly emphasized the disparate scraps from which he assembled Mass as if to boast of its eclecticism, Järvi fits the pieces together into a more integrated conception. He even recut the prerecorded tapes to better reflect his overall blended aural image. Randall Scarlata's well-balanced, operatic Celebrant brings a knowing penetration and wisdom to the protagonist, who is not so much buffeted by uncontrollable social forces as fervently trying to shape them into rational meaning. Despite mostly German-sounding names, the soloists sport impeccable American pronunciation, although several fall short in expressivity, both in singing and recitation, and the boy soprano (really more a boy mezzo) seems a bit too old and worldly to project the innocent purity of his role. As a final means of presenting Mass as an integral whole, the notes and libretto both provide a detailed description of the stage action, which the other sets all ignore and which adds a crucial layer of logic to some of the musical developments, which otherwise can seem unexplained and random.
Marin Alsop, conductor; Jubilant Sykes (Celebrant), Morgan State University Choir, Peabody Children's Chorus, Baltimore Symphony Orchestra (2009, Naxos CDs)
This most recent Mass is wonderful in every respect – and a great bargain to boot. But that's hardly a surprise coming from a Bernstein protégé who is a pioneer in her own right – in 1957 Bernstein had blazed an essential
(and embarrassingly belated) path by becoming the first American to head a major symphony orchestra, and with her appointment as Music Director of the Baltimore Symphony a half-century later Alsop became the first woman to achieve comparable status. While her success with the standard repertoire is somewhat mixed, her way with modern music is beyond challenge. Here, her vocalists (unfortunately not separately identified) sing with ardent enthusiasm (and crisp enunciation that enforces the lyrics), the orchestra and solo instrumentalists strut at the top of their form, the recording is vibrant and detailed, and in Jubilant Sykes she chose a Celebrant buoyed by musical credentials in both jazz and opera, whose earthy, highly expressive voice is a commanding presence throughout, navigating the perils and unifying the crucial "Things Get Broken" into a wonderfully convincing psychological voyage. The entire production pulses once again with the spirit of its creator.
And yet … Except for a swifter (and more effective) gospel sermon, Alsop adheres so closely to the Bernstein precedent (and uses the same prerecorded tapes) as to raise a troubling issue of our time. I would be the last to impugn the value of recordings, yet they also impose a huge burden on the rising generation of performers. In earlier times, once performers retired, memories of their glory faded and opened the way for others to follow. But now we have a permanent – and constantly growing – trove of aural documentation that sets formidably high standards against which newcomers must be weighed. So if, as here, a recent interpretation largely replicates one we already have, what's the point? The Alsop Mass is superb, but so is Bernstein's – and it's readily available. Why get a copy when the original is already on hand? The answer, of course, is that no two performances are exactly the same, and that in a reproductive art such as classical music it's often the subtleties that are the hallmark of mature understanding and deep appreciation – and thus we should welcome the opportunity to encounter and absorb even slight differences. So while Bernstein's recording is essential, our knowledge, esteem and, above all, sheer enjoyment of Mass can only be expanded by others' performances, even if they are superficially similar. And after all is said and done, isn't that the hallmark of a true masterwork?
For more information on Bernstein's multi-faceted careers and recordings, please see my more extensive article Leonard Bernstein – A Total Embrace of Music. For more information on Bernstein's recordings, please see my extended reviews of:

For more information on Mass, please see these sources, upon which much of the factual background of this article is based:
Biographies:

Merle Secrest: Leonard Bernstein – A Life (Knopf, 1994)
Joan Peyser: Bernstein – A Biography (Beech Tree Books, 1987)
Humphrey Burton: Leonard Bernstein (Doubleday, 1994)

Other books about Bernstein:

Stephen Ledbetter (ed): Sennets and Tuckets – A Bernstein Celebration (Boston Symphony Orchestra, 1988)
Schuyler Chapin: Leonard Bernstein: Notes from a Friend (Walker & Company, 1992)
William Westbrook: Conversations About Bernstein (Oxford University Press, 1995) (the section by John Manceri)

An analysis of Mass

Paul S. Minear: Death Set to Music (John Knox Press, 1987)

Notes to CDs:

Robert Hilferty (Alsop) (Naxos 8.559622-23, 2009)
Habakuk Traber (Nagano) (Harmonia Mundi 9010840.41, 2005)
Mervyn Cooke (Järvi) (Chandos, 2009)

Copyright 2011 by Peter Gutmann