"Why can't a woman be more like a man?" ranted Professor Henry Higgins in My Fair Lady. Saturated with self-importance (and -preservation), he was quite serious, even though lyricist Alan Jay Lerner had his own tongue firmly in cheek (as did George Bernard Shaw, whose Pygmalion served as inspiration).
In classical music, whose ranks are among the most socially liberal of any profession, gender issues are hardly a laughing matter.

After all, it was less than a decade ago that the Vienna Philharmonic, arguably the world's most venerated orchestra, admitted its first woman (predictably a harpist, a stereotypically female position), and then only upon threat of losing its government subsidy. This summer, our own Baltimore Symphony Orchestra created an international shockwave when it shattered one of the most resilient of all glass ceilings by appointing Marin Alsop as its Music Director. As incredible as it may seem in our day and age, she thus became the very first woman to head a major orchestra.
Women have held the stage as opera stars ever since the age of the castrati waned over two centuries ago. Female instrumental soloists emerged throughout the 1900s. Yet, the world of the baton still remains firmly a male bastion. Of the few pioneers, esteemed American conductors Sarah Caldwell and Eve Queler had attracted considerable attention several decades ago, but founded their own opera companies in Boston and New York when established podiums eluded them. (Alsop appeared destined for a similar fate, forming Concordia, her own chamber group, in 1984.)
As with most births, Baltimore's was fraught with pain. Although Alsop's appointment was strongly promoted by the orchestra's board, nearly all the musicians reportedly opposed it. While the parties quickly made peace to present a united front of support and high expectations, and attributed the prior protest to a procedural snub of not having been adequately consulted, that's not what they had said to the press at the time. In an especially ironic twist, their foremost spokesperson was a woman, but it appears that gender issues played at worst only a minor role. Rather, the musicians, as well as some critics, expressed concern over poor rehearsal technique, shallow interpretation, lack of nuance and uninspired artistry.
Alsop's artistic and administrative credentials surely appear strong – educated at Yale and Julliard, one of Leonard Bernstein's last pupils, Gramophone's Artist of the Year, the first conductor to be named a MacArthur Fellow, regular appearances with the world's great orchestras in New York, Philadelphia, Chicago and Los Angeles and throughout Europe, Music Director of the Colorado Symphony since 1993 and the Bournemouth Symphony Orchestra since 2002. So what can Baltimore expect once Alsop takes over for the 2007/8 season? Perhaps the best evidence lies in her catalog of recordings, which reflect not only uncommon taste but an astutely planned career path.
Perhaps to surmount the special challenges she faced in competing with the vast tide of rising conductors of her generation, Alsop positioned herself as a specialist in modern American music, a focus reflected in the vast majority of her extant CDs. Alsop has the good fortune to record for Naxos, which not only is budget-priced and widely-distributed but tends to market its vast catalog of offbeat repertoire for sustained periods, an unfortunate rarity nowadays, when CDs tend to have an alarmingly short window of availability before deletion.
There's a common pattern to her recordings – despite having been written as recently as 2002, nearly all the works are easy on the ears. Paramount among these are superlative multi-volume surveys with the Royal Scottish National Orchestra of the orchestral music of American romantics Samuel Barber and Joseph Collins, played with just the right blend of lyricism and brashness.
Percussion concertos by Michael Torke and Michael Dougherty are predictably vapid but superficial fun, bound to impress with their vital pop-infused noise. Both their discs are filled out with pleasant but trivial mood pieces that go in one ear and out the other without ever threatening to engage the mind, momentary diversions that lack even a pretense of depth, somewhat akin to those moronic promos of our local "good music" station urging that listeners tune in to relax and thereby suggesting that the highest achievement of art is to put you to sleep. The most musically intriguing are Symphonies 2 and 3 of Philip Glass, who speaks with a distinctive voice and enriches his minimalist roots with uplifting progressions and lush evolving sonorities. Even the most modern-sounding, Bartok's Miraculous Mandarin ballet, is given a reading that smoothes its rough edges into a far more mellow conception than the barbaric tale warrants. At the risk of invoking the very gender stereotypes Alsop's career seeks to relegate to anachronism, women executives (real ones, not Apprentice-type caricatures) are reputed to be good organizers, patient, warm and insightful, qualities all amply evident in Alsop's recordings.
While modern music has served Alsop well to establish a niche on record shelves and to garner invitations as a guest conductor, the demands of her new position as music director of a major orchestra are far different.
As the New York Times noted, Alsop's reputation as an audience builder will be an especially propitious fit in Baltimore, where nearly half the seats often are vacant. Yet, charm only goes so far – while they occasionally tolerate small doses of offbeat repertoire, the patrons, donors and season subscribers upon whom the Baltimore Symphony depends for its survival are largely a conservative lot who view the concert hall as a museum and demand a constant diet of warhorses written at least 100 years ago, within the era bounded by Haydn and Mozart in the late eighteenth century to Wagner and Debussy at the dawn of the twentieth. Alsop appears to recognize this, as her concert programs are a judicious mix of old and new – her first visit to Baltimore since her appointment presented a Mozart piano concerto and symphonies by Dvorak and contemporary American Christopher Rouse.
But how will she handle the standard repertoire? Of her CDs so far, only three suggest her level of mastery of traditional fare. Two are of Brahms and are largely discouraging. While his Symphony # 1 begins and ends with thundering tympani, the rest reflects her outlook of "balance and proportion" – superficially idiomatic but without any special distinction.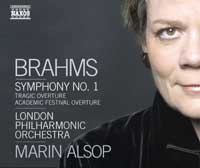 It's hard to accept the ecstatic reviews quoted on her tightly-controlled website (which risibly warns against altering or shortening her official biography without permission) – they speak of spontaneity, impetuosity, drama, gutsy playing, taut energy and a thrilling ride. (Could some of this stem from the compelling extrinsic appeal of her gender achievement rather than artistic merit?) Indeed, there is another side – while the Boston Globe praised her Tanglewood debut this summer as "honest, heartfelt and exciting," the Berkshire Eagle found it "ineffectually led and marked by inconsistent playing." The Baltimore Sun critic is no fan and others have cited shallowness, deeming her more a skilled technician than an inspiring leader. Any first symphony is a major undertaking, and after laboring over his for 14 years, Brahms surely had something significant to say, yet Alsop seems content to reside in confidence and comfort, devoid of tension or personality. Such an approach works, and lapses in inspiration are readily disguised, in unfamiliar modern music that needs a traffic cop rather than an interpreter, but not here. The lapses are less evident in the gentle Brahms Symphony # 2 and pleasant Hungarian Dances, but exasperating in his Tragic Overture, where the essential drama and gravity is stifled by warmth and caution.
A Tchaikovsky disc, though, hints that Alsop may have more to offer and that Baltimore may have more to anticipate. A studio Romeo and Juliet Overture is undernourished, its climaxes plodding and fatigued.
But the Fourth Symphony is altogether something else, with inspired solo turns, meltingly lovely instrumental interplay and a scorching finale of thrilling precision, sharp accents and a tangible enthusiasm in which the players keep urging the tempo forward by anticipating their entrances. Why the difference? First, this is her only concert recording, which suggests that her live performances may trump the routine of her studio product. Second, while the London Philharmonic is so familiar with Brahms as to sleep-walk through his work (and indeed sounds like it did for their Alsop CDs), here we have the Colorado Symphony pushing itself to play like a top-rank ensemble. It's the same thrilling "edge" as when a high school athlete, novice poet or violin prodigy strives to excel beyond perceived capacity and limitations. Yoel Levi transformed the Atlanta Symphony into a world-class orchestra in the '90s. Hopefully, Alsop will work similar magic as she leads the Baltimore Symphony into the major leagues.
The difference is crucial – it's one thing to tempt CD buyers to risk eight bucks on a new Alsop release, but a far steeper challenge to pry a time-pressed professional couple out of their living room to splurge $200 on a concert, especially if they're apt to hear a less interesting performance of a standard work than dozens already available. In prior times, the only way to savor the glories and subtleties of music was to attend a concert, but that's no longer true – indeed, the home often provides a superior occasion for concentrated listening and reflection than amid a restive audience. Concerts remain justified when they project the distinctive and spontaneous personalities of performers with something unique to say about a work, but not for mere routine run-throughs of well-worn scores. Hopefully, Marin Alsop will rise to that challenge in Baltimore.
---
February 2006 Update:
Marin Alsop in concert
On February 13, the Maestra came to Washington for her first concert with the Baltimore Symphony Orchestra at its "second home" in the gorgeous new music center at Strathmore in suburban Bethesda, Maryland. As a herald of things to come, unfortunately it tended to confirm my earlier speculative concern. As we say in The Law, the jury's still out.
After a warm reception, the program began with a dull and dutiful Brahms Tragic Overture, technically competent but largely devoid of enthusiasm or perspective, and barely distinguishable from her bland Naxos studio version with the London Symphony.
The evening concluded with a thick and unexceptional Dvorak Symphony # 7 which would have been far more engaging had it displayed the same vibrancy as the brief furiant encore. In a Q&A session following the concert, Alsop noted that her first recording project with the Baltimore Symphony is to be a Dvorak cycle on Naxos. While a budget-priced series of his earlier symphonies seems sure to attract attention as an alternative to the few CDs currently available (especially if they include overtures or tone poems as fillers), the competition from more idiomatic and energetic readings of the final three may prove overwhelming.
The clear highlight was the striking Symphony # 1 of Christopher Rouse, of which the orchestra is justifiably proud, having commissioned it two decades ago from a native son and having recorded it with its former music director David Zinman, under whose baton the world began to take its first serious notice of Baltimore as a font of serious music-making. Built upon extremes of dynamics, registration, rhythms and textures, the half-hour provided a fine showcase for the orchestra members as well as the new hall's acoustics, and it was led and played with deep empathy for its searing anguish drawn from eclectic sources from Bach through Bruckner and Stravinsky to industrial sounds. The wholly favorable audience reaction to its formidable challenges was paved in significant part by a thoroughly engaging and refreshingly informal ten-minute introduction in which Alsop outlined the structural highlights with orchestral excerpts.
Alsop and her new orchestra clearly were in their element with their deeply moving and thoroughly committed performance of the Rouse, but far less so with Brahms and Dvorak. Rather than grind out redundant readings of repertoire better served elsewhere, and having to compete against more charismatic podium personalities both in concert and on disc, wouldn't it make more sense to establish Baltimore in the forefront of a bold initiative to display modern orchestral work? After all, hearing Brahms and Dvorak in concert gains little over listening to them in the home; indeed, the comparison in such works often weighs favorably toward CDs by acknowledged masters. Yet, the astounding dynamics and textures of a piece like the Rouse provide an opportunity to create an experience that, even with all the technological advances in multi-channel hi-fi, can't be replicated outside the concert hall. Even if the programs for Alsop's upcoming Baltimore seasons must be weighted down with familiar museum pieces, hopefully they'll be balanced with uniquely interesting modern fare that Alsop is in a fine position to advocate.

Copyright 2006 by Peter Gutmann