On vacation touring Alaska, in constant awe of the seemingly boundless display of spectacular natural beauty,

it seemed appropriate to reflect on the life and art of Pablo Casals. Not only was Casals the greatest cellist of all time but, like the vast, unsullied Alaskan scenery, he was a pure force of nature – towering and uncompromising.
Casals' significance transcended his musicianship, phenomenal though it was. In the words of Thomas Mann's eloquent tribute, his "proud, utterly incorruptible integrity ... purifies and elevates our conception of the artist" and was "the symbol of the indissoluble union of art and morality."
Yehudi Menuhin agreed: his "simplicity, grandeur and integrity restore our faith in human nature." Or, as Casals put it more humbly: "A musician is also a man, and more important than his music is his attitude to life."
Casals' art is intimately bound to his life; it's pointless to consider one without the other. His outlook was molded in his native Catalonia, an intensely verdant mountainous pocket of the Pyrenees with a history of democracy and fierce independence from neighboring Spain, to which its language and culture were often subjugated. Although his father, the local church organist, wanted Pablo to become a carpenter, his mother (an ardent pacifist who sent her other son into exile to avoid military service) encouraged him to follow his destiny to become a musician.
The man who would become the world's greatest cellist never heard one until age 11. By then he was an accomplished singer, pianist, violinist and (once his feet could reach the pedals) organist. Three years earlier, when he had been enthralled by a street performer on a makeshift upright bass consisting of a bent broom handle with a single string, his father made him a crude replica from a gourd. (As a reminder of his humble origins, Casals kept it displayed in his home all his life). When Casals finally heard a cello in a trio visiting his remote Catalan village, its sound stirred him as human and profound.
Until then, the cello was deemed unsuitable for sensitive displays of emotion and was typically relegated to a role of accompaniment (as when chugging along with Baroque music). "Proper" technique of the time stemmed from strict training in which a student was made to hold a book under his bowing arm to restrict movement and to produce an unvarying tone. From his earliest lessons, Casals rebelled and resolved to liberate the cello from its chaste subordinate chore. Casals revolutionized bowing technique by using only portions rather than the entire expanse of the bow, lifting it from the strings and shading the tonal quality to emphasize the musical essence. He also pioneered percussive fingering (stopping the strings decisively rather than sliding the whole hand between notes),
expressive intonation (varying the tuning according to harmonic demands), rhythmic vigor, varied attacks and decisive accentuation. His innovations bred interpretations having a compelling inner logic and an instinctive feeling for structure and meaning. Casals created a sense of style.
Casals' first recordings (now on Biddulph 141-143) wouldn't be made until 1915, but fully reflect the beauty and soul of his early playing three decades earlier. Although limited to four-minute encores and abridgements, these Columbia acousticals consistently display the fullness and power of his tone, rhythmic thrust and expressivity.
Unfortunately, comparison with the constrained artistry of his predecessors is difficult, since Casals' influence predated the advent of recording and spread so rapidly that it colored the technique and outlook of all his contemporaries (and most predecessors) by the time they cut their first 78s. Some hints can be gleaned from turn-of-the-century records by David Popper (born in 1843), Aleksandr Wierzbilowicz (1849) or Auguste van Biene (1850) (all collected on Pearl's The Recorded Cello anthology, CDS 9981-3), who do sound somewhat rigid and cautious compared to Casals, although not nearly as much as one might expect. (Curiously, given his fame, Casals made no further records until 1926, when he cut several dozen sides (again, all short pieces) for Victor, now collected on Biddulph 017 or Naxos 110972.)
Casals landed his first professional job at the Café Tost in Barcelona. Soon he began to devote one night each week to classical music, to which he was becoming increasingly attracted. Among patrons drawn to this curiosity was Isaac Albeniz, one of Spain's most famous composers and pianists. Swept away by Casals' talent, he brought the boy to Madrid and arranged royal patronage, who provided an education, support and exposure to other arts. (Accepting regal favors while maintaining his credentials as a man of the people was but one of the complexities and seeming contradictions in Casals' life; another was his cruel neglect of his first wife, notwithstanding extreme devotion to his second.)
During his stint at the café, an event occurred that would transform not only his own life but the entire course of music appreciation. During one of his father's visits, they stopped in an old shop in search of scores to expand the repertoire for his classical nights. As Casals later recalled in a 1970 memoir, he "came upon a sheaf of pages crumbled and discolored with age" – the six unaccompanied cello suites by Bach, written around 1720 and completely forgotten – Casals' music teachers hadn't even heard of them. Casals was staggered by the "magic and mystery" of such rich writing for his instrument.
All I could do was stare at the pages and caress them. ... I hurried home, clutching the suites as if they were the crown jewels. ... I read and reread them. I was thirteen at the time, but for the following eighty years the wonder of my discovery has continued to grow on me. Those suites opened up a whole new world. I began playing them with indescribable excitement. They became my most cherished music. I studied and worked at them every day for the next twelve years.
Once Casals did begin to play the Suites in public he launched a full-scale reassessment of Bach. Although they had previously been dismissed as cold, academic exercises, Casals plumbed their depths and poured out radiant poetry.

Casals cut the Suites in four sessions from 1936 to 1939 (now on Naxos 110905-6). They remain one of the touchstones of recording.
Although he had been playing the music for nearly a half-century and was at the height of his powers, his renditions at first can disappoint, as they seem full of "errors." Rather, Casals paints a complex and intensely human portrait of Bach, flaws and all, enlivened with a huge variety of tone, volume, rhythm, tempo and expression, ranging from hushed, pensive probity to rough, lusty vigor. (Although Casals never rerecorded the Suites in the studio, we do have a 1950s concert of the Third Suite which better displays the extraordinary color of his playing, its expressive intensity ranging from a soft soothing whine to furiously powerful percussive attacks.)
Casals worshipped Bach as the supreme god of music, a creator of unmatched diversity and profundity, and began every day by playing several Bach preludes and fugues (from the Well-Tempered Clavier) on the piano. His impassioned playing of the Bach Suites typifies his attitude toward performing older music. Casals was aware of scholars' efforts to reconstruct Baroque instruments and techniques, and considered their work interesting but fundamentally misguided experimentation. (Indeed, Casals respected all serious musicians, even in areas as far afield from his own as atonality – he thought it was a significant attempt to find new types of expression to integrate into music, and called Alban Berg "a master who moves in a world that is not mine.") Recalling that Bach himself had constantly chafed against the poor musicianship and limited resources of his time, Casals felt it his duty to apply all available means to produce the best possible rendition and derided those who would stick to the written notes and historical constraints as confined in straitjackets inimical to the true demands of the music.
Casals always insisted that he was more attracted to ensemble than solo work.
As a young musician he explored chamber music with a wide variety of contemporaries. In 1905 his passion coalesced into a trio with violinist Jacques Thibaud and pianist Alfred Cortot. The three toured and concertized for one month each year until 1934, when their union was fractured by politics. (Casals was a vehement anti-fascist; they weren't.) Their repertoire was limited to 33 works, of which they recorded six in London from 1926 to 1928 – the first trios of Schubert, Schumann and Mendelssohn, the Beethoven "Archduke," Haydn's G Major and Beethoven's "Kakadu" Variations (the last a spontaneous filler when they completed the Archduke ahead of schedule).
Much great chamber music succeeds when all the players are temperamentally aligned and provide mutual reinforcement. Here, though, the combination of Casals' rich extroversion, Thibaud's elegant grace and Cortot's refined but natural poetry creates a gripping dynamic balance, an enthralling mixture of impulsive exploration and mutual respect, in which each attracts and leads the others and together create a whole far greater than the considerable sum of the parts. Their recordings still sound great and reflect the sheer joy of shared music-making – vibrant, visionary and, even though they had been playing these works constantly for two decades, still full of the wonder of creating music afresh. The full series is currently available in superb transfers on Naxos 110185, 110188 and 110195.
Casals gained his first fame and was much in demand as a soloist with orchestra, yet he recorded few cello concertos. In 1929, as an extension of his trio activity, he cut a magnificent set of the Brahms "Double" Concerto with Thibaud on violin and Cortot conducting Casals' own orchestra, boasting a vital and heartfelt interplay among soloists and orchestra (Naxos 110930).
A legendary recording of the Dvorak Cello Concerto followed in 1937 (Naxos 110930). Casals' solos burst with vitality against the rich, powerful sound of the Czech Philharmonic under George Szell's deeply empathetic but focused leadership that brings the dance rhythms to the fore. Among his few other solo recordings with orchestra is the 1945 Elgar Cello Concerto with Boult leading the BBC Symphony (EMI 63498) – somewhat bland yet respectful of the composer's own pioneering 1928 recording with Beatrice Harrison – and a deeply moving (but not overwrought) 1936 Bruch Kol Nidre with Landon Ronald conducting the London Symphony (also on EMI 63498).
Casals crushed his hand in a 1901 mountain climbing accident. Before his recovery was assured, he claimed to be overjoyed, relieved from the fear that he was becoming enslaved to a single instrument. Indeed, despite his fame as a cellist, he increasingly came to regard the orchestra as an instrument without limitations and turned to conducting as the fulfillment of his musical goal. In 1920 he determined that Barcelona deserved a world-class orchestra but, dissatisfied with the lax standards of the two existing ones, undertook to create his own, hiring 88 musicians with his own funds and paying them double the standard rate so as to assure their full-time devotion without the need for other jobs to support their families.
Despite a rough start – Casals collapsed at their first rehearsal and was confined to bed for two months – the Orquesta Pau Casals grew into a self-sustaining organization under their leader's devout attention, attracting stellar soloists and guest conductors while Casals toured with his cello to support them. Their recordings of the Beethoven First and Fourth Symphonies, cut in November 1929, attest to the level of excellence he achieved from scratch. The First unfolds patiently, its phrases lovingly shaped, with lots of dynamic and rhythmic inflection (although, perhaps in keeping with his background, the strings do tend to overwhelm the balance) – a wonderful blend of vitality and refinement, innovation and classical control, and all notably superior to the somewhat haphazard playing that all too often characterizes the recorded norm of the time. The more substantial Fourth tests the musicians' technical mettle by sweeping into overdrive with breathless tempos which the ensemble negotiates with full success. (In contrast, the Brahms Haydn Variations and Beethoven Coriolan Overture, which Casals recorded with the venerable London Symphony Orchestra in May 1928, sound bland and uninvolved.)
Throughout his career, Casals never forgot his roots and remained immersed in his deep abiding love of mankind. Rather than cater to the elite, Casals believed that the people who had produced a country's wealth should share its cultural riches. With his Barcelona orchestra, he launched wildly popular concert series to which only low-paid workers were eligible to subscribe (for six pesetas – about $1 – for an entire season) and insisted that their acclaim "meant more to me than any applause I had ever received."
Politics impacted the career of all European artists in the 1930s. But rather than be buffeted by the increasingly hostile waves, Casals was galvanized into action. In 1932 he was euphoric over the replacement of the Spanish monarchy with the birth of a republic that promised democracy and justice – and autonomy for Catalonia. Casals became a flashpoint of the new society, continuing to focus his and others' attention toward stimulating workers' education and culture. But his joy did not last – in 1936 civil war erupted and after three agonizing years (for which Casals blamed the Allies' arms embargo) Franco emerged as dictator and shattered Casals' dreams. It was the defining moment of the rest of his life.
Casals repeatedly denied any interest in politics but considered himself an artist who wished to keep faith with human principles. He viewed music as an affirmation of the beauty of mankind, to be used as a force for the elevation of humanity. He believed that artists were not exempt from social obligations, and in fact had a special responsibility since their voices could be heard when others' were not. Artists must have consciences, he insisted, and must strive toward justice and freedom. "When I see innocent blood spilled and the tears of the victims of injustice, it becomes more important to me than my music and all my cello recitals."
When Spain fell, Casals went into exile and vowed that he would never return until Franco was defeated and democracy restored. Although he fervently strove to see his goal realized, he remained true to his word throughout the rest of his life, and even beyond – his body was returned to Spain for reburial only in 1979 after Franco had died and a popular election had been held.
In the meantime, Casals relocated to the nearby village of Prades in the French Pyrenees, near the Spanish border. There he remained, at first voluntarily while seeking aid for refugees and giving benefit concerts, and later under house arrest by Nazi occupiers, who couldn't afford to harm him but wanted to keep him as inconspicuous as possible.
Despite his hatred of the Franco regime, Casals was proud of Spain as the first country to have resisted Nazism and to have set an example for the rest of the world. As World War II ended, Casals was elated that the two most virulent forms of fascism had been vanquished in Europe and expected the Allies to oust Franco as well. When they didn't, he became bitter. He refused to meet with an English diplomat: "You would speak about politics and I about morals; we would not understand each other." He was also frustrated: "The only weapons I ever had were my cello and my baton."
He soon put those weapons to use. In England, he broke off a recording session of the Haydn Cello Concerto with a new vow of conscience: never again would he give a public concert until democracy was restored in Spain. He retreated again to Prades, insisting that the life of an artist must be inseparable from his ideals and intending that the musical silence of the world's most sought-after cellist stand as mute testimony to the moral silence of the world's governments. There he remained, his only communication in personally answering up to 15 letters a day.
But in a way the world soon began to come to him – not as he had hoped through a dawning of political conscience, but in the form of great musicians seeking his artistic counsel. Among these was violinist Alexander Schneider who came to study the Bach solo violin suites. Schneider became a conduit between Casals and the world community, who contributed to gifts of the complete 46 volumes of Bach's work and a new piano. 1950 would mark the 200th anniversary of Bach's death and Schneider seized upon the occasion to prevail upon Casals to participate in a Bach festival to be held in Prades. Casals agreed, on condition that all proceeds benefit a refugee hospital in nearby Perpignon.
And so was born the legendary 1950 Prades Festival – 12 concerts (half chamber and half orchestral) held in the local church (thus precluding applause).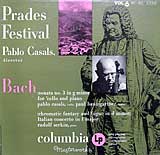 The European and American colleagues who would accompany Casals and who would comprise the 30-member ensemble were paid a nominal $300 plus expenses. In exchange for a $25,000 advance, Columbia was given the right to make records. The recordings that emerged commanded instant attention, although only a few have been reissued on CD – the three Gamba Sonatas with Paul Baumgartner (Sony 66592) have a bold, muscular edge, while concerti with Isaac Stern, Clara Haskil and Marcel Tabuteau (Sony 58982) are moderately romanticized, with thick textures, deliberate and steady tempi, few accents, smooth dynamic range, and emphatic deceleration as movements end; compared to more modern recordings informed with greater awareness of presumably authentic Baroque style, they're rather heavy going, but redeemed by the stately and lovely humanistic conceptions of their slow movements.
Success breeds successors, and so, having broken the ice, another festival was organized for 1951. But as so often with sophomore efforts, the magic became more elusive. To expand, it was moved to the larger city of Perpignan, where the locals were less accommodating, noise and acoustical problems plagued the outdoor courtyard venue, and artistic tensions rose, leading Schneider and others to depart.
Columbia demanded that the repertoire be more popular than Bach (who, despite the proselytizing of Casals and many others was still a highly specialized taste), that Casals apply his special touch to chamber music rather than just serve as another conductor, and that their label's exclusive artists be featured. Perhaps reflecting these problems, the recordings that were issued are mostly disappointing, even beyond their muddy, distorted sound. The orchestral Mozart fared best – a weighty but lively Eine kleine Nachtmusik, Divertimento # 11 and Symphony # 29 (Sony 66569), earnest Piano Concertos 14 (with Eugene Istomin), 20 (with Yvonne Lefebure), 22 (with Rudolf Serkin) and 27 (with Mieczyslaw Horzowski) (Sony 58984 and 66570), a sweet and heartfelt Violin Concerto # 5 (with Erica Morini), and above all a dynamic but comfortably paced Sinfonia Concertante propelled by a youthful Isaac Stern (Sony 58983). But the chamber music Columbia wanted was another story. A Schubert Trio # 1 emerges as grim, gruff and grueling with all the life squeezed out of it. The Beethoven Trio # 2 is somber and earthbound, drained of its youthful exploration. Most disappointing of all is a lumbering 43-minute Beethoven Archduke Trio – labored, tired and cautious compared to the sheer joy and élan of the earlier (35-minute) collaboration with Cortot and Thibaud.
For 1952, the festival moved back to Prades, where it would remain through the end of the decade, with concerts at a medieval abby. Musically, things were back on track – a Schubert Trio # 2 (Sony 58988) melds weight with a delightful lilt and delicacy, the Brahms Trios and Sextet (Sony 58993 and 66571) and Schumann Trio # 1 (58993) all have an appropriate heft but with a broad spectrum of emotion and dark searching texture, a set of the Beethoven Cello Sonatas with Serkin (Sony 58985) adds considerable expressive emphasis to the more classically-balanced set he had cut with Horzowski from 1936 to 1939 and a 1952 Schubert Quintet with Stern, Schneider, Katims and Tortelier (Sony 58992) became justly famous for its effortless blend of natural ease and heartfelt focus. In his only performance accompanied by orchestra in all the Prades festivals, in 1953 Casals played a deeply sensitive Schumann Cello Concerto with Eugene Ormandy conducting (Sony 58993).
Perhaps dissatisfied with sales of its releases, Columbia stopped recording at Prades after 1953, but many of the subsequent years' concerts were broadcast and have now been issued in a magnificent Music and Arts box (1113, 13 CDs for a bargain $60 or so).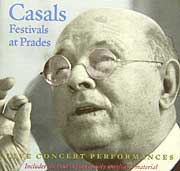 Unlike the Columbia records (which were made in a make-shift studio on site), these are the actual concert performances. Even when the artists and repertoire are similar to those on record – Menuhin, Serkin and Horzowski – there's an extra zing of vitality and risk-taking. We also get to hear Kapell, Grumiaux and Tortelier, whose record contracts precluded their appearance on Columbia, as well as new additions after Columbia's withdrawal – Curzon, Cortot and especially Sandor Vegh, whose quartet gave a stunningly fluid and animated Schumann Quartet and an exquisitely sensitive Quintet (with Serkin) in 1956. The set also includes four hours of material in which Casals didn't directly participate, but which remain imbued with his energizing spirit. As a final bonus, the sound is mostly genuine hi-fi, often better than the studio efforts.
In addition to the Vegh material, many performances are wondrous. Horzowski's excerpts from the Well Tempered Clavier are full of character without plunging into romanticism – a hint of darkness in the b-minor; lovely lyric flow in the G-major, and calm unfolding of the D-major and f#-minor. A Beethoven Sonata # 6 by Goldberg and Horzowski is emphatic and lean. Casals proves his mastery by blending with the variety of temperaments of his guests – there's a headstrong and macho Beethoven Trio # 4 with Goldberg and Serkin, a Beethoven Trio # 3 in which he melds into the close artistic empathy of Yehudi and his sister Hephzibah Menuhin and a blistering Beethoven Horn Sonata in which his splintering attacks challenge Horzowski to turn up the heat. Casals steps aside for a Beethoven Violin Sonata # 1 that interweaves Grumiaux's sweet elegance and Kapell's forward drive and a Mozart Piano Quartet # 2 that adds Thomas and Tortelier for more stylish, clean articulation and classicism than Casals would have provided; indeed, it's all to Casals' credit that he would allow rising masters with contrary temperaments such as Tortelier and Van Tobel to take the cello seat during "his" festival.
Two performances are of especial historical importance. 1958 brought a reconciliation with Cortot, whom Casals had rebuked and snubbed for his collaboration during the War. Their performance of the Beethoven Sonata # 3, though, demonstrates that a huge, unbridgeable gulf remained artistically, if no longer politically. Each does his own thing with barely a nod toward coordinating with the other; it's like an exploratory rehearsal in which preliminary ideas are tossed out, but as if they're each in separate rooms, their solo sounds randomly combined on tape. They sound better behaved on the Beethoven "Bei Mannern" Variations, perhaps only because the structure is so tight there's little room for interpretive contributions, although the details are still blurred.
A 1960 Mendelssohn Trio # 1 with Engel and Vegh, as might be expected, begins in autumnal ease, but by the end of the first movement gets up a full head of steam for a rich, patient but full-blooded unfolding.
Not only the last Prades performance on tape, this was also the penultimate cello recording of Casals' career. The very last was a similar but somewhat more stiff and formal reading of the Mendelssohn, this time performed with Schneider and Horzowski on November 13, 1961 at the White House before a select group of musical luminary guests (Columbia LP KL 5726). Casals agreed to this performance out of his admiration for President Kennedy's idealism and to honor the Governor of his new home of Puerto Rico, who attended as part of a state visit. The concert ended, as did every Casals recital since the War, with El Cant dels Ocells, his deeply moving solo arrangement of a Catalan folk song, a final reminder to America and the world of his ultimate allegiance and aspirations. (Actually, Casals made a brief further public appearance in October 1971, when he played El Cant dels Ocells at the United Nations in a tribute to peace.)
In 2007 Music and Arts issued a second volume of Prades concert recordings (1187, 12 generously-filled CDs for the price of eight), mostly given over to colleagues – Menuhin in four Bach solo sonatas and partitas; Serkin playing Bach, Beethoven and Schumann; Horzowski in Bach, Mozart, Beethoven, Schumann and Brahms (and accompanying Mehuhin in Mozart, Victoria de los Angeles in Schubert songs and Casals in Brahms); Joseph and Lillian Fuchs in a Mozart Divertimento with Paul Tortelier and the Sinfonia concertante led by Casals; the Vegh Quartet in lush Mozart and Brahms; and Christian Ferras and Wilhelm Kempff in a proud Beethoven Kreutzer Sonata with Kempff and a virile Mendelssohn Trio # 2 with Casals. Casals further contributes two rich Bach cello suites, two fine (if foolproof) Brandenburgs and a full-blooded Beethoven Symphony # 4, that are barely offset by rather pedestrian Beethoven Piano Concertos 1 and 2 with Horzowski. There's also a sleepy hour and a half of Bach cantata arias. Overall it's a worthy successor to document Casals' remarkable artistic longevity as well as his allure to attract and inspire remarkable artists.
In 1955 Casals visited his mother's homeland of Puerto Rico for the first time and was captivated, in part by its resemblance to the Spanish seashore which formed his first boyhood memories.
He had also fallen in love with Marta, a teen-aged Puerto Rican student. They married and moved there in 1957, where he launched a new annual festival. Ironically, its inauguration was reminiscent of his Barcelona project – Casals suffered a heart attack at the first rehearsal and had to sit out the first season. Unfortunately, only a single record was made – a thin but tender rendition of the Haydn "Farewell" Symphony (# 45) (complete with its novelty ending of the musicians extinguishing candles and leaving the stage, Haydn's protest of the grim conditions faced by his ensemble) and a patient but more satisfying Mozart "Linz" Symphony (# 36), both from the third festival in 1959 (last on Columbia LP ML 5449).
The major project at the close of Casals' career was El Pessebre (The Manger), a two-hour oratorio he began writing in 1943 as an outlet for his confinement during Nazi occupation.
Based on a prize-winning poem by Catalan poet Joan Alamdra, its prelude and twenty scenes combine natural imagery and folk legends to reflect upon the Nativity and presage Jesus's mission. Beginning with a native dance, most of the music is slow, lyrical and appealing, although portions allude to opera ("The Woman Who Spins") and the end is a traditional Gloria of a full unison chorale. It's not great or innovative music, but unmistakably sincere and direct, fully reflective of its composer, who considered himself deeply religious, although without the need of a church to mediate his relationship to God. The composition absorbed Casals during the rest of the War. He then returned to it in 1960 in time for a San Francisco commemoration of the founding of the United Nations, adding a final section that evoked universal themes of brotherhood and peace. In reaction to the cold war and nuclear threat, Casals devoted much of his final decade to performing the work as a personal crusade of peace for mankind, traveling to personally arrange, rehearse and lead each presentation in 74 locales during 13 years. A 1974 recording (on Columbia LP M2 32966) was his very last.
While traveling the world with his mission of El Pessebre, Casals found an artistic anchor in Vermont, at the annual Marlboro Music Festivals. Founded in 1951 by pianist Rudolf Serkin, violinist Adolph Busch, cellist Hermann Busch and flutist Marcel Moyse, Marlboro gathered dozens of master musicians, young and old, into a fabulous summer environment that served both to rejuvenate the established masters and to incubate rising newcomers, spawning an amazing number of our greatest current teachers and performers.
Casals was attracted not only by the affinity between nature and music that refreshed his spirit but by the selfless approach of all the participants. Casals called it unique among the world's music centers, where status dissolves in a sincere and overwhelming desire to share and learn. From 1960 to 1973 Casals bequeathed his vast knowledge and led the Marlboro Festival Orchestra, whose deceptively nondescript name concealed a wealth of talent, its roster a dazzling catalog of present and future superstars. From the weekend concerts, Columbia recorded a variety of works that inspire with their depth and vitality. As recalled by producer Thomas Frost, Casals took a fresh look at old masterpieces, imbued by his vast experience, and stimulated "a crisp spontaneity undulled by the routine of repeat performances." Cellist Yo-Yo Ma called his four summers there "magical" where "legendary names became real human beings" who "led me to a commitment to music I could not have received from one school or one teacher." Indeed, the Casals-led recordings that emerged reflect a remarkable blend of universality that arises from a respectful melding of the well-developed individual personalities of his musicians. All are characterized by a generally light texture, close responsiveness and alert ensemble, fostered by modest size (40-50 players) and selfless devotion to their leader, combining much of the acuity of ancient instrument versions with the full expressive resources of the modern orchestra.
Of course, there was much Bach. Casals' final traversal of the Brandenburg Concerti (1964) and Orchestral Suites (1966) (Sony 45982, 46253 and 48254),
patiently unfold yet pulse with attentive detail and a heartfelt life-force, perhaps the ultimate documentation of Casals' life-long insistence that the composer whom he regarded as "the image of what I dream in music" was indeed a prophet of humanity and not the dry primitive mechanic known to past generations. Marlboro also saw his final visit with Beethoven, yielding magnificent 1969 recordings of all but the Third, Fifth and Ninth Symphonies. There's nothing trivial about the youthful First (Sony 45891) or Second (Sony 46247), as Casals treats all Beethoven with the respect and care due a supreme master. The Fourth (Sony 46246) replaces the ardent drive of his 1929 Barcelona version with resolute strength, tempered by wondrous dappled light in the Larghetto. The Seventh (Sony 45893) has character, but it feels like the composer's, without imposing any extrinsic personality.
The Eighth (from 1963, Sony 45893) finds the ideal medium of being swift without feeling rushed. But perhaps the highlight is the Sixth ("Pastorale"), deeply imbued with Casals' own love of nature, a quality which he felt Beethoven shared and which sparked a life-long bond of identification. David Blum devoted the final chapter of his wonderful Casals and the Art of Interpretation (University of California, 1977) to a fascinating and detailed report of Casals rehearsing the Pastorale at Marlboro, shaping each phrase lovingly to reflect his deeply humanistic understanding. Ironically, Blum felt compelled to preserve "the spirit of [Casals'] conception" in his book, as he thought that this "exquisite treasure ... infused with joy and reverence" had never been recorded. But although unreleased on LP, a 1969 recording has emerged on CD (Sony SMK 45851), and so now we can experience this magical reading enhanced by Blum's devout documentation.
A 1963 Mendelssohn Symphony # 4 ("Italian") (Sony 46251) fully captures the spirit of the composer – gentle without becoming precious, finely detailed without being self-conscious, energetic without a macho edge, vivid without aggression. A 1970 Schumann Symphony # 2 (Sony 47297) solves the problem of texture with a light touch and minimal inflection, the scherzo flowing naturally into the trio. A 1968 Schubert Symphony # 8 ("Unfinished") (Sony 47297) is a bit weightier but still clearly imbued with the spirit of youth, a magnificent portrait of the composer at one with nature, his music fully integrated into the full scope of his life, the drama restrained yet empathetic in a sincere flow of barely sublimated feelings.
And finally, there are the late Mozart symphonies, pulsing with life, to which Casals adds constant surprises (#s 35, 40 and 41 are on Sony 47294; the others remain on Columbia LPs). Thus, in the "Haffner," the first movement's development revels in the interplay of winds, the second flows with abundant grace without evoking the effete child image of earlier times, the third bracing and gruff and the finale spiked by bold tympani accents.
Casals' work at Marlboro was the capstone of an incomparable career, a compelling reminder of the ultimate purpose of art. His sublime music seemed all the more beneficent and cogent for having emerged from a soul seeped in integrity. I can offer no more fitting conclusion to this survey of the Casals legacy than to quote the conclusion of Daniel Blum's beautiful book, in which he reflects upon their last visit:
As I looked out at the ocean, the waves seemed to melt into the eyes of Casals, and the eyes back into the waves. I felt that the expanse of the sea, the arc of sky, the world of nature and humanity surrounding me had become a vast concert hall in which sounded the resonance of his soul.
---
In keeping with the vast fascination evoked by the force and influence of his artistry and personality,
Casals has inspired many fine books to which this article is indebted. The most direct sources are Joys and Sorrows, his autobiography as told to Albert Kahn (Simon and Schuster, 1970), J.M.A. Corredor's Conversations With Casals (Dutton, 1957), and Casals: A Living Portrait (Columbia PC-1, an aural account packaged as a bonus disc with several of the Marlboro LPs in the late 1960s). All three present Casals in his own words (literally on the LP), as he warmly recalls the major events of his long life and places them in a meaningful perspective. Especially valuable for its warmth and insight is Daniel Blum's highly readable Casals and the Art of Interpretation (University of California, 1977), in which a devoted observer provides helpful analysis and telling examples of the principles that informed Casals' interpretive art, both solo and orchestral. Valuable biographies include Al Kirk's profusely illustrated Pablo Casals (Holt, Reinhart and Winston, 1974), Robert Baldock's Pablo Casals (Northeastern University Press, 1992) and Bernard Taper's Cellist in Exile (McGraw-Hill, 1962).
Casals' life is a rare but cogent reminder of the supreme purpose of art. But above all else Casals was a musician. His Bach Suites, Dvorak Concerto, trio recordings with Thibaud and Cortot, and live work at Prades and Marlboro comprise an immortal legacy that opens a window on eternity.

Copyright 2004 by Peter Gutmann