Beethoven: Symphony # 5; Piano Concerto # 4 (with Murray Perahia)
Originals SH 811
Stravinsky: Le Basier de la Fée
Ravel: Daphnis et Chloe, Suites 1 & 2
Originals SH 803
Prokofiev: Romeo & Juliet (excerpts)
Berlioz: Romeo & Juliet (excerpts)
Tchaikovsky: Romeo & Juliet Overture
Fonit Cetra CDAR 2013
The glories of Sergiu Celibidache were amply praised in a review of earlier boots of his concerts on the Exclusive and Artist Live labels.

The output of those labels seems to have dwindled, and now Originals and Fonit Cetra have stepped up to the plate. Their new series of CDs not only extend our knowledge and appreciation of this most fascinating of currently-active conductors, but also provide a lesson in the dangers of overzealous sonic restoration and unwittingly enhance the credibility of Ceilbidache's philosophical opposition to the recording process.
Celibidache, it may be recalled, is the renegade iconoclast who refuses to make studio recordings.
Instead, he has spent much of his career devoting huge amounts of time to train and stimulate provincial ensembles to produce performances of astounding refinement and sublety. His interpretations of the standard repertoire are consistent only in being unconventional -- not necessarily idiomatic, but always interesting.
The Originals CDs feature straight transfers of previously unavailable material performed by the SDR Symphony and Munich Philharmonic Orchestras. A Haydn and Mozart program on Originals SH 808 is heavily overloaded and rather rough listening, but the sound of the Beethoven and Ravel listed above is sensational. Fortunately, so are the performances.
The Beethoven is akin to late Bernstein -- very slow, deeply romantic, lush and fulfilled -- but with a more urgent grip on the structure, and all abetted by Murray Perahia's brilliant solo work. The Ravel, though, is the disc to grab for all time -- quite possibly the most gorgeous example of orchestral playing ever recorded: shimmering ensemble, exquisite dynamics, breathtaking balances, precise execution and phenomenal polish. If you don't melt away hearing this, something is definitely wrong!
The Originals discs state that they are limited editions of 3,000 worldwide. While each bears a serial number, the sheer quantity of copies for sale in our area alone renders the claim a bit dubious. But it is the superb musical value of these discs, rather than their marketing gimmicks, that transcends rarity to make them genuinely worthwhile.
Fonit Cetra was well known to LP collectors for issuing Italian radio broadcasts by internationally-known artists. Among their previous CDs on the Hunt and Arkadia subsidiaries were dozens of Celibidache concerts of varying artistic and sonic quality.
Of the new series with the RAI (Italian Radio) Orchestras of Turin and Milan, there is a deeply reverential Mozart Mass on CDAR 2007 and a ravishing Ravel program on CDAR 2008 that is eclipsed only by the Munich performance on Original already noted.
The Romeo and Juliet CD is an upgrade of Fonit Cetra LP LAR 10, presenting a Turin concert of April 4, 1960, in which Celibidache coupled three works inspired by Shakespeare's play: excerpts from the Berlioz oratorio and the Prokofiev ballet, as well as the famous Tchaikovsky overture. All are strong performances, but the last is truly extraordinary, lasting a full 25 minutes (as opposed to a "normal" 18 or so). Typical of Celibidache's magic, the introduction and linking passages are played with such extreme weight that they offset and dramatize the emotional outbursts more effectively than in any other recording.
But so much for the music. Now let's turn to less wonderful matters.
The Fonit Cetra liners prominently tout the use of the Sonic Solutions "No Noise" technology. When applied with a heavy hand, such processing strips music of its subtleties and can ruin an otherwize lovely performance. A prime example is found in Celibidache's Schubert Symphony # 8 ("Unfinished") on Fonit CDAR 2014, where the engineers chose an arbitrary volume level below which they wiped out all vestige of treble (presumably to eliminate tape hiss) and above which they exaggerated the presence. The result is a bizarre pumping effect in which the music heaves between dull mush and breathy detail, often within a single phrase. (Curiously, the companion Symphony # 5, recorded at the same concert, is spared similar "No Noise" treatment and sounds fine.)
What possible excuse could there have been for such a sonic crime? The problem is so obvious. Even if the technicians had no brains, didn't they at least have ears?
The only audible difference between the new Romeo and Juliet CD and the previous LP attributable to "No Noise" seems to be the elimination of tape hiss, hardly a compelling achievement; the improved fidelity and impact of the music itself is more likely due to the reported use of the original tapes. But if only the technicians had quit at that point.
The Tchaikovsky Romeo and Juliet Overture begins with four ascending notes that set the tempo and mood both for the solemn introduction and the entire piece. On the CD, though, the third note is noticeably shorter than the others, throwing the entire opening out of kilter in a way that makes no apparent musical sense. Is this one of Celibidache's brilliant interpretive quirks? A deliberate thumbing of his nose at tradition? A wild personal artistic impulse?
Comparison with the LP (and with an earlier CD transfer on Arkadia CDMP 402) gives a more troubling answer: this has nothing to do with art. Rather, it is merely engineering hackwork of the very worst sort. At the midpoint of the third note on the LP a percussive noise of some sort briefly intruded but, knowing that this is a live concert performance, the ear easily tuned it out.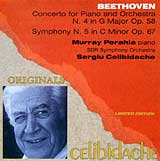 The CD technicians, though, apparently felt compelled to splice out this fleeting and inconsequential sonic imperfection. In the process, they destroyed the tempo and ruined the musical integrity. (And since the note in question is sustained, there was no reason why they could not have inserted a patch to compensate for the length of the deletion.)
Needless to say, these examples are perversions of the priorities that should govern any sonic restoration: technology should always serve the purposes of art rather than dominate, alter or, worse, damage it. Although one ill-conceived splice or misadjusted control on a single CD may not rise to a level of cosmic significance, they do serve to raise a major issue: if the technicians have no respect for the original artistry, wouldn't it be better to leave well enough alone? And for that matter, do we really need noise removed from older recordings if all it does is to remove a few odd sounds or eliminate a small residual amount of tape hiss?
Perhaps historical producers tend to forget that each consumer already owns the most sophisticated equalization, noise reduction and scratch removal circuitry ever invented -- the human ear. No listener has ever turned away in disgust from a magnificent old performance whose sonic purity was compromised by a little background noise, slightly deficient fidelity or an occasional surface blemish. The ear and mind subconsciously compensate for such flaws and convey the musical information unimpaired.
Given a choice between Fonit's intrusive alteration that fabricates a new-found perfection while falsifying the artistry versus Originals' minimal retouching that merely presents what is already there in the best possible light, an ethical producer should always opt for the latter. Any one who doesn't know the difference has no right to compromise our precious musical heritage.

Copyright 1995 by Peter Gutmann