Debussy: Preludes, Book One; Pagodes; Jardins Sous la Pluie; L'Isle Joyeuse

Ravel: Gaspard de la Nuit; Albaorada del Gracioso; La Vallee des Cloches

Walter Gieseking, piano (recorded 1938)
Pearl CD 9449
The piano is a percussion instrument:

push a key, a hammer strikes an open string and you get a sharp, distinct tone. Walter Gieseking was a musical alchemist: his magic touch transformed the piano into a blur of hazy mist.
Gieseking was born in 1895 and was largely self-taught; he claimed that once he had learned to read, his formal education was complete. Rather than follow the normal prodigy's path of powerful display, though, he turned his talents inward to refine the delicacy of his playing and developed the most sensitive touch and pedal technique ever heard.
Gieseking was born and bred a German (and even served in the German army in World War I).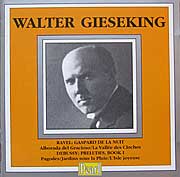 He was known as a Beethoven specialist and did much to repopularize Mozart's piano music through a pioneering series of recordings (now reissued on EMI CHS 7 63688 2 (8 CDs)); while a bit too precious for modern taste, they were enormously influential in their time.
And yet, his most enduring achievements were with the delicate French impressionist repertoire. This specialty is surprising enough in light of Gieseking's large and powerful physique, but even more so since despite geographic proximity the French and German artistic temperaments are as far removed as could be.
Gieseking recorded the complete piano music of Debussy and Ravel in the early 1950s for EMI, of which only the Debussy Preludes have appeared on CD (EMI CDH 7 61004 2); the others, last available on Angel LPs, cry out for reissue. These readings are exquisitely subtle, but critics at the time recalled the even greater glories of Gieseking's pre-war playing. At long last, after eluding LP transfer, his 1938 Columbias are back.
The old critics were right. In a miracle of virtuosity, Gieseking plays the pieces much faster, but with every bit of the sensitive shading of the later EMI readings. From the swirling mystery of Gaspard de la Nuit to the gossamer filigree of Pagodes, these are the finest Debussy and Ravel ever recorded. The notes are more suggested than actually heard and the sonority is an exquisite wash of aural color.
The only comparable artistry for this music is that of Ricardo Vines (1875 - 1943). Although forgotten nowadays, Vines was the pianist to whom Debussy and Ravel entrusted the premieres of their greatest works. In 1930, he recorded two short Debussy pieces, last available on EMI References LP 1731791. His delicate recordings open a brief window upon the composers' own aesthetic approach. Since Gieseking's performances are cast in the same mold, they not only can be enjoyed in their own right but bear the stamp of authenticity as well.
The only sour note here, so to speak, is the transfers, which are plagued with constant static-like surface noise that obscures what little there was of the treble register. Since the noise begins in the upper mid-range, attempts at home filtering wipe out too much of the music to be useful. While surface noise often can be mentally tuned out in loud, dramatic music, it proves a near-fatal distraction for music of such subtle nuance.

Copyright 1993 by Peter Gutmann