The fame of so many pop artists rests on a single hit. No one seems upset - we just assume they had one fine thing to say and then said it. It's really quite common - oldies stations play entire weekends of one-hit wonders.
The measure of a modern classical artist, though, is versatility. A few beloved older superstars can get by with shrinking their repertoire to a few dozen favorite works, but we expect serious musicians to prepare well-balanced programs that span the entire realm of music, from baroque to modern. Yet, two widely respected artists have bucked that trend.
Gilbert Kaplan's lifetime repertoire is as narrow as can be.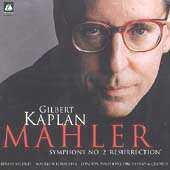 In fact, it consists of just one work - Gustav Mahler's Symphony # 2 ("Resurrection"). Of course, if you had to choose a single piece of music in which to find a universe of expression, it would be hard to beat the Mahler. Perhaps more than any other, it attempts to capture the full realm of human emotion within its sprawling scope.
The first movement is hugely dramatic; according to Mahler's own program notes it aims to convey nothing less than a search for the meaning of life. The second, representing long-forgotten pleasure, is a gentle, old-fashioned dance of lilting grace, occasionally challenged by creeping shadows. The third is a grotesque and wickedly sarcastic waltz, shot through with anguished outcries. The fourth is a child's song, naive and wistfully introspective.
And then comes the massive finale, which consumes nearly half the playing time and is intended to depict the full terror and glory of a pagan last judgement and resurrection. It begins with a huge crash and progresses through episodes of hushed expectancy, quivering tension, funeral dirges, hopeful fanfares and fevered misgiving, culminating in a triumphant apocalyptic chorale, one of the most glorious and powerful climaxes in all of music. Mahler adds to the wondrous awe with extraordinary instrumental effects, including offstage brass, a massive battery of percussion and ultimately the sheer visceral excitement of the massed unision sound produced by hundreds of singers and players.
Kaplan is a wealthy American publisher who, like so many other listeners, fell in love with the Mahler Second. Most of us manage to live with our fantasies. Kaplan, though, turned his love into an obsession, dedicating himself to intensive research into the Symphony's background, sources and history, focusing in particular upon an attempt to reconstruct how Mahler himself viewed and performed what is arguably his masterpiece. He acquired Mahler's own autograph score, published scholarly essays, restored the Austrian cottage where Mahler wrote the work, established the first Mahler museum, recorded and distributed the four piano rolls that are the only artifacts of Mahler's own playing, created a Foundation to disseminate Mahler's work, lectured extensively and emerged as the world's foremost authority on the Resurrection. But even that was not enough.
At the age of 40, he learned to read music, took conducting lessons and hired an orchestra. Since 1982 he has toured the world to conduct the Second. In 1987, he produced a recording, which reportedly has become the best-selling Mahler record of all time. By all rights, it should be an absolutely brilliant and definitive document, a perfect distillation of a lifetime of thought and effort, boasting a clarity of vision that forever strips away the distortions of misguided egos and sets an impossibly high standard against which all other performances, past and future, must always be measured and found wanting. But is it? Unfortunately, no.
Toscanini, who preached adherence to a score, and who left us powerful readings of other German repertoire, never touched Mahler. Great artist that he was, perhaps Toscanini realized that this type of music would arrive stillborn without an added emotional dimension that he was constitutionally unable to provide.
Kaplan's reading is sterile. Every note is in the right place, every tempo is scrupulously observed, every accent is correct. The London Symphony Orchestra plays well for him - far better than they did in their Stokowski and Bernstein recordings - but they seem to be merely performing their duty rather than performing one of the most boldly impassioned works in all of music. Despite the thoroughness of the scholarship and the sincerity of the intentions, something essential is missing - the vision of an artist. For the Resurrection, it takes the unfettered wildness of Oskar Fried, the warm humanity of Bruno Walter, the steadfast inertia of Otto Klemperer, the huge power of Georg Solti, the surprising freshness of Carl Schuricht or the overwhelming emotion of Leonard Bernstein. Craftsmanship may get by with perspiration, but art demands inspiration.
Whatever energy was saved in the performance, though, was lavished on the packaging. When first issued by MCA, the Kaplan was one of the very few two-CD sets that actually justified the bulk of a double-size case. Instead of a token brochure, there were two thick booklets stuffed with extensive program notes, historical essays, photos, bios and a hundred letters tracing the fascinating evolution of the work. A reissue on Conifer 51277-2 contains much of the original documentation plus a complete 200-page score (magnifying glass not included) and the discs themselves include a bonus track, Mahler's four piano rolls, oral reminiscences of colleagues and a CD-ROM gallery of 150 annotated photos.
This type of thorough documentation justified the price and storage space of deluxe multiple-LP editions but has become so rare nowadays. Filling a CD box to the brim with information rather than air takes away much of the pain of having to pay double for a work that barely exceeds the capacity of a single disc (only 83 minutes here).
The Kaplan performance and its presentation are valuable and impressive documents. But they comprise a blueprint rather than a home, a lab specimen rather than a vital organism, an etiquette primer rather than a vibrant slice of life itself. And judging from the impulsiveness of Mahler's own piano rolls, the ultimate irony is that Kaplan's dry literalism, while intended as a reverential gesture of respect for the composer, turns out to flout his essential spirit.
Our second one-hit wonder, pianist Krystian Zimerman, has been a life-long advocate for the music of his native Poland.
In 1999 he realized an extraordinary project - as homage to the 150th anniversary of the death of his most famous compatriot, he formed a brand new orchestra of his young countrymen whose sole purpose would be to perform Chopin's two piano concertos. After intensive rehearsals, he and the Polish Festival Orchestra toured their single program from August to November, playing in 39 cities throughout Europe and the northeast US. In Turin, toward the beginning of their grand venture, they recorded their proud achievement.
Zimerman turned to conducting a decade ago when Leonard Bernstein died midway through their cycle of the Beethoven concertos, which Zimerman determined to complete. Their extraordinary, full-blooded and deeply-felt interpretations underlined the power and drama of the bold conceptions, as had their earlier records of the two Brahms concertos. Clearly, Bernstein's spirit remained a dominant influence upon the Chopin project. This is evident from the very outset, as the orchestral opening of the first concerto careens between grippingly intense outbursts and deeply soothing tranquil repose, shattered by the overpowering entrance of the piano. The entire performance is heavily inflected, emphatic, earnest and momentous.
On the one hand, imposing Wagnerian melodrama on this work and stretching it to Brucknerian proportions (45 minutes, as compared to a "normal" 35 or so) succeeds in revealing its latent power and clarifying the beauty of its details as no other performance has ever done. Yet, there's something grotesquely inappropriate in forcing such emotional weight upon classically-proportioned works which, after all, were written early in Chopin's career when he was still a mere teenager. Although the avowed goal was to recapture the composer's intentions, the thinner, less inflected, brash textures of the "original instrument" version by Christopher Kite and the Hanover Band (on Nimbus NI 5291) sounds far more akin to published descriptions of the supple nuance in Chopin's own poetic and understated style of playing.
But such reservations, while certainly valid, are largely beside the point. There have been so many idiomatic interpretations of Chopin by so many other pianists, all preserved forever on record, that another would have been utterly pointless. Despite claims on their fine and thorough website this isn't historical recreation at all. Rather, it's emotional advocacy, a deeply personal reaction to music which moves Zimerman and his devoted colleagues to the very depth of their souls. Their enthusiasm is contagious - every phrase gushes sincerity, as if to insist that since the performers cherish each note, so should you. And it works - despite their extreme length and gravity, these are stunning performances that won't bore you, not even for a moment.
So - two vastly different artists; two vastly divergent paths. But what they share in common is far more important than their strikingly divergent backgrounds, approaches and goals. Their single-minded devotion compellingly demonstrates the extraordinary power that music exerts on us all.

Copyright 2000 by Peter Gutmann