Rimsky-Korsakov: Sheherazade; Capriccio Espagnol. Borodin: Polovtsian Dances.
London Jubilee 417 753-2.
Tchaikovsky: Symphony # 5; Romeo and Juliet Overture.
London Weekend 433 687-2.
Berlioz: Symphonie Fantastique .Mussorgsky: Night on Bare Mountain.
London Weekend 430 137-2.
Debussy: La Mer; Prelude a l'Apres-Midi d'un Faune; La Cathedrale Engloutie. Ravel: Daphnis et Chloe, Suite # 2.
London Jubilee 417 779-2.
Wagner: Miscellaneous works.
London Weekend 421 020-2.
Beethoven: Symphonies # 5 and 7
London Weekend 430 218-2.
Beethoven: Symphony # 9.
London Weekend 421 636-2.
(The London Symphony and New Philharmonia Orchestras, Leopold Stokowski conducting)
Most classical artists of the last century hated or at best tolerated making records. Their objections ranged from philosophical (the improper permanence of a living experience)

to aesthetic (the inherent imperfections of the recording process), but ego (immortality) and materialism (royalties) usually won out.
Leopold Stokowski, alone among famous conductors, was fascinated by technology and was constantly in the forefront of each innovation throughout his long career, which extended from acoustic to quad. Thus, he heralded the electrical era with exaggerated bass that sounded great on the apparatus of the time, recorded the Fantasia soundtrack in 1939 in true stereo, cut his 1950s LPs on 35 mm magnetic film,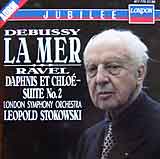 used the full resources of the modern studio for his Phase Four series of the 1960s, and closed his career in the 1970s with surround sound. Indeed, he recorded one of his favorite pieces – Stravinsky's Firebird Suite – eight times, to enable each generation of listeners to enjoy his interpretation in improved state of the art sonics.
Stokowski's attitude toward recording stemmed from his sheer love of instrumental sound. His orchestras played with a lush sonority out of which he spotlighted particular soloists and groups, a "big band" approach to the classics. There was nothing subtle: violins soared, brass blared and winds screamed. In his hands, La Mer sounded more like a barnyard squabble than Debussy's gentle interplay of wind and sea.
Nor could Stokowski resist retouching the classics to conform to his aural ideals. He orchestrated Bach organ fugues and Debussy piano preludes with a kaleidoscope of swirling color, condensed and recomposed Stravinsky's Rite of Spring and added an a capella choral ending to Ravel's Daphnis and Chloe Suite. Purists were appalled, but listeners were thrilled. Rather than cheapen the classics, Stokowski made them accessible to legions of people who would never have attended a Bach organ recital.
And perhaps that was the most important aspect of Stokowski's cultural outlook. Most master conductors tend to associate only with world-class musicians, freeze their repertory and ultimately wind down their activities.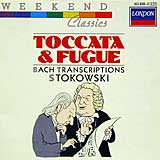 Stokowski, though, created student orchestras throughout his career and still premiered new works in his 90s! Stokowski passionately wanted to communicate his love of music to the masses in every way possible, even when it meant sharing his podium with Mickey Mouse.
The culmination of Stokowski's sonic wizardry was his series of Decca/London Phase Four recordings beginning in 1964. All were produced by Tony d'Amato and engineered by Arthur Lilley (with a strong assist from Stokowski himself). These are studio recordings in the proudest and most creative sense, using spot-miking and 20-channel mixing to create an aural image far different from any concert hall. Most of the Phase Four LPs were cut in a single session. As a result, the performances tend to be impulsive, spontaneous and improvisatory, but the playing is remarkably smooth and polished.
Ironically, despite their artistic and sonic splendor, Polygram has assigned these reissues mostly to its budget-priced Weekend Classics series. While they are often relegated to the nether regions of retail space, Stokowski would rejoice that their snazzy graphics and low price are apt to introduce his work to a new generation of novice listeners. Stokowski would undoubtedly be less pleased, though, with the straightforward CD transfers, which preserve all of the severe overload distortion of the original LPs. Had Stokowski lived to the digital era, he surely would be back in the studio rerecording his core repertoire yet again in state of the art sound. He is the one conductor above all others who deserves sonic cleanup.
Stokowski made little effort to elicit the unique essence of each composer. Instead, everything he played in later years, from Vivaldi to Ives, glowed with the same rich, glossy sheen.
His Wagner, his Tchaikovsky and in particular his Beethoven are almost too smooth, with barely a hint of the tension that animates these works. What we hear is a contented old master, beyond life's battles, perfectly content to bask in the sheer beauty of orchestral sound. Nothing wrong with that!
The discs listed above are the cream of the Stokowski Phase Four series, in rough order of preference. If you have to pick just one, Stokowski's Scheherazade is absolutely stunning in every way, a ravishing, breathtaking performance. The Tchaikovsky and Berlioz flow with unbridled energy, the Debussy and Ravel swell with lush allure, and the Wagner and Beethoven discs, while far from idiomatic, shine a new and fascinating light on familiar classics.
Notably absent from the reissues so far are several Stokowski specialties of which he left fine Phase Four recordings. These include Scriabin's Poem of Ecstasy (last on London LP 21117), whose very title suggests the seething aural swirls that played directly to Stokowski's strengths. Also missed is Stokowski's own arrangement of Mussorgsky's Pictures at an Exhibition (on 21006 or 21110) -- neither better nor worse than Ravel's standard orchestration of the piano original -- just different, a virtue in itself which lent renewed interest and freshness to this overly-familiar piece. And we still need Stravinsky's Firebird (on 21026), a genuine Stokowski trademark, and the magnificent Brahms Symphony # 1, recorded live in 1972 at Stokowski's 60th anniversary concert with the London Symphony Orchestra (on 21090). Since the London Weekend series already contains Stokowski's quirky Bach, Vivaldi and Handel readings, we can only hope that these more valuable remembrances of his Phase Four years are yet to come.
[1999 update: In the six years since this piece was written, Decca has included a number of these pieces in a mid-priced Phase Four series that also includes some of the items missing from the London Weekend set. Although intended as an upgrade, of those Phase Four CDs I've heard the sound seems better but it's still somewhat disappointing.]

Copyright 1993 and 1999 by Peter Gutmann