Our consideration of the opera Die Zauberflöte (The Magic Flute) explores critiques of its libretto, an outline of its structure, the interplay of its two creators, the sources of the libretto, its magnificent music, the influence of Freemasonry, its premiere and success, its universality, an afterthought had Mozart lived longer, early recordings of arias, some key complete recordings, and some sources for further information.
Few opera librettos could ever pass for great literature. Perhaps the most reviled one of all is Die Zauberflöte (The Magic Flute). Yet it remains one of the most acclaimed operas of all – proof, perhaps, of the dominance of operatic music over words.
From the very outset, commentators have had a virtual field day trashing the tale of Zauberflöte, especially in contrast to its universally acclaimed music. One of the few contemporaneous reviews railed: "This ridiculous, senseless and stale product, faced with which understanding must stand still and criticism blush, would but for the composition of the great Mozart be forgotten and scorned. … [P]eople disregarded the nonsense … as they gave themselves over entirely to the delightful melodies … regretting only that such great talents had not been put to a more worthy and nobler subject."

The opening scene
1815 Stage Design by Karl Friedrich Schinkel

The London Times, reviewing an 1851 Covent Garden revival, agreed: "What is feeble or trivial we readily lay to the stupidity of … the libretto, while that which is great and beautiful springs exclusively from the musical genius of the composer." Wagner (who knew a few things about incredible but engaging sagas) opined: "Here that which is eternal is so irretrievably bound to the veritably trivial tendency of the play." And John Ruskin (in 1861): Mozart "used the greatest power which … the Father of spirits ever yet breathed into the clay of this world … to fit with perfect sound … the foolishest and most monstrous of conceivable human words and subject of thought … . No such spectacle of unconscious … moral degradation of the highest faculty to the lowest purpose can be found in history." More recently, Milton Cross (1953) dismissed it as "made up of so much confusion and nonsense," while Harold Schonberg (1970) called it: " … as naïve and awkward a pageant as ever disgraced the operatic stage. … No matter what is read into it, the libretto is silly and inconsistent." Only barely mitigating the slight, Edward Dent offered a backhanded excuse: "one of the most absurd specimens of that form of literature in which absurdity is regarded as a matter of course."

Yet the libretto had its defenders, albeit not nearly as many as its detractors. William Mann called it "trivial on the surface but essentially sublime." The eminent Mozart scholar Alfred Einstein asserted that the weakness of the libretto lay only in its diction and insisted that "in the dramaturgic sense" the work is "masterly" and a "piece for all mankind" and that it "is at once childlike and godlike, filled at the same time with the utmost simplicity and the greatest mastery. … Zauberflöte is one of those pieces that can enchant a child at the same time that it moves the most worldly of men to tears and transports the wisest." He admonished that "one's judgment of the libretto of Zauberflöte is a criterion of one's dramatic, or rather dramatico-musical, understanding."
In a similar vein, Goethe stated: "More knowledge is required to understand the value of this libretto than to mock it."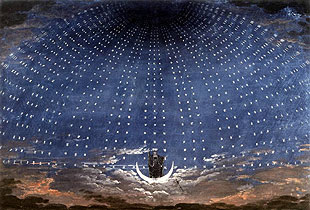 Schinkel stage design – the Queen

In the more ascerbic view of Bernard Shaw: "If you don't know Zauberflöte … then you are an ignoramus." So here's a brief synopsis. A singspiel, its format alternates sung and spoken passages. The musical numbers comprise an overture and two acts. The rest [indicated by brackets] is dialog.
Act I Introduction: "Au Hilfe!" ("Oh help me!") – The prince Tamino faints, fleeing from a serpent that is killed by Three Ladies of the Queen, who playfully compete for the honor of guarding him.
Aria: "Der Vogelfänger bin ich ja" ("I am the bird-catcher") – Amid phrases on his rustic pipes, the Queen's bird-catcher Papageno describes his rustic life and wishes he were equally adept at snaring a mate. [The Ladies seal his lips for boastfully lying that he killed the serpent. They hand the revived Tamino a locket with a portrait of the Queen's daughter Pamina.]
Aria: "Dies Bildnis ist bezaubernd schön" ("This picture is enchanting fair") – Tamino falls in love with Pamina's image. [The Ladies enlist Tamino to rescue Pamina, who has been kidnapped.]
Aria: "O zittre nicht" ("Oh do not tremble") – In her chamber, the Queen promises Pamina to Tamino if he can rescue her.
Quintett: "Hm! Hm! Hm!" – Papageno begs for release and agrees to accompany Tamino. The Ladies give Tamino a magic flute and Papageno a set of chimes. [In a splendid Egyptian room Pamina is threatened by Monostatos, the overseer of Sarastro.]
Terzetto: "De feines Täubchen" ("My pretty little dove") – Pamina is fettered and faints. [His appearance having scared off Monostatos, Papageno explains his and Tamino's mission.]
Duett: "Bei Männern, welche Liebe fühlen" ("All men who can feel love") – Pamina and Papageno sing about the wonders of love.
Act One Finale – Three Boys lead Tamino into a grove with three temples. Voices warn him away from the temples of nature and reason. A Priest (also known as the Speaker) emerges from the temple of wisdom and explains that the Queen is evil, and that their ruler, Sarastro, abducted Pamina to protect her.


Schinkel stage design – the Three Temple Doors

Tamino plays his magic flute to summon Pamina but instead charms wild animals. Hearing Papageno's pipes he rushes off. Papageno and Pamina are captured by Monostatos's forces but escape when Papageno's magic chimes render them helpless. Sarastro enters with his court, punishes Monostatos for his lust, promises eventual freedom to Pamina, and leads Tamino and Papageno into the temple to face the trials of initiation.


Act II Introduction: March of the Priests – The priests enter a palm grove. [The priests assent to Tamino undergoing their initiation trials.]
Aria: "O Isis und Osiris" – Sarastro prays for divine guidance. [Tamino pledges to face the challenges. Papageno agrees only when promised a suitable mate. Both are sworn to silence.]
Duet: "Bewaret euch vor Weibertücken" ("Beware the wiles of women") – Two priests deliver a sexist warning.
Quintet: "Wie? Ihr an diesem Schreckensort?" ("Why? You in this terrible place?") – Tamino remains steadfast against the Three Ladies' temptations but Papageno chatters.
Aria: "Alles fühlt der Liebe Freuden" ("All may feel the joys of love") – Monostatos lusts over the sleeping Pamina. [The Queen chases him away and gives Pamina a dagger with which to kill Sarastro so her power will be restored.]
Aria: "Der Hölle Rache kocht in meinem Herzen" ("The revenge of hell boils in my heart") – The Queen vows revenge. [She departs. Monostatos creeps back in but is repelled by Sarastro.]
Aria: "In diesen heil' gen Hallen" ("Within these holy bounds") – Sarastro proclaims that love will triumph over revenge. [Papageno, thirsting, is given water by an old woman who claims to be his sweetheart.]


Schinkel stage design – the Trials of Water and Fire

Trio: "Seid uns zum zweitenmal willkommen" ("Be welcome once again to us") – The Three Boys bring food and the magic flute and chimes. [Unaware of the vow of silence, Pamina is chagrined that Tamino won't talk to her.]
Aria: "Ach, ich fühls, es ist verschwunden" ("Ah, I feel it now has vanished") – Pamina grieves that Tamino has abandoned her and longs for death.
Chorus: "O Isis und Osiris, welche Wonne!" ("O Isis and Osiris, what feelings of joy") – The priests hail Tamino's coming life of brightness and purity.
Trio: "Sol lich dich, Teurer, nicht mehr she'n?" ("Shall we, my dearest, not meet again?") – Sarastro explains that Tamino and Pamina will be united after he faces his final two trials.
Aria: "Ein Mädchen oder Weibchen wünscht Papageno sich" ("A maiden or little wife would Papageno like") – Papageno pines for a suitable companion. [The old woman pities him. When he reluctantly agrees to be faithful to her she is transformed into a lovely young woman – his intended mate, Papagena – but is whisked away by the Speaker, as Papageno is not yet worthy of her.]
Act II Finale, comprising separate but continuous numbers:
Quartet: "Bald prangt" ("Soon") – The Three Boys prevent Pamina from stabbing herself and assure her of Tamino's love.
Trio: "Der, welcher wandert diese Strase voll Beschwerden" ("He who travels this path with burdens") – Two Armed Men guarding the temple gate fortify Tamino to meet Pamina.


Schinkel stage design – Inside the Temple

Duet and March: "Tamino mein! O Welch ein Glück!" ("My Tamino! Oh, what happiness!") – Hailing the powers of the magic flute, Pamina's love guides Tamino through the final two trials of fire and water.
Aria: "Papagena!" – Unable to find Papagena, Papageno prepares to hang himself. The Three Boys rush in to implore him to summon Papagena with his chimes.
Duet: "Pa pa pa" – Stuttering with delight, Papageno and Papagena extol their simple future together.
Quintetto: "Nur stille, stille!" ("Now quiet, quiet!") – The Queen, Monastatos and her Three Ladies invade the temple but Sarastro breaks their power and plunges them into eternal night.
Chorus: "Heil sei euch Geweihten" "Hail to thee, Initiates") – The populace hails Tamino and Pamina, robed as initiates, and extols the victory of eternal wisdom.
The libretto was by Emanuel Schikaneder (1751 - 1812), a versatile actor of roles from Shakespeare to farce and a sometime impresario who had mounted Mozart's prior singspiel, Die Entführung aus dem Serail (The Abduction from the Seraglio), with great success in 1783. Known for the splendor and ingenuity of his productions, in 1789 Schikaneder took over the directorship of the Freyhaus, a huge boxy theater in the Vienna suburbs that boasted a deep stage and a capacity of 1,000, where he installed a large (for its time) orchestra of 35 and hired a regular cast of fine singers.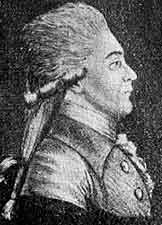 Schikaneder and Mozart

His popular productions specialized in parodies, satires and fantasies, using imposing sets, ornate props and spectacular stagecraft. He authored most of them, but also attracted the talents of Schiller, Goethe and other notable playwrights.

How did Schikaneder manage to enlist Mozart? A common myth is that the composer was destitute and would stoop to any project that promised money. As recapped by H. C. Robbins Landon, his modest income went to pay off old debts and could not support the opulent clothing, coiffed hair and general standard of living required to mix with nobility upon whose commissions he depended; public concerts were rare; publishers paid a relative pittance for his works (which in any event were widely pirated with impunity); court commissions dried up after Lorenzo da Ponte, the librettist with whom he had worked on his last three Italian operas (Le nozze di Figaro, Don Giovanni and Così fan Tutte), was dismissed from his post in a scandal; and so by early 1791 Mozart was reduced to writing dance music for society balls and novelty pieces for mechanical clocks and glass harmonicas. Yet, Mozart considered himself a German musician and was eager for an opportunity to write another quintessentially German opera as a bulwark against the dominance of florid Italian and frivolous French imports. Moreover, although perhaps not to the extent depicted in Amadeus, he enjoyed popular theatre, and Schikaneder was keen for another oriental fantasy.

Little is known about the composition of Zauberflöte and the interplay of its creators. Although Mozart's autograph score contains no dialog, based upon the superiority of the dramaturgy to those of Schikaneder's sole authorship (including many spinoffs of Zauberflöte) David Cairns considers the libretto to have been a joint effort. (Schikaneder's stage manager later would claim – but only after Schikaneder's death – to have written it all by himself.) Branscombe suggests that Mozart began writing in mid-April 1791 during a lull in his productivity, and Nicholas John notes that composition was interrupted by La clemenza di Tito (The Clemency of Titus), a lucrative commission for which Mozart travelled to Prague, and the Requiem, which he would leave incomplete. Mozart entered the overture and the priests' march in his thematic catalog the very day before the premiere, but John notes that he typically saved the overtures to his operas for last and speculates that he wrote the march to facilitate the staging.
Joseph Campbell traces the basic plot of Zauberflöte to the universal structure of initiation myths and rituals from all over the world in which a hero typically is lost in a dark forest or wild place, is called to adventure, at first refuses the call, is offered supernatural aid, meets a guardian at a threshold who presents challenges, enters into the underworld, confronts a father-figure who initially appears to be an ogre, undertakes a supreme journey or test and finally is rewarded with admittance into the highest level of society.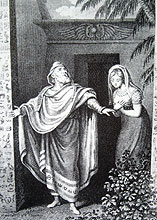 Sarastro, from an 1826 paperback

On a basic symbolic level, the plot can be seen as a journey through life, with Tamino/Pamina (who sublimate their desires in favor of intellect and propriety) and Papageno/Papagena (who content themselves with earthy simplicity) representing the extremes of humanity, as do Sarastro and the priests (morality and social order) and the Queen and Monostatos (evil and chaos). In an exceptionally detailed analysis of the libretto (with barely a word about the music) Nicholas Till traces the strands of its underlying symbolism to the Cabbala (numerology), Zoroastrianism (the metaphysical struggle between dark and light), Gnosticism (Papageno's earthiness), the Rosicrucians (mysticism and the passage to redemption), and the Enlightenment (its conviction that civilization depends upon the rule of the elite to preserve our permanent spiritual values).

Commentators also have ascribed the specific elements of the plot to disparate sources. Thus, Branscombe traces the opening scene to an 1177 tale by Crétien de Troye, the invocation of Egyptian gods and rituals to the Abbé Jean Terrason's 1731 Sethos (which included armed men, three ladies and the hero's purification through trials of fire and water, as well as much of the text of the "O Isis und Osiris" aria), and a hero falling in love with a portrait, three boys who give wise advice and a slave who spies on the heroine to popular fairy tales. Contrasting couples and the birdman were popular characters in Baroque and lowbrow Viennese theatres and a dejected lover's half-hearted threat to hang himself a staple of commedia dell'arte. Other elements were derived from Dschinnistan, a 1786 collection of oriental fantasies by Christoph Martin Wieland that added to the Sethos elements a temple of friendship and benevolence, a lustful black slave and a hero with a magic flute. Dschinnistan, in turn, generated a derivative story by Jakob August Liebeskind with a noteworthy title: "Lulu, oder der Zauberflöte" ("Lulu, or the Magic Flute"). Operas, too, provided precedent. William Mann points to Osiris, a 1781 opera by Johann Gottlieb Naumann in which the hero is united with a kidnapped princess in the Temple of the Sun, and Der Stein der Weissen ("The Philosopher's Stone"), a 1790 magic opera pastiche to which Mozart had contributed a brief segment and which featured noble and comic pairs of lovers, good and bad genies and trials of fire and water.

Most often cited as precedent is Wenzel Müller's opera Kaspar der Faggonist, oder Die Zauberzither ("Kaspar the Bassoon Player, or the Magic Zither"),

The fire and water trials

produced at a rival theatre in July 1791, complete with a hunting prince and his comic servant who must evade dangers to save the daughter of a fairy kidnapped and held in a castle by a malevolent wizard – and lots of magic instruments. Mozart is known to have seen it. Given the seemingly abrupt change in the Zauberflöte plot in the Act I finale (in which the Queen and Sarastro appear to exchange roles) many early analysts suspected that the libretto was revised in mid-course in response to Kaspar in order to avoid charges of plagiarism. As the ostensibly authoritative 1908 Groves Dictionary of Music and Musicians put it: "Just as it was ready, [Schikaneder] found that the same subject had been adapted by [Müller]. He therefore remodeled his materials." That theory has been widely discredited. For one, it presupposes that both play and score were written in linear order from start to finish, a chronology belied by Alan Tyson's research that identified portions of the autograph written on eleven different types of paper. Mozart included snippets of his score when writing to his wife (who was at a distant health spa) in June, suggesting that the entire work was already well underway before the first presentation of Kaspar. (He also reported to her that: "there is nothing in [Kaspar] at all," although that could have been defensive.) In any event, Rodney Mills points out that copying at the time was widespread and accepted, and so even a strong resemblance with Kaspar was unlikely to have motivated radical revisions in a project already in progress.

Cairns presents a more modern view – that there is no change in the plot at all, since all the time we are seeing the Queen through Tamino's eyes. Thus Tamino first believes his rescuers (the Three Ladies, who serve the Queen) and, perhaps heightened by his passion for her lovely daughter, assumes that she is benevolent but only later is enlightened by the morally superior Sarastro who reveals her true nature. Robert Donington views the evolution in the Queen's role in Freudian terms – Tamino first clings to her as a mother-figure but then grows away from her as he matures. Sandra Corse goes further, noting that meaning often arises from the resolution of opposites and questioning the very notion that a work of art needs to be unified at all. On that basis, if the libretto strikes us as confusing or irrational, perhaps it reflects the complexity of the human condition better than a plot that proceeds with logic to full resolution of its inherent conflicts.

Regardless of their views of the libretto, nearly all critics praise Mozart's music as raising the clichéd situations and characters to sublime levels. Julian Rushton hails "the music, hanging like a series of mixed jewels upon the brittle threads of the plot, illuminating the situations, deepening the pasteboard characterization and gathering, in two immense finales, all the dramatic threads into a labyrinthine musical organization." Mann credits Mozart with binding together the libretto through "the abundant humanity he found rooted in every scene and character" and "pouring out his ripest genius on it all." Paul Henry Lang acclaims Mozart as "the greatest musico-dramatic genius of all time" whose temperament approached everything in terms of the language of music and thereby deepens it with symbolic overtones. Specifically, in Zauberflöte, "this amalgamation of all musical civilizations, Mozart united … all the symbols of human dreams and desires."
THE FIRST THREE ARIAS

---
Papageno's "Folk" Song:

---
Tamino's Romantic "Portrait" Aria:

---
The Queen's Opera Seria Coloratura:




Till agrees, crediting Mozart with deep knowledge of the philosophical trends of his time and a profound understanding, akin to Shakespeare, of human spiritual and social needs. Einstein finds it notable that no two portraits of Mozart are similar and no remains are known, "as though the spirit-world wished to show that here is pure sound … triumphant over all chaotic earthliness."

Many analysts hail the wide variety of divergent musical forms and orchestration that Mozart used, each in a suitable way to enhance character and situation. Thus, Charles Osborne describes the first several numbers as lyrical comedy (the Ladies' trio, as they engage in a mock-battle over the sleeping Tamino), a folk song (Papageno's air, as he revels in his simple desires), a romantic aria (Tamino enraptured by the portrait of Pamina) and opera seria (the Queen's coloratura). Later we encounter chorales to depict the priests' religious devotion, formal counterpoint to simultaneously present characters' divergent emotions, dances to mock Monostatos' militia disarmed by Papageno's magical instrument and, of course, a triumphant chorus at the very end. Commentators note that much of this was facilitated by the inherently discontinuous nature of the singspiel format, in which dialog separates the musical numbers so they can be a mix of heterogeneous elements without fear of seeming to clash or lacking cohesion. Also significant is the genre's roots in folk tales and vernacular which averts the need to respect the formality of classical structures and afforded Mozart the freedom to sidestep the demands of established operatic formulae.

Critics further praise the deliberate simplification of the music. Cairns rejects the once prevalent view of Zauberflöte as a reversion to primitive drama (and thus a squandering of Mozart's talents), but rather views it as a purposeful distillation of direct melodies, pure harmonies and luminous textures. Indeed, not only the dialogue but even the arias proceed mostly in efficient, linear fashion, dispensing with the repetitious padding in Mozart's prior Italian operas. After all, careful editing, restraint and refinement in art is harder to achieve – and far more impressive – than unrestrained abandon. On one level, the musical numbers fit their characters and situations brilliantly. Thus Papageno's introductory aria (# 2 in our outline) is rustic, effortless and charmingly naïve, followed by Tamino's limpid, elegant outpouring of sincere emotion (# 3) and the Queen's venom (# 4). So does the instrumentation, as Mozart invests the accompaniments with a wide variety of timbres, all carefully tailored to the dramatic function. On a more intuitive level, Mozart uses motivic repetition and his choice of keys to identify and to form logical links among characters and situations. Thus Einstein assigns F major to the priests and their world, C minor to sinister powers, G major to buffoon elements and E-flat major with the humanitarian ideals of the opera.

Yet subtlety abounds as well. Monostatos sings hastily and is accompanied by nervous figures to undercut his cunning, the tense vocal leaps of the Queen's first aria suggest her cold contrivance well before we first are led to suspect it,

The Entrance of the Evil Forces:

---
Conflict Between Music and Words:




and the unassuming flute that accompanies the supposedly terrifying fire and water trials can be heard as calm, moral purity in the face of mortal danger. Or consider the penultimate number, "Nur stille, stille!" in which the evil Queen, her Three Ladies and Monostatos invade the temple – its sheer melody is so catchy, buoyant and ingenuous that their evil plot can't possibly be taken as a viable menace. On a yet deeper level, Branscombe notes that the musical inflections often abrade the text. As one of many examples, he cites the very first line in which Tamino cries out: "Zu Hilfe! Zu Hilfe! Sonst bin ich verloren! ("Help! Help! Or I am lost") – although the spoken accent would fall on the final word, Mozart places it on the relatively inconsequential "bin," which distorts the literary sense but sounds forceful at the apex of an insistent rising and falling musical phrase, thus documenting to Branscombe that Mozart valued emotion above the actual words. The anonymous Covent Garden reviewer went even further to suggest that, by accompanying Tamino's and Pamina's climactic passage through their final fire and water tests with a wimpy solo flute, Mozart showed his contempt for the triviality of the story.

In retrospect, Mozart's Zauberflöte music has been hailed for its influential innovations, even beyond its first use of three trombones, a basset horn or a xylophone in an opera score. Eric Smith asserts that, alone among Mozart's work, it contains the seeds of Romanticism by combining folk song, an exotic setting and symbolical meaning and, in the lengthy exchange between Tamino and the Speaker in the first finale, by bridging the prior established rigid classical division between dry recitative and florid melody. To that we might add the sheer sound of Tamino's and Pamina's arias, tenuously poised between classical reserve and stirring emotion that seems ready to burst – Rodney Milnes calls them "rhapsodic outpourings of purely musical eloquence" that adhere to no 18th century form. Indeed, Beethoven proclaimed it Mozart's best opera (largely for including so many perfected musical forms) and a masterpiece of musical logic (for using keys according to their psychological properties) and composed two sets of variations on its aria themes. Wagner acknowledged that Zauberflöte laid the foundation for his work and regarded it as a masterwork that never would be surpassed. Goethe even was inspired to attempt a sequel (in which Monostatos tries to steal Tamino's and Pamina's baby son). (Even the libretto proved influential – John traces Zauberflöte's influence through the further development of German opera from Fidelio's triumph of virtuous love leading from the trials of prison to brilliant freedom and Freischutz's test of love and fidelity, to the allegorical dramas of Wagner.)
Perhaps the greatest motivation for Zauberflöte was Freemasonry. Both Schikaneder and Mozart were wholehearted Masons and may have seized upon Zauberflöte as an opportunity to communicate their spiritual ideals to a wider audience and perhaps to boost Masonic morale in time of need.

Masonic symbols – square and compass

Indeed, they may have viewed Zauberflöte as an act of rebellion, as Masonry was under dire attack from both Church and state (and in fact would become nearly extinct in a few more years).

Freemasonry began in England around 1700 and flourished in France and Austria. Jacques Chailly notes that it arose in a time of weakened spiritual values and was attractive as a substitute to those who sought spiritual substance but perceived an emptiness in the Church, instead harking back to antiquity as the source of ethics and embracing the values common to all faiths. Organized into lodges with roots in medieval guilds, it attracted free-thinkers in need of hierarchical structure, ceremony and recognition and thus held particular appeal for scientists and artists during the age of Enlightenment and its emphasis on individuality. As the doctrines of Freemasonry were suffused with inspecific religious overtones (as well as the mysteries of antiquity) and prized a secular vision of social ethics, both the Church and civil governments felt threatened and moved to control, limit and repress it. Indeed, in 1775 the Austrian police required members to register and the Emperor forced the Viennese Masons to consolidate into three lodges of no more than 180 members. Mozart joined the "Zur Wohltätigkeit" ("Benificence") lodge in December 1784 as an Apprentice and quickly rose in the echelons, being promoted to Journeyman in three weeks and Master (the highest Austrian rank) in three months. The lodge had been founded by Ignaz von Born, who published a study relating Masonic practices and beliefs to those of the ancient Egyptians, and it became a center of intellect and culture. Mozart was a devoted member, writing eight works for specific lodge rites, including his magnificent 1785 Masonic Funeral Music and his last completed work, a Masonic cantata. As summarized by Maynard Solomon, the Masonic ceremonies appealed to Mozart's theatrical impulses, its ancient traditions touched his abstract religious yearnings and its creed fit well with his own personal beliefs, which embraced an elastic approach to religion, self-development, spiritual uplift and humanitarian aspirations; ideals of liberty, equality, tolerance, mutual aid, sacrifice and benevolence; and a vision of salvation through logic and reason.

Nearly all of these spiritual values found their way into the libretto of Zauberflöte. Most patently, the screening and trials of Tamino closely follow Masonic initiation ritual.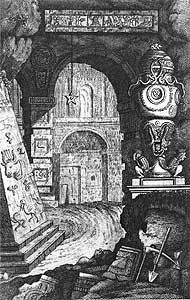 Libretto frontispiece full of Masonic symbols

Indeed, the frontispiece of the first publication of the libretto was an engraving filled with palpable Masonic (and some Rosicrucian) symbols. Some of the symbolism of the libretto is rather obvious. Thus, Sarastro dwells in the temple of wisdom and leads Tamino (mankind) by mediating between the other two temples of nature and reason (representing the poles of human existence – animal impulse and scientific intellect). Others dwell at a deeper, Freudian, level – Donington interprets Tamino's entry with a bow but no arrows as signifying his incomplete manhood.

In an exhaustive analysis, Chailly goes much further to interpret each plot detail in terms of Masonic beliefs and rituals, most of which surely would escape a typical opera-goer. Thus, he likens Tamino's fainting to the prostration with which initiation begins and the padlock with which the Three Ladies clamp Papageno's lips to the "seal of discretion" that was part of the Masonic initiation ceremony in women's lodges. Even the magic flute itself resonates with figurative meaning by uniting all four ancient elements and thereby symbolizes perfection – it is sounded with the breath (air) and is described by Pamina as having been carved from a tree root (earth) and produced during a downpour (water) amid flashes of lightning (fire) – the same elements that comprise Tamino's trials that, in addition to passage through fire and water, include isolation (earthly burial) and silence (air), all fundamental to the Masonic creed. Cairns further suggests that the flute, a single instrument equivalent to multiple shepherd pipes, reflects the Masonic incorporation of ideas from multiple religions and thus symbolizes the diversity of the opera's music.

The music, too, has been deemed to incorporate Masonic elements. The frequent use of groups of three chords, motifs of three notes and rhythms of three all reflect the primary integer in Masonic numerology.

THE OVERTURE

---
The opening three "knocks"


---
The fugue begins:




Recurrent tonalities are associated with Masonic music – C major for light, c minor for the threat of death and, above all, E-flat major (three flats). Counterpoint has been held to signify the Masonic ideal of human equality. Indeed, Chailly depicts the overture as a resumé of the action within a Masonic context. Thus, it begins with three chords in the rhythm of knocking to enter a Masonic lodge, then thematic fragments depict groping through chaos, a fugue with no modulation suggests the rigidity (and tedium) of society, repetition of the three chords, each now heard three times, emphasizes the establishment of Masonic order, and then the fugue is heard again, but this time with frequent modulation abounding in minor keys and chromaticism to suggest the richness of life when infused with Masonic ideals, capped by fanfares to celebrate the triumph of Masonic thought.

However, several commentators caution against reading too much Masonic symbolism into Zauberflöte. In 1876 M. A. Zille, himself a Mason, ascribed the characters to political figures of the time – Tamino to Emperor Joseph II (a tolerant reformer under whose reign Freemasonry flourished), the Queen to Maria Theresa (his repressive forebear who had tried to extinguish the lodges in her realm) and Sarastro to Ignatz von Born (the revered master of Mozart's lodge). (Zille also asserted that Pamina represented the Austrian people, an allusion that seems obscure.) Branscombe notes that such musical elements as counterpoint (suggesting equality), the "Masonic" key of E-flat, the "knocking" rhythms of dotted threes and instrumentation featuring "Masonic" trombones, clarinets and basset horns all were used extensively in Mozart's other non-Masonic late works.

One aspect that has raised many modern eyebrows is the depiction of women. As Christoph Martin Wieland quipped, as far as women were concerned the Masons opened their hearts but not their lodges. Till relates this to the Enlightenment dichotomy of revering and idolizing women in the private domestic sphere while fearing their power and denigrating them in public.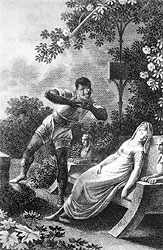 Monostatos and Pamina
Johann Ramberg (1826)

Thus in Zauberflöte the wise Sarastro counsels that women must be guided by men, and chief among the initiation ordeals is the need to resist the temptations and perfidy of women, as most glaringly stated in a duet (# 11) of two priests who warn that women's tricks lead to despair and death (and indeed in the following scene it is the Queen's Three Women who tempt Tamino and Papageno to abandon their quest). Yet, Till notes that the duet is set to perfunctory music, as if Mozart disapproved or at least made light of the text (although he didn't excise it altogether, as he did with other original verses that didn't fit his conception). And many commentators note that Pamina not only is found worthy of initiation (albeit because of her personal bravery, deemed atypical for her gender) but leads Tamino through his final trials, and that both emerge for a triumphant joint initiation, as if to suggest that the two genders ultimately deserve equality.

Less equivocal is the text's racism, embodied in the villainous Monostatos, the sole person of color in the entire cast and who is fixated on raping Pamina. Not only is this characterization deeply embedded in the myth of black men's raging sexual desire (and the consequent white fear of miscegenation), but the text makes the source of his evil abundantly clear. Thus in his aria (# 13) he proclaims: "Alles fühlt der Liebe Freuden, schnäbelt, tändelt, hertz und küsst; und ich soll die Liebe meiden, weil ein Schwarzer hässlich ist. … Weiss is schön! Ich muss sie küssen; Mond! Verstecke dich dazu!" (Everyone feels love's joys, bills, coos, hugs and kisses, but I must shun love because a black man is ugly. … White is beautiful! … I must kiss her; Moon! Hide yourself from it!") This time, Mozart's peppy setting does nothing to dispel the patent message of the text that such behavior is shameful yet inborn as a matter of race. Modern producers face the unenviable and perhaps insoluble quandary of whether to sanitize this aspect for modern sensibilities or to admit that Mozart was a man of his time and reflected the social assumptions of his age, both progressive and pernicious.
Mozart personally conducted the Zauberflöte premiere on September 30, 1791 (and the first repetition) from the fortepiano. As would be expected for a typical Schikaneder production, the original libretto was full of specifications for lavish sets (13!), props, stage directions and even sound effects (but, curiously, not costumes).

Schikaneder as Papageno

The only two reviews published during Mozart's life both praised the staging while mustering less enthusiasm for the work itself. (One called it "an unbelievable farce" and the other cited "the inferiority and diction of the piece.") The principal roles were tailored to suit the members of Schikaneder's stock company – as characterized by Rushton, Mozart's sister-in-law Josepha Hofer, a fiery coloratura, was the Queen; 17-year old Anna Gottlieb (who had sung Barbarina in the premiere of Nozze di Figaro at age 12!) played Pamina with impulsive pathos; Benedikt Schack, a lyrical tenor, was Tamino; Franz Xaver Gerl, known for his fine low notes, was Sarastro; and Schikaneder himself took the role of Papageno (and an engraving of him in costume adorned the libretto). Donald Mitchell suggests that Schikaneder wrote the role to reflect his own character – a combination of buffoonery, earthy common sense, business acumen and lofty ambition.

The poster for the premiere

Rushton adds that Papageno properly steals the show, as he should, as his journey to domestic fulfillment is closer to normal human experience than the lofty outcome of prince and princess.

Zauberflöte was a phenomenal success – and remarkably so, in view of its essentially subversive view of the repressive social, religious and political environment of the time. While there are few contemporary accounts, in a letter to his wife one week after the premiere Mozart wrote: "I just got back from the opera. It was just as full as always." After detailing the many encores, he continued: "But what pleases me most is the silent approval. … One can see well how much, and increasingly so, the opera is gaining esteem." Two days later he again wrote of the "packed house with usual applause and encores." (In the same letter he chastised a patron who laughed throughout. Yet his irrepressible spirit remained, as he related a practical joke – he slipped into the orchestra and played slower arpeggios on Papageno's chimes so that it became obvious that Schikaneder was not playing them himself. Perhaps that letter provides a key clue to the ideal tone Mozart intended, deftly balanced between lighthearted and earnest, amusing yet pensive, engaging yet heartfelt.)

Schickaneder's theater performed Zauberflöte 24 times in the first five weeks alone and retained exclusive rights for a year, but then it spread quickly and was translated into Italian, Czech, Polish, Swedish, Russian and English and met with a great reception. In 1793 the Berlin Musikalische Zeitung reported: "Everything is turned to magic at these theatres – there are the magic flute, the magic ring, the magic crown, the magic arrow, the magic mirror and many other wretched magic affairs. Words and music are equally contemptible, except for the Magic Flute." Not all productions were authorized or authentic. The most notorious was a French adaptation, Les Mystères d'Isis, with characters renamed, text rewritten, recitatives added, the music cut and recomposed, and arias substituted from other popular Mozart operas and even a Haydn symphony – Berlioz called it "Mozart assassinated." In an era in which audiences craved new works and most operas were quickly forgotten Zauberflöte endured and thrived. Mozart's first biographer, Franz Xavier Neiemetschek, wrote in 1798: "What shall I say about the Zauberflöte? Who in Germany does not know it?
Is there a theatre in which it was not performed? It is our national piece. The applause it received everywhere – everywhere from the court theater to the wandering troupe in a small market town, is yet without parallel."
Compelling proof of the enduring universal appeal of Zauberflöte lies in the bold, imaginative decor it has inspired, stemming from the fantastic early 19th century designs by Karl Friedrich Schinkel and Simon Quaglio, depicted at the beginning and end of this article, through a wide range of modern presentations. Some attempt to replicate the sound of the original – a 2000 Kultur video presents the Drottningham Court Theatre troupe led by Arnold Östman in a theater dating from 1776, complete with wigged musicians in frilly shirts playing period instruments and using technology of the time, including a rather bare stage with painted flats and backdrops, nominal props, the Three Women rising from a trapdoor, the Three Boys floating down on a swing from the flyspace, and minimal lighting effects for rather anemic fire and water trials and the Queen's demise,
focusing instead upon hugely expressive acting – Papagena fairly bursts with wholesome lust. At the other extreme is a two-hour 2014 radical reworking by the South African Isango Ensemble that shifts the opera to a context of African folk-tales and communal initiation rites, full of singing, dancing, drumming, and an orchestra of marimbas, oil barrels and a jazz trumpet.
Perhaps the most widely-known adaptation is the affectionate 1975 Ingmar Bergman movie that features droll backstage business (Papageno awakens from a snooze in time to go on; Tamino and Pamina play chess during the intermission), magic (Pamina's portrait comes to life; chattering skulls accompany the Three Ladies tempting Tamino to speak), intimacy (whispering and closeups that an actual theater audience would never perceive), departures from the original plot (Sarastro assures Pamina that the entire episode with Monostatos and her mother was a nightmare; after she and Tamino emerge from their trials he cedes leadership of the temple to them), and transcending theatrical confines (a torchlight parade for Sarastro's first entrance; Tamino and Pamina's literal passage through fire) – all seen appropriately through the awe-struck eyes of a young girl (Bergman's daughter, in annoyingly frequent and sustained cut-away shots) and an equally apt racially-diverse audience. Far bolder is a 2006 Kenneth Branaugh movie that transposes the opera to a World War I battlefield and replaces all allusions to Masonic creed with pacifism (Tamino's trial becomes a mission seeking a cease-fire). At first it sounds like a mere parody
– the overture is overwhelmed by the din of combat, Tamino is rescued from poison gas by three nurses, Papageno is a handler of carrier pigeons, the Queen commands a tank and Sarastro heads a convalescent ward – but ultimately it's redeemed by fine singing, witty English-language lyrics and vivid direction. While computer effects, creative photography and spectacular opening and final shots leave the 18th century far behind, its underlying humanism remains fully intact and is genuinely moving.
These reconceptions, in turn, raise the issue of the extent to which it is appropriate to modernize a work that was written to suit the limitations and audience expectations of its time.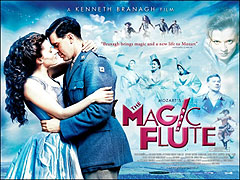 On a practical level, Anthony Besch notes that Schikaneder and Mozart structured their opera so as to maximize its impact through the dramatic effects of their era. Thus, he suggests that rudimentary technology was accepted, if not expected, as standard elements of the theatrical experience and that some of the music was intended to disguise the noise of the baroque mechanisms needed for scene changes. Gustuv Sellner further contends that the now largely obsolete effects of Mozart's time propelled his audiences into a realm of fantasy that can only be compromised by realistic sets, electric lighting and the other resources of modern theater. Yet we cannot simply ignore two centuries' evolution and sophistication that have created an unbridgeable gulf with Mozart's esthetic, which now is apt to appear merely quaint rather than openly sincere and convincing. So perhaps updating is needed to establish a viable link to modern audiences. Should producers attempt to transport us back to a long-forgotten cultural world, or should they accept that updated technology is needed to stimulate emotional acceptance of the underlying essence of the work?
Although the question will continue to inform new productions, there can be no definitive answer. But it is quite clear that, whether its presentations are period or modern, straightforward or wildly inventive (or, more likely, somewhere within these extremes), there appears to be no end in sight for Zauberflöte to enchant future generations – according to Operabase in the 2012-13 season Zauberflöte was the fourth most frequently performed opera worldwide, exceeded only by La traviata, Carmen and La bohème.
Zauberflöte was by far the greatest success of Mozart's life, but he died nine weeks after the premiere, at the mere age of 35. (Christopher Raeburn notes the bitter irony that only a few years later the kidney disease that hastened Mozart's end became curable.)
Reportedly, each evening on his deathbed he imagined the progress of that night's performance and wished that he could hear Zauberflöte one more time. Mozart's untimely demise raises the absorbing prospect of how he might have further altered the course of music had he enjoyed normal adult longevity. At a bare minimum Robert L. Marshall contends, "genius never ceases to grow," and that Mozart, "arguably the most gifted musical genius in history, would have continued to produce masterpieces of the highest order." But beyond that, consider two startling facts which Marshall recounts.
First, in 1790 when Johann Peter Salomon engaged Haydn to come to England to present concerts of new works for a year, he also engaged Mozart, who was to follow in 1792. During his stay in London Haydn was transformed – he was besieged with invitations, feted with extraordinary honors, and earned a fortune. One can only imagine the impact of a similar experience upon Mozart, who was struggling financially and was increasingly marginalized by local patrons. Marshall speculates that he might have become disgusted with the increasingly intolerant and repressive Viennese regime, been attracted to opportunities of the New World, and even eased into the role of a music professor in New York.
Second, in 1787 a promising teenager came to Vienna to study composition with Mozart but immediately had to return to Bonn to tend to his sick mother. When he returned in 1792 Mozart was no more and he had to take lessons from Haydn instead. The impressionable novice was none other than Beethoven! We can only marvel at the worlds that Mozart's sweeping but disciplined brilliance might have opened for Beethoven and the different course his own genius, and music itself, might have taken.
Complete sets would come later, but first there were recordings of arias – lots of them. Whether due to the variety and abundance of individual pieces in the singspiel design or their inherent appeal, the sheer number of Zauberflöte excerpts surpassed those from Mozart's other operas. Thus Alan Kelly's compilation of German Gramophone recordings from 1898-1929 found 106 of Zauberflote arias, compared to 76 from Figaro and 54 from Don Giovanni.
Of those, the most frequently recorded was "O Isis und Isiris" (a basso favorite – 22 different versions), followed by "Dies Bildnis" (Tamino's loving adoration of Pamina's portrait – 17), "In diesen heil' gen Hallen" (a coloratura display – 14) and "Bei Männern" (in which Pamina and Papageno look forward to their respective loves – 10). Less popular were Pamina's outpouring of grief, "Ach, ich fühls", the Queen's other torrent, "Der Hölle Rache", the charming Papageno-Papagena duet and, most surprisingly, perhaps the best known aria nowadays, and surely one of the catchiest, Papageno's "Der Vogelfänger bin ich ja." Similarly the comprehensive Center for the History and Analysis of Recorded Music [CHARM] discography of the entire 78 rpm era, drawn from diverse sources, lists 709 Zauberflöte 78s with the most popular again being "O Isis," "Dies Bildnis" and "In diesen heil'," now joined by "Ach, ich fühls" and "Der Hölle Rache" – but not Papageno's aria or "Bei Männern."
However, by mid-century Giovanni (with 728) had caught up with Zauberflöte in overall popularity and Figaro (with 599) nearly so – although, for perspective, Carmen trumped them all with an astounding 2,421. (The data compiled by The World's Encyclopedia of Recorded Music [WERM], covering the monaural electrical era (1925-56), yields a roughly comparable tally.)
The relative few I've heard are fascinating, as they recall the deeply personal performance style prevalent a century ago but now deemed inappropriate for Mozart and thus obsolescent. Among those collected on the EMI Les Introuvables du Chant Mozartien LP and CD sets, there's tangible pain in Emmy Destinn's 1908 "Ach, ich fühls," deep longing in Marcel Wittrich's 1929 "Dies Bildnes," utter command in Lev Sibiriakov's 1911 "In diesen heil'gen Hallen" (in Russian), playful pauses in Lucien Fugère's 1929 "Der Vogelfänger bin ich ja" (in French), and – most incredible of all – a 1906 "Der Hölle Rache" in which Maria Galvany tears through the staccato acrobatics at an insanely fast tempo in order to save time to dazzle with her stratospheric high notes in an unabashedly unstylish cadenza.

At the outset, it seems only fair (and rather obvious) to acknowledge that audio-only recordings severely distort the total experience of opera, of which singing is only one component along with acting and the overall display. Many opera stars through the ages were famed as much for their stage presence as their vocal skills.

Yet, despite the creators' intentions, for nearly a century the vast majority of us have encountered opera through audio alone. Telecasts and videos now can remedy at least part of the imbalance of the essential components, but that's a recent advance. The fact remains that for nearly the entire era of recording only the musical portions of operas were preserved and as a result nearly all our tangible evidence of opera performance has been concentrated into audio (and for the first two generations on record, only snippets in primative fidelity). While it may be unfair to judge the great artists of the past solely by the traces of their voices (and a few still pictures, film clips and commentaries), technology has left us no choice.

Please note that the following is not intended to be a thorough survey. Rather, of the complete Zauberflöte recordings compiled by Operadis (128 as of 2009!), I've focused on those that impress me as having particular historical or stylistic interest. Even so, for those for whom digital recording is an absolute must (and I pity you – you're cutting yourself off from so much fabulous stuff!), I can wholeheartedly endorse several digital Zauberflötes among those I've heard, although they lack the historical and/or esthetic significance of their predecessors:
for a lush, traditional approach: Levine/Vienna (RCA, 1980; 174' – at first issued only on analogue vinyl with a now-quaint note of regret that neither software nor hardware then existed for digital home listening, and looking foward to the day when that would become possible)
for an historically-informed reading: either Östman/Drottningham (Oiseau-Lyre, 1992; 156' – nicely burnished) or Christie/Les Arts Florissants (Erato, 1995; 150' – with some idiosyncratic but effective tempo touches)
for an effective balance between the two stylistic poles (and striking covers): Harnoncourt/Zurich (Teldec, 1987; 144' – patient tempos and careful balances but a Queen with wobbly vibrato) or Abbado/Mahler Chamber Orchestra (DG, 2005; 149' – crisp, clean and invigorating, with musical emphases rather than sound effects)
and a rare budget edition (but check for budget reissues or on-line availability of the others): Halasz/Failoni (Naxos, 1993; 150' – rather bland and not as committed or inspired as the others but decent enough and fair value for the price)
With that out of the way, let's return to the beginning. The headnotes are formatted as follows: the conductor; the singers of Tamino, Pamina, Papageno, Papagena, Sarastro and the Queen; the orchestra (year; original label, the source I've heard (if different); and the duration). Note that the timings can be far more meaningful as an indication of the amount of dialog than tempo.
Sir Thomas Beecham; Helge Roswaenge, Tiana Lemnitz, Gerhard Hüsch, Irma Geilke, Wilhelm Strienz, Erna Berger; Berlin Philharmonic (1937-38; HMV 78s, Naxos CD; 130' [no dialog])
Beginning in 1935, the Mozart Opera Society bestowed on record collectors (wealthy ones, anyway) fabulous annual bounties – the first complete recordings of Figaro, Cosi and Giovanni, all in conjunction with productions of the newly-founded Glyndebourne Festival led by Fritz Busch, recently forced out of his eminent position at the Dresden State Opera. Next was to have been Zauberflöte, but plans were cancelled when the Society's producer arranged to record it in Berlin with Sir Thomas Beecham.
As one annotator gingerly put it, "It is sometimes suggested that political considerations were a factor in the selection of the cast and that some more celebrated or experienced singers might otherwise have been chosen to take part." Translation: no Jews allowed. Despite his fame and artistic taste, no one ever accused Beecham of having political scruples, and he readily agreed to replace with Aryans his Tamino (Richard Tauber, whose father was born Jewish but converted) and his Sarastro (Alexander Kipnis, a Russian-born Jew and arguably the finest bass in Europe), as well as several Jewish members of the Berlin Philharmonic.
Despite requiring eight sessions spread over three months (plus a ninth for "O Zittre Nicht" conducted by Bruno Seidler-Winkler), the continuity is remarkable, and the cast inhabit their roles without distorting the musical flow – Tamino is convincingly heroic, Papageno proudly oblivious, Pamina ingenuous yet knowing, Sarastro imposing but imbued with spirituality, Monostatos sharp and piercing. The only exceptions to my ears are the Queen, sounding a bit too girlish (yet thus adding poignancy to the role) and the three boys, here (as would become routine) sung by mature-sounding women who thus deprive the roles of their charm and innocence. Beecham unifies the production with the same incomparable sense of moderation and balance for which his pioneering recordings of Mozart symphonies and concerti were celebrated, leaving no doubt that this is a wonderful fantasy that shouldn't be taken too seriously. All dialog was omitted – understandably so, since the music alone consumed a back- and wallet-breaking 19 12" discs – but the need to change records provided some of the needed buffer between numbers (missing from LP and CD transfers). Fidelity is decent if a bit blurred. Far from an historical relic, and despite dozens of new contenders, the authority and sheer excellence of this first recorded Zauberflöte remain touchstones that still delight and prevent it from ever becoming passé.
Arturo Toscanini; Helge Roswaenge, Jarmila Novotna, Willi Dormgraf-Fassbaender, Dora Komarek, Alexander Kipnis, Julia Osvath; Vienna Philharmonic (live, Salzburg Festival, July 30, 1937; Melodram and Naxos CDs; 155')
Toscanini's Mozart could be dismissed as dry, rigid and graceless. That's largely true of his late NBC studio symphony and concerto recordings by which his legacy tends to be judged and remembered nowadays.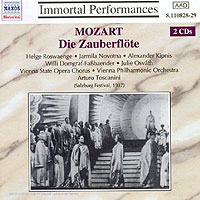 Yet that's not entirely fair – his 1929 New York Philharmonic Mozart Symphony # 35 is terrifically pliant and exquisite. Harvey Sachs notes that Toscanini championed Zauberflöte, reintroducing it to La Scala (where it hadn't been heard in 107 years) in 1923, and when audiences, unused to dialog, scorned it as an undignified operetta and demanded it be withdrawn, was outraged and defiantly scheduled it again the following year. This recording is historic – Toscanini's final presentation of a fully-staged opera – but it presents a severe challenge. It was taken down on the Selenophone, a precursor of tape recording that used a light beam to expose an optical photographic soundtrack on unperforated 7mm film running at about two feet per second. In theory, the quality should have been excellent, comparable to 35 mm movies, and fully reproducible as positive prints with no loss of fidelity. But while the original elements apparently exist in an archive, all current editions are derived from badly depreciated dubs afflicted with crude sound, loads of distortion and occasionally severe wow. Sonics aside, balances are skewed, with singers occasionally way off-mike and overwhelmed by timpani that make for terrifying thunder but otherwise distend the texture with exaggerated accents. Yet, the general prominence of the orchestra enables us to focus on Toscanini's light, sincere and dignified approach, as well as the splendor of Mozart's scoring (often submerged beneath vocals in early recordings) that can still be inferred through the sonic veil. With some irony, Spike Hughes attributes Toscanini's success with Zauberflöte to his lack of sophistication that led to superficial renditions of the other mature Mozart operas, but here such naïveté yields rewards. Indeed, Toscanini's approach is simple, invigorating and classical, avoiding sentimentality at the cost of Romantic harbingers or any philosophical depth. The singing is generally fine and striking in its unaffected innocence (strangely contrasting with highly emotive vocal "acting" reserved for the spoken interludes), although the lengthy stretches of dialog, at times barely audible above the considerable noise, tend to drag. Interestingly, Sachs notes that as a means of enhancing continuity between spoken and sung portions Toscanini had his singers modulate their dialog into the key of an upcoming musical number (although frankly I don't hear it). Kipnis, booted by Beecham, is a compelling Sarastro. Despite Toscanini's reputed insistence upon adherence to the score, his Three Boys are women. Despite the sonic hurdles, Toscanini's Zauberflöte testifies to the intensity of his focus and resistance to interpretive inflection, and thus points the way toward the historically-informed outlook of a later generation.
Herbert von Karajan; Anton Dermota, Irmgard Seefried, Erich Kunz, Emmy Loose, Ludwig Weber, Wilma Lipp; Vienna Philharmonic (1950; EMI CD; 129' [no dialog])
Wilhelm Furtwängler; Anton Dermota, Irmgard Seefried, Erich Kunz, Edith Oravez, Josef Greindl, Wilma Lipp; Vienna Philharmonic (live, Salzburg Festival, August 1, 1951; EMI CD or Pristine download; 175')
These two contemporaneous recordings boast the same orchestra and virtually identical casts, and there lies a tale. As recounted by Sam Skirakawa, Furtwängler had prepared and led Zauberflöte at the annual Salzburg Festival and had a "gentleman's agreement" with renowned EMI producer Walter Legge to record it. But despite his high musical standards and brilliant results, few would accuse Legge of being a gentleman – his associate Anthony Griffith said he "would stab you in the back if it suited his purpose. … He was the rudest man I have ever come across. … Once you ceased being of use he would turn on you and do anything." (And yes, he's the same producer who had snatched the Beecham Zauberflöte from Glyndebourne.)
In late 1950, when he was recording Figaro with Karajan, using the same cast and orchestra that had been primed by Furtwängler, Legge surreptitiously added sessions to tape Zauberflöte as well. When Furtwängler discovered the deception, he hotly protested the "outrageous personal breach of trust," his "public humiliation" and the "personal affront." Legge simply shrugged it off, as they had no contract. At first, Furtwängler threatened to resign from EMI altogether, but then backed off and simply refused to work with Legge.
Fortunately, we have two live recordings of Furtwängler's Salzburg Zauberflöte performances to compare to the Karajan studio set – and there's quite a difference indeed. Karajan leads a thoroughly idiomatic performance dominated by beautiful singing and smoothly blended ensembles – perhaps too sweet, as there is little sense of character and neither the Queen nor Monostatos project much menace. His accompaniments constantly defer to the soloists' proclivities of tempo, volume and expression, with little attempt to forge any dramatic sense beyond that inherent in the music. Even so, given the splendor of Mozart's achievement, and especially since all the dialog is omitted, that's not necessarily a condemnation, as it affords an opportunity to revel in the music itself.
Under Furtwängler's baton the cast undergoes a remarkable transformation – just as imposing but now charged with commitment, vitality and purpose. Tempos tend to be slow, but always focused without ever becoming grim. While never losing sight of the sublimation of overt feeling that is so essential to Mozart's art, the entire opera flows with the added sensation of philosophical weight. Even without an understanding of German, we can constantly sense the emotional import, as from the very outset each phrase is inflected for meaning – the overture tentatively peers ahead into the unknown, the Three Ladies keenly compete for dominance rather than flitting about in playful flirtation, Tamino aches over Pamina's portrait, and the Queen's coloratura is a mere heady flourish rather than the climax of her anguish. (Curiously, though, subtlety is limited to the music – as with the Toscanini staging, the dialog tends to be flamboyant.) Furtwängler viewed Zauberflöte in terms of Mozart's humanity and conveys that perspective throughout – a profoundly moving experience that overcomes any banality of the text and transcends the specific plot, characters and rites to convey universal truths.
Ferenc Fricsay; Ernst Häfliger, Maria Stader, Dietrich Fischer-Dieskau, Lisa Otto, Josef Greindl, Rita Streich; RIAS Symphony Orchestra, Berlin (1955; DG [US: Decca] LP; 143')
Not only is this the first studio recording of Zauberflöte to include dialog, but it goes to the extraordinary luxury of separate principal casts for song and speech (except for Maria Stader as the Queen, who admittedly has only a few spoken lines, and Lisa Otto as Papagena, who apparently was entrusted with her own recitation, despite the huge gulf between her emulation of a shrill old crone and her sung ingénue role).
But why bother? Did the producers really feel that Fischer-Dieskau, already one of the world's preeminent lieder singers and renowned for his exceptionally sensitive expression, was incapable of projecting his character in speech? The double-casting effort goes beyond questionable to self-defeating as it severely impairs integration of the two elements of singspiel into a unified whole. Rather there are constant abrupt shifts in vocal texture and volume between dialog and song (Pamina/speaker has a far deeper and softer voice than Pamina/singer), and the recitations tend to be paced more slowly, with many presumably meaningful pauses, than the music, for which Fricsay provides a generally light and buoyant texture. At the same time, several of the actors' voices are too similar to each other, and the resulting confusion is compounded by the monaural sound that deprives them of any spatial location that would help to differentiate them. Thus the lengthy initial exchange between Tamino and Papagano sounds like a continuous monologue of a single character and requires careful following of a libretto to distinguish the two characters. (Ironically, the singers' own voices are sufficiently distinctive from one another as to have avoided such problems.) While the musical content is quite stylish and enjoyable, this set testifies to the damage that misguided producers can cause to a worthy artistic venture. Nowadays the problem can be tempered, as the current CD edition tracks the musical portions separately from the dialog that can be programmed out – an inconvenience but a remedy unavailable to the original LP buyers.
Karl Böhm; Leopold Simoneau, Hilde Gueden, Walter Berry, Emmy Loose, Kurt Böhme, Wilma Lipp; Vienna Philharmonic (1954; Decca [US: London] LP; 133' [no dialog])
To quote another annotator/apologist: "Karl Böhm's recording career was severely interrupted by the Allied victory of 1945." Well, yes, while Fricsay was court-marshalled for the crime of seeking to hire Jewish musicians and was forced underground (and, like Mozart, died way too young), Böhm was a mainstay of Nazi culture and emerged unscathed after a two-year post-war ban to reign for over three decades as a revered Mozart maven. His approach was as conservative as his politics – mellow, steady, warm, patient, elegant and comfortable – your grandfather's Mozart. Yet clear textures prevent it from lapsing into weighty tedium, with little to detract attention from the sheer wonder and surface beauty of the music. Emotions are curbed, and the entire second act seems more reverie than human drama. Yet such neutrality yields a subtle gain – if Tamino is drained of youthful idealism in favor of liquid charm, then the Queen manages to project sufficient grace to enlist our empathy. Although recorded, and currently available on CD, in early stereo, it was issued only on monaural LPs at the time (presumably because stereo discs still lay in the future). A 1964 Böhm DG remake added dialog but otherwise is strikingly similar in pacing and overall approach, if a bit less focused. But what a striking cover!
Otto Klemperer; Nicolai Gedda, Gundula Janowitz, Walter Berry, Ruth-Margaret Pütz, Gottlieb Fritz, Lucia Popp; Philharmonia Orchestra and Chorus (1964; EMI [US: Angel] LP; 131' [no dialog])
It took nearly a decade but many critics found the wait for the first stereo Zauberflöte worthwhile – along with the Böhm remake came this set, widely hailed, even today, as the finest Zauberflöte of all (unless you want dialog – Klemperer didn't).
In terms of sheer polished singing and playing, I would agree. Yet while overall it exudes an atmosphere of relaxed, serious grandeur, to me something crucial is missing – the sense of wonder, humor and exploration of human frailty that Mozart poured into this work. Rather, the entire opera seems to amass cumulative weight that points inexorably toward the foreordained ceremonial conclusion (as well as to the operas of Beethoven, Weber and Wagner of which it was a primary forebear). There are few glimmers of vitality or wit to relieve the general formality, although the first act springs to life during the lengthy conversational recitative between Tamino and the Speaker. The characters tend toward idealized types – Tamino more worldly than eager, Pamina more sad and wistful than vulnerable, the Queen smooth and deprived of her evil edge. Although this is big-band Mozart on the verge of grand opera, the consistently light texture clarifies the instrumentation and prevents the deliberate pace from plodding. In a way, the style seems a natural consequence of the extraordinary renown of the cast – among the relatively minor roles of the Three Ladies are Elisabeth Schwarzkopf and Christa Ludwig! Yet, consistent with the nature of singspiel, seasoned superstar vocal firepower is neither essential nor necessarily the most suitable approach for a full realization of this work.
Roger Norrington; Anthony Rolfe Johnson, Dawn Upshaw, Andreas Schmidt, Catherine Pierard, Cornelius Hauptmann, Beverly Hoch; London Classical Players, Schütz Choir of London (1991, EMI CD; 139')
After a number of other illustrious full-bodied recordings (Solti, Levine, et al.), 1991 brought the first "historically informed" studio recreation of a Zauberflöte as it might have been performed in Mozart's time. In his album notes Norrington explains that singspiel was humorous, engaging and lightweight and that its audience would not have tolerated any hint of pretension, reverence or pomp – clearly distinct from the Klemperer model. He further notes that Mozart had no intimation of death but lots of future plans, and so any sense of it being a farewell or late work with funereal overtones is misplaced. Applying the presumed traditions of Mozart's time to his recording, Norrington favors vocal actors over trained art singers (so there are few superstars here), places his small orchestra onstage for an organic ensemble, relates the articulation and duration of the notes to the words they accompany, and sets tempos considerably more rapid than modern convention – the musical portions run a mere 107 minutes (including the overture), compared to a typical 130 or so. On record, alongside startlingly vivid (and presumably authentic) thunder effects, much of the authenticity is barely apparent, aside from the thinner and lighter textures and the swifter pacing, which some have criticized as unduly rushed and thus stripping the rituals of their requisite dignity. Yet scholars have come to understand how the vague descriptive terms in the score have evolved – Norrington points out that "adagio" has come to mean very slow, but in Mozart's time connoted only easy, and "andante" – slow nowadays – merely signified flowing and unhurried. Indeed we have an anecdotal clue as to Mozart's own preference – he lived about 20 minutes from the theater and on one evening he claimed to have been back at his apartment by 10:30. Assuming that the opera began at 7 (as advertised), had an intermission, included all the original dialog, generated the usual numerous encores and attracted ovations for which he undoubtedly remained, that would suggest very brisk tempos indeed!
Sir Charles Mackerras; Jerry Hadley, Barbara Hendricks, Thomas Allen, Ulrike Steinsky, Robert Lloyd, June Anderson; Scottish Chamber Orchestra and Chorus (1991; Telarc CD; 148')
Only months later this "hybrid" appeared – performed on current instruments but according to period practice, a reasonable compromise of modern audience expectations and authenticity.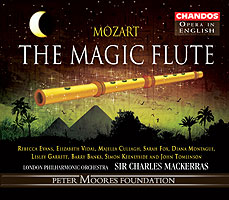 In his performance notes Mackerras attributes the slowing down of tempos since Mozart's time to our more sonorous instruments and powerful voices and asserts that the pace can be quickened naturally by lightening the texture and feeling the slower sections as two beats per measure rather than four or six. Even so, his tempos tend to be slower than Norrington's, often considerably so. But in one sense he's more faithful to period practice – for the Three Boys he actually casts boys! Their contrasting vocal sound lends special poignancy to the scene with Pamina when they (rather than grown women) ingenuously dissuade her from stabbing herself. Mackerras states that he encourages his singers to engage in mild improvisation and to obtain a lilting syncopation by taking appoggiaturas (preliminary ornamental notes) at their notated value. The storm effects are muted, sounding like distant thunder, and Papageno's chimes are hushed and tinkly (Mackerras notes that we have no indication of the instrument Mozart used). A welcome touch is the inclusion of a supplemental Tamino-Papageno duet, "Pamina, wo bist du" ("Pamina, where are you"), that Schikaneder added between numbers 11 and 12 in an 1802 revival. Mackerras aptly notes that it's charming and has Mozartian touches yet is gauche in its harmony and orchestration – "quite unthinkable for the mature master" – and suspects that Mozart at most might have sketched the basic melody and a few instrumental details (and ultimately never included it).
Sir Charles Mackerras; Barry Banks, Rebecca Evans, Simon Kennyside, Leslie Garrett, Elizabeth Vidal, John Tomlinson; London Philharmonic (2005; Chandos CD; 137')
Given the roots of singspiel in the vernacular, it seems only logical to present the Magic Flute to English-speaking audiences in their native tongue. Although we have several recordings of live Magic Flutes in English going back to 1942 at the Metropolitan Opera (where that seems to have been the norm), this appears to be the first (and so far only) studio recording in English. The challenge of any such venture is to replicate the scansion, rhythm, rhyme scheme and musical fit of the original while preserving the meaning. Here, some of the lines in the version by Jeremy Sams are quite apt – his opening of Tamino's lovely portrait aria is: "Such loveliness beyond compare; / I've never seen a face so fair." But while styled a mere "translation," elsewhere it often strays quite far from the original text. Take, for example, the first stanza of Papageno's aria:
| | | |
| --- | --- | --- |
| German Original | Literal Translation | Sams Version |
(Curiously, the Böhm DG LP set, while sung in German, provides a vastly superior but unattributed English rendering that scans and rhymes quite well without sacrificing the meaning: "A merry birdcatcher am I, / Aye merrily tra-la I cry; / As birdcatcher it is my pride / That I'm renowned on every side. / To lure the birds it is my art; / My piping tune they know by heart. / So may I glad and merry be, / For all the birds belong to me." So a translation that meets all the criteria is quite feasible.)
Even so, the basic story is intact, the dialog is refreshingly colloquial, the vocal characterizations are convincing, the singing is accomplished, the playing and pacing are animated, most of the words are readily intelligible (although not in the ensembles) and the entire production invokes a fair measure of Mozartian spirit, all while surmounting a formidable barrier toward appreciation and sheer enjoyment of the work for those who would otherwise struggle with the original language. And when all is said and done, it realizes the ultimate worth of any rendition of Zauberflöte – to guide us into a world (albeit one of fantasy) where human values point the way to fulfillment and a secure future.
---
I gratefully acknowledge the following sources for the factual information and quotations in this article but, as always, unless otherwise attributed, accept full blame for my opinions and musical judgments (* = a primary source).
BOOKS

Abbate, Carolyn and Roger Parker: A History of Opera (Norton, 2012)
* Branscombe, Peter: W. A. Mozart – Die Zauberflöte – Cambridge Opera Handbook (Cambridge University Press, 1991) – includes articles by Erik Smith on the music and Anthony Besch on performance


Simon Quaglio 1818 stage design – the Queen

* Cairns, David: Mozart and His Operas (University of California Press, 2006)
Campbell, Joseph: The Hero With a Thousand Faces (Bollingen Foundation, 1949)
* Chailly, Jacques: The Magic Flute – Masonic Opera: An Interpretation of the Libretto and Music (tr.: Herbert Weinstock) (Knopf, 1971)
*Corse, Sandra: Opera and the Uses of Language (Associated University Press, 1987)
Cross, Milton and David Ewen: Great Composers and Their Music (Doubleday, 1962)
Donington, Robert: Opera and Its Symbols – the Unity of Words, Music and Staging (Yale, 1990)
* Einstein, Alfred: Mozart – His Character, His Work (Oxford, 1945)
Einstein, Alfred: A Short History of Music (Knopf, 1937)
Hughes, Spike: The Toscanini Legacy (Putnam and Company, 1959)
* John, Nicholas, ed.: The Magic Flute – English National Opera Guide (John Calder, 1980) – includes, in addition to John's introduction:

Cairns, David: A Vision of Reconciliation
John, Nicholas: A Public For Mozart's Last Opera
Milnes, Rodney: Singspiel and Symbolism

* Landon, H. C. Robbins: Mozart's Last Years (Schirmer, 1988)
Lang, Paul Henry: Music in Western Civilization (Oxford, 1941)
Marshall, Robert L.: "Had Mozart Lived On: A Scholar's Fantasy" in Darwin F. Scott: For the Love of Music (Live Antiqua, 2002)
* Osborne, Charles: The Complete Operas of Mozart – A Critical Guide (Atheneum, 1978)
Pohl, C. Ferdinand: Mozart (article in Groves Dictionary of Music and Musicians, 1908 edition)
Rushton, Julien: Mozart (Oxford, 2006)
Sachs, Harvey: Toscanini (Harper & Row, 1978)
Schindler, Anton Felix: Beethoven As I Knew Him (tr.: Constance S. Tally) (Norton, 1972)
Schonberg, Harold: Lives of the Great Composers (Norton, 1970)


Simon Quaglio stage design – the Temple

Shaw, Bernard: The Great Composers – Reviews and Bombardments (ed.: Louis Compton) (University of California, 1976)
Shirakawa, Sam: The Devil's Music Master – The Controversial Life and Career of Wilhelm Furtwangler (Oxford, 1992)
* Till, Nicholas: Mozart and the Enlightenment – Truth, Virtue and Beauty in Mozart's Operas (Norton, 1992)
NOTES TO LPs and CDs

Hutchings, Athur: notes to Solti London LP set OSA-1397 (1970)
Mackerras, Sir Charles: notes to his Telarc CD set CD-80302 (1994)
Mann, William: notes to Klemperer Angel LP set SCL-3651 (1964)
Milnes, Rodney: notes to Mackerras Chandos CD set CHAN 3121 (2006)
Mitchell, Donald: notes to Böhm London LP set (A-4319 (1954)
Norrington, Roger: Performance Note to his EMI CD set CDS 7 54287 2 (1991)
Raeburn, Christopher: "The First Performance of Die Zauberflöte," notes to Solti London LP set OSA-1397 (1970)
Sellner, Gustav: "Mozart's Theatre and Our Own," notes to Böhm DG LP set 2709 017 (1964)

Copyright 2015 by Peter Gutmann